Fancy New South Dakota Bar Would Let You Shoot Both Liquor And Guns
News
January 15, 2014 04:28 PM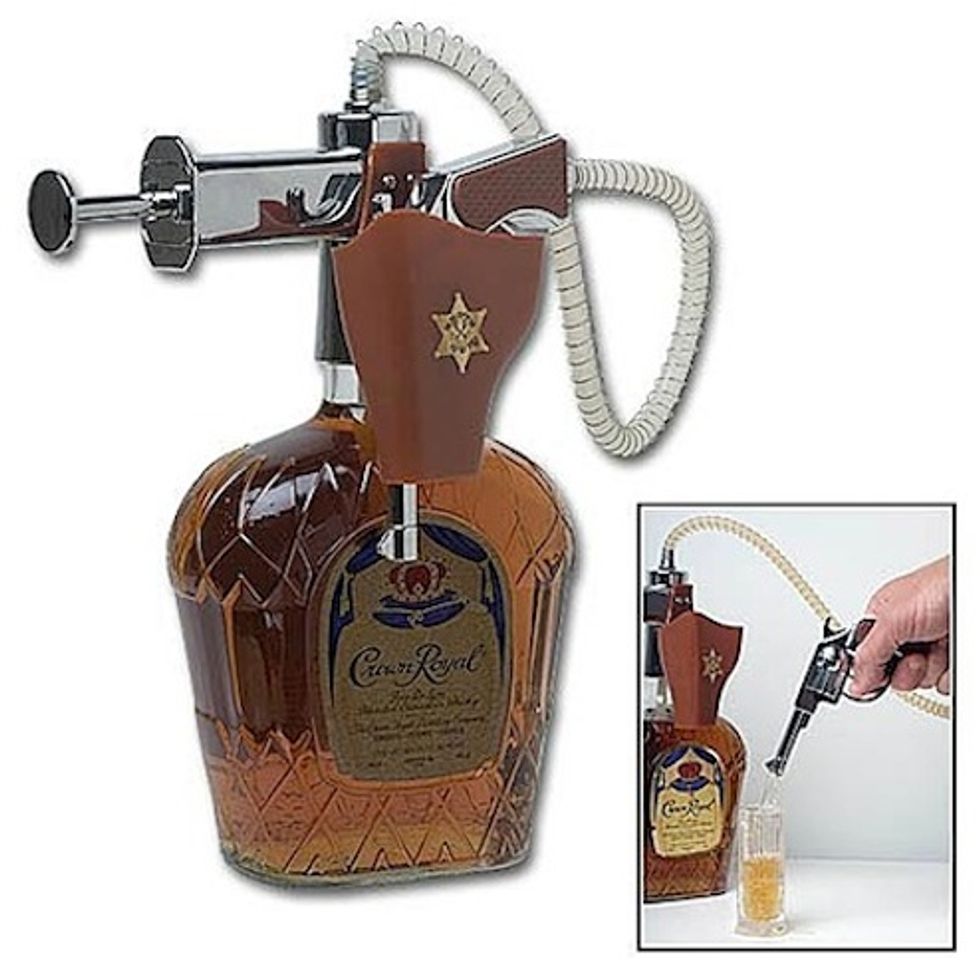 From the ever-growing "What Could Possibly Go Wrong" division of GunAmerica, we have a super-safe idea: why not put a bar and a gun range in the same location? We know, right? Great idea! Why hasn't anyone ever thought of this before? What could be safer than dragging your weapons to a gun range plopped right smack dab in the middle of a bar? Gun fetishists need a watering hole where they can lay their hats and get their mitts on some weaponry, and since Toby Keith went all pussified and won't even let a man bring his got-damn weapon into the place, South Dakota is going to step up and show everybody how it is done.
---
The Deadwood Guns complex proposed by Greg Vecchi would host several businesses, including a gun shop, a pawn shop, the shooting range and a bar called the Bullets and Beer Saloon. Vecchi also plans to offer premium cigars on an outdoor patio.

"It's all the things I like: alcohol, tobacco and firearms," he said.
Now now, before you get your little liberal panties in a twist, he's totally not going to let anyone who has been drinking fondle any guns and it won't be live ammunition, so everything will be just fine. In fact, you can't even bring your real-ass loaded gun in with you thanks to the wusses at the South Dakota legislature that had the gall to prohibit people from bringing their concealed carry guns into places that get more than 50% of their revenue from liquor monies.
To make up for that emasculating bullshit, the bar will offer lots of non-gun related excitement for the man in your life who really wishes he was a cop but couldn't get past the psychiatric evaluation.
The Bullets and Beer Saloon will be equipped with a Ti Training simulator, offering interactive use-of-force scenarios used to train law enforcement officers. The simulator will also offer three fun modes to exterminate zombies, battle in an Old West shootout or play the good guy in an urban hostage or gang fight simulation.
See? A smorgasbord of ways to safely get your kill on and then, after you're jacked up enough on testosterone and rage and the sweet sweet tang of gunpowder in your nose, you can go down shots of rail liquor like god intended. Fun for the whole family, as long as your family is completely made up of gun-fixated alcoholics.
Look, the only combo restaurant idea we can really get behind, honestly, is the combination Pizza Hut and Taco Bell, because we like to ensure we can obtain a wide variety of artery-clogging subpar meat when we get our grub on.
We don't need guns. We just need a place to go eat when we're high.
[ABC]