Farewell, B.B. King. We'll Still Live On, But So Lonely We'll Be.
Featured
May 15, 2015 02:30 PM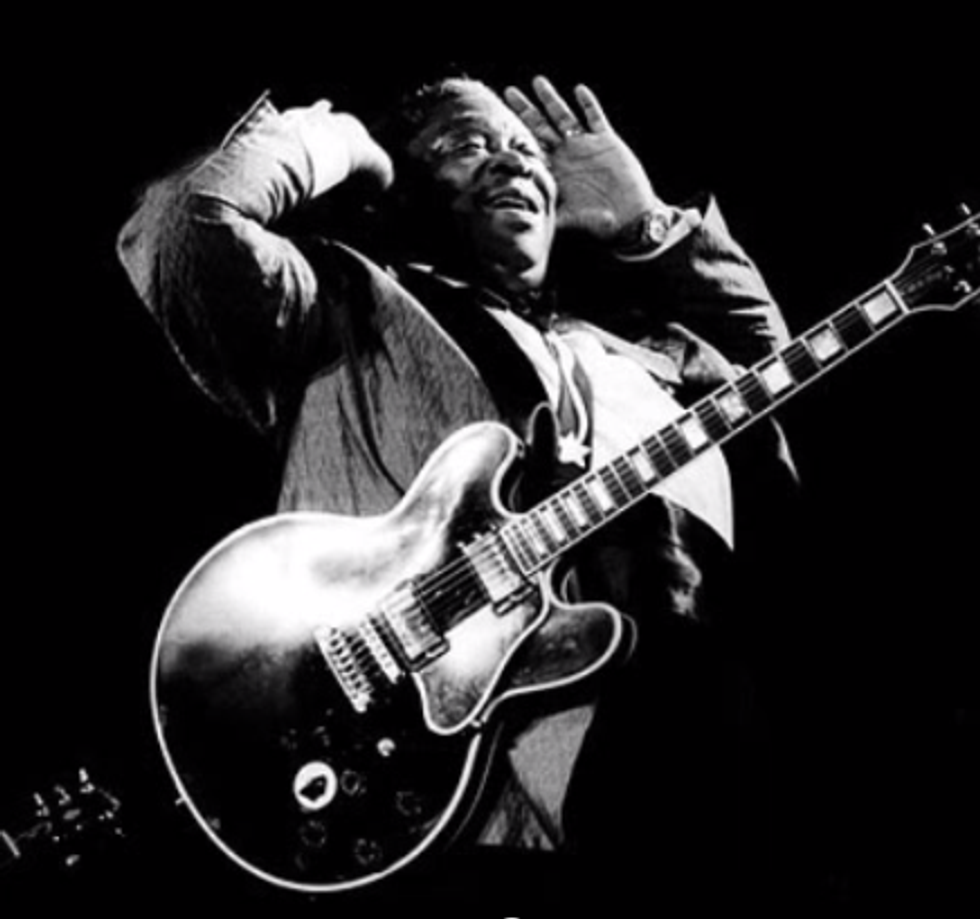 The skies over Memphis are hazy today, and so are we, because
we've lost our B.B. King,
the King Of The Blues, who died Thursday at the age of 89. The Memphis In May
World Championship Barbecue Cooking Contest,
one of the world's largest private parties, is in full swing, and our Memphis Grizzlies face Golden State tonight at home, in the game that will determine whether this is the end of our road for this year's NBA playoffs. Win or lose, the city's spirit of
"Grit and Grind"
will continue, because that's how we are. But tonight, in addition to the smells of barbecue wafting over the Mississippi River, the intoxicated revelry of the party-goers -- your Wonkette included -- and the screaming, passionate basketball fans inside the FedEx Forum, there will be vigil on Beale Street, and there will be mourning. And more than a few shots taken.
He's ours, but Riley B. King -- "B.B." was a nickname, originally rendered as "Beale Street Blues Boy" -- was cherished the world over. He came to Memphis with just $3 from just outside Itta Bena, Mississippi, the child of poor sharecroppers. But when he heard the blues, he knew his life was meant to take a different direction. So here he planted his roots, and the city became a part of him, and he a part of the city. But King went much further, bringing his brand of the blues to audiences around the world, sometimes to the tune of 275 shows per year.
---
Just as all longtime Memphians claim to have some connection to Elvis Presley -- my grandfather's neighbor's godson's childhood BFF was his doctor! -- everybody has a story about B.B. King, and those stories are usually a little bit more credible than the Elvis stories. Because, though he had been living in Las Vegas, and though he played for his listeners in all corners of the world, King was somehow always just THERE. It was not at all uncommon to casually stroll into B.B. King's nightclub on Beale and see that, oh surprise, there he is, just hanging out and playing Lucille -- all his guitars were named "Lucille" -- the way only he could.
He set the standard for a new generation of blues musicians, and he taught them everything he knew. Guitarist Buddy Guy told the Telegraph, "The tone he got out of that guitar, the way he shook his left wrist, the way he squeezed the strings ... man, he came out with that and it was all new to whole guitar playin' world. The way BB did it is the way we all do it now. He was my best friend and father to us all."
Neil deGrasse Tyson poignantly observed on Twitter that it's a "curious fact that any time we lose a person who sings the Blues, as we just did in BB King, the World becomes a sadder place." And that's the thing about the blues. Heartache and strife become power, humor, compassion and unity, and no one did that better than King.
Due to health problems, King stopped touring in 2014, but just three years ago, in his mid-eighties, he was still in fine form, playing for -- and with -- President Obama at the White House:
Three years ago, Michelle and I hosted a blues concert at the White House. I hadn't expected that I'd be talked into singing a few lines of "Sweet Home Chicago" with B.B. by the end of the night, but that was the kind of effect his music had, and still does. He gets stuck in your head, he gets you moving, he gets you doing the things you probably shouldn't do – but will always be glad you did. B.B. may be gone, but that thrill will be with us forever. And there's going to be one killer blues session in heaven tonight.
Yes, we will live on, as B.B. King joins a growing list of sadly departed Memphis icons, woven into the very tapestry of this place we call home. And so will he live on, as music lovers the world continue to share his music, his legacy, and his legend with new generations of listeners.
So pour one out for Riley B. tonight, wherever you are, whether or not you currently have the blues. We sure will.
Evan Hurst
Evan Hurst is the managing editor of Wonkette, which means he is the boss of you, unless you are Rebecca, who is boss of him. His dog Lula is judging you right now.
Follow him on Twitter RIGHT HERE.