The Federalist: We Wouldn't Need 'Subsidized Childcare' If You Bitches Would Just Stay Home
Class War
July 08, 2021 03:36 PM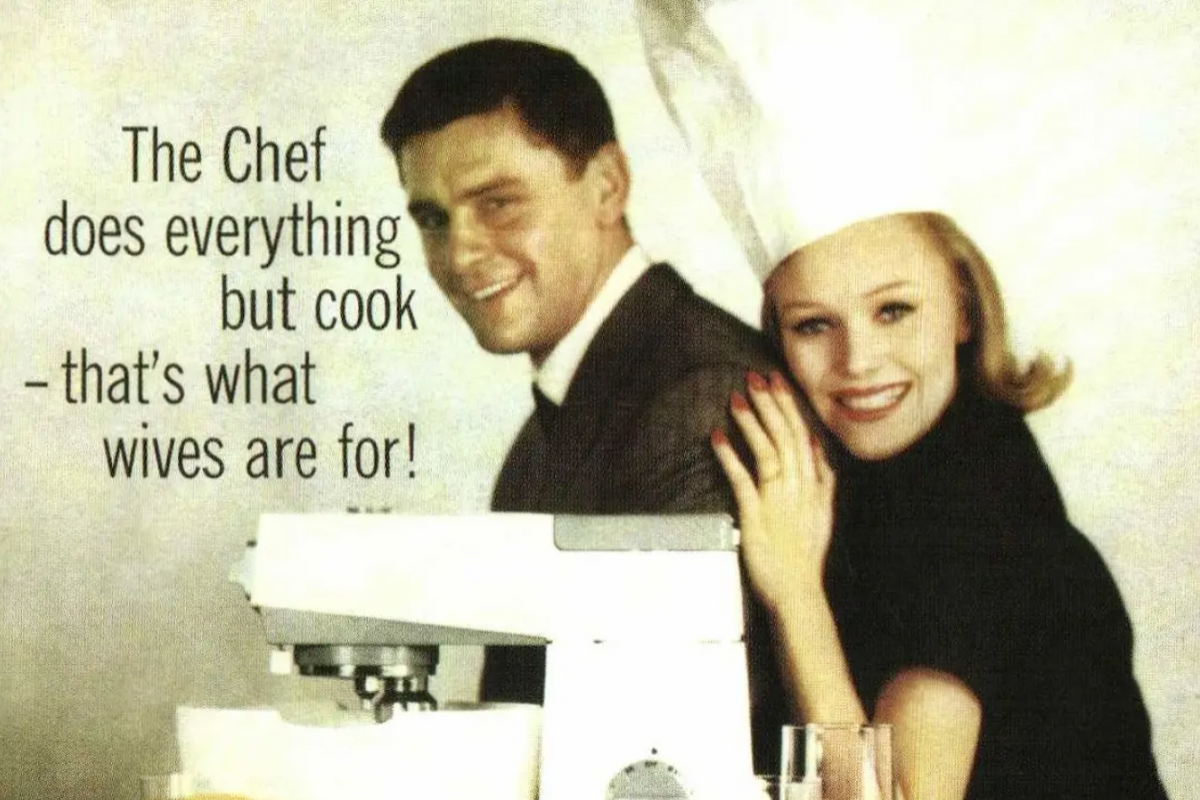 It makes absolutely no goddamned sense that we do not have subsidized childcare in this country. None at all. People need to work to survive, and if they have kids they need someone to take care of those kids while they work so that they can afford to take care of said kids. Obviously. You would think that Republicans, being the party of "family values" and all, would want to make it possible for more people to have kids.
But we don't have it, and the reason for that, largely, is that conservatives are legislating for the world they want to live in rather than the one they do and they are very much hoping that women will eventually give up on this whole feminism thing and get back to being barefoot and pregnant. They don't want to do anything to make it easier for women to work, because they want that to stop.
Most of them won't be that honest. Most of them, when confronted directly, will just start whining about how much they hate socialism. But not Federalist writer August Meyrat. In a screed titled "Government Childcare Is Only A Solution If You Think Children Are A Problem," Meyrat helpfully explains that there would be no need for socialized childcare if women would just stop working.
---
He starts out by lamenting the birthrate, a thing people who are not super racist for sure do all of the time.
Never has it been more unpopular to marry and have children in America. Unmarried adults now outnumber married ones, and birth rates are lower than ever. Unsurprisingly, loneliness has become widespread.

To respond to these issues, Democrat Rep. Rosa DeLauro advocates a policy that would cost billions of dollars and only worsen the situation: more government-funded childcare. As she sees it, what holds people back from marrying and having children are the mounting costs of daycare centers and preschools, not the active effort of modern culture to disparage marriage, motherhood, and homemaking.
Well, Gus — we have a situation in which 44 percent of the adults in this country are not earning the living wage for one person, never mind making enough to raise an entire family. And that's not because anyone was disparaging marriage, motherhood, and homemaking. Saying nice things about marriage, motherhood, and homemaking is not going to raise anyone's wage or make it more possible for them to afford to raise children. It is certainly not going to make it possible for them to live on a single income.
Since the government subsidized childcare for women during World War II, DeLauro thinks it should do so again today. She doesn't seem to realize these two situations are incomparable. In the 1940s, working-age men were drafted to fight fascists across the world, requiring women left at home to work on the assembly lines and keep up production. Today, women compete with men for jobs, drawn to the workforce either by career aspirations or simply by social and financial pressures.
Oh, so while women had to work in the 1940s, now they are taking jobs away from deserving men because they have stupid, selfish "aspirations."
For what it's worth though — women from lower-income families, the women who would likely benefit most from subsidized childcare, always worked. It was generally just middle and upper class women who didn't. Who does Auguste Meyrat think died in the Triangle Shirtwaist Factory fire?
Meyrat then accuses DeLauro of abusing a "crisis" in order to push her evil agenda of government spending and valuing women in the workplace instead of telling them to leave the workplace.
But DeLauro (like her fellow Democrat who popularized the saying), knows to "never let a serious crisis go to waste." She reasons, "the COVID-19 pandemic created the greatest health and economic crisis since World War II." As with any crisis, she looks for the answer in more government spending, declaring: "It is time to build a permanent child care infrastructure that respects and values women in the workforce."

You probably think that actually sounds like a good thing. But that is because you don't know what women want — even if you, unlike Gus here, are actually a woman.
DeLauro cites crisis and opportunity as reasons to provide government-funded daycare (sorry, "child care infrastructure"), instead of considering the far more relevant crisis of Americans not having children. She insists American taxpayers should fund working mothers' childcare, without stopping to consider what most women actually want for their families.
If he just keeps saying that what most women want is to give up their careers and have babies, that will make it true.
Like most modern feminists, DeLauro frames the childcare issue as a choice between joyful freedom and miserable drudgery. Work presumably confers all kinds of benefits, and motherhood is a necessary evil at best. Therefore, women in DeLauro's ideal world work full-time and outsource their children's care to someone else. According to DeLauro, "it is unconscionable that hard-working women, mothers, and families have to make a choice between going to work and ensuring that their kids are properly cared for."
Again, you probably think this sounds about right and would agree that it is unconscionable. Because it is right and it is unconscionable. Also ridiculous. But Meyrat would argue that you are just an immature brat who won't make the responsible choice to stay home with your children.
It doesn't seem to occur to DeLauro that people make this choice all the time. Indeed, weighing priorities and responsibilities is a marker of adulthood. Anyone has experienced weighing one purchase over another, one job over another, or one person to spend time with over another. Yes, this means some people choose to raise children over a full-time job. Making this choice isn't an example of injustice, but maturity.
Oh?
Contrary to the feminist myth that women (or anyone) can have it all, most women (and men) know what handful of priorities are dearest to them. A healthy work-life balance often doesn't mean a 50-50 split. For some women, it means devoting their lives to a rich and fulfilling career. For others, it's fully focusing on raising their children. Relatively few women desire having to work a full-time job while leaving their children with strangers.
This would make loads of sense if they actually were just dropping their kids off with random strangers, but generally speaking, people usually meet the people operating their daycare. Also, pretty much all parents who don't homeschool their children leave them "with strangers" for a portion of the day. Because school.
This is probably why most women don't actually clamor for free childcare, but desire more freedom in general. They want the workplace to accommodate mothers with more flexible schedules and options to work remotely. They want spouses who can support them and their children, and a society that won't judge them for choosing family life.
Except those things, unlike subsidized daycare, are not exactly things that can be legislated, unless we missed where Meyrat has advocated quadrupling the minimum wage. Oh, and for the record, the survey he cites simply shows that a slightly larger percent of people would prefer direct cash assistance over subsidized childcare. Another one of the sources he cites is a Federalist article literally titled "What Women Want Is The Patriarchy."
Now, note — dude is not suggesting that parents who stay home get wages for housework (which they should), he's not suggesting that wages be raised, he's not suggesting that jobs be more secure in general so people don't have to worry about how they will get by on zero incomes instead of just one, he just wants women to stay home and take care of babies ... because that's what he wants.
Most lower, middle, and working-class Americans say they want their young children to have a parent staying home. This opinion is especially strong among both single and married mothers.

More importantly, children would be far better off at home with their mothers than at a daycare. As The Federalist's Joy Pullmann explains, children are happier and more capable when raised full-time by their mothers. Therefore, she recommends the traditional marital arrangement: "One person works to provide for the family, and one person works to nurture the family. Both occupations are needed, and both are full-time jobs."
Except that one pays money and another does not. Perhaps more importantly, women who choose to stay home are taking a hell of a risk that their husbands will not leave them. There is a reason why Betty Broderick, who murdered the husband that left her for his secretary and fucked her financially after she put him through college and raised their children, got piles of fan mail. Because a whole lot of women went through that same ordeal.
You can't have policies that only work if everything is perfect and everyone does exactly what some asshole at The Federalist thinks they should do with their lives. Subsidized childcare does not mean that women who want to stay home will now be forced to work. They can still stay home if they want. Hell, men can stay home if they want and their families can afford it. All this would do is provide some relief to parents who are struggling.
Universal daycare is a step backward for a country that needs more families. By prioritizing work above all, the federal government puts pressure on adults to not have children, or be less involved in raising the children they do have. Government-sponsored childcare is a condescending carrot prodding women to work and be "useful," underestimating the great value and satisfaction of raising a family.
We don't have subsidized childcare now, and yet there are millions of families out there who cannot afford to live on a single income and many families in which both parents choose to work because they happen to like their careers. Why? Because these things are in no way related.
Now let's say, hypothetically, that just as Meyrat says, we women all desperately want to give up being real life Donna Reed in favor of being fictional Donna Reed. We want that Stepford Wife life. There are things that could help us all do that. Wages for housework, subsidized public healthcare, free public college tuition, housing assistance, higher wages, unions, more solid labor laws, would all make that a possibility for those who want it. But you will notice he's not clamoring for any of those things. He's just out here opposing subsidized childcare, a thing many parents desperately need, because at the end of the day, he thinks families with mothers who work need to be punished for not following his rules.
Let us all just hope that he is not married and does not have any kids.
Do your Amazon shopping through this link, because reasons.
Wonkette is independent and fully funded by readers like you. Click below to tip us!
Robyn Pennacchia
Robyn Pennacchia is a brilliant, fabulously talented and visually stunning angel of a human being, who shrugged off what she is pretty sure would have been a Tony Award-winning career in musical theater in order to write about stuff on the internet. Follow her on Twitter at @RobynElyse