Pistol-Packing Loon Lauren Boebert Kicks Off Independence Day Holy War
Right Wing Extremism
July 06, 2021 10:50 AM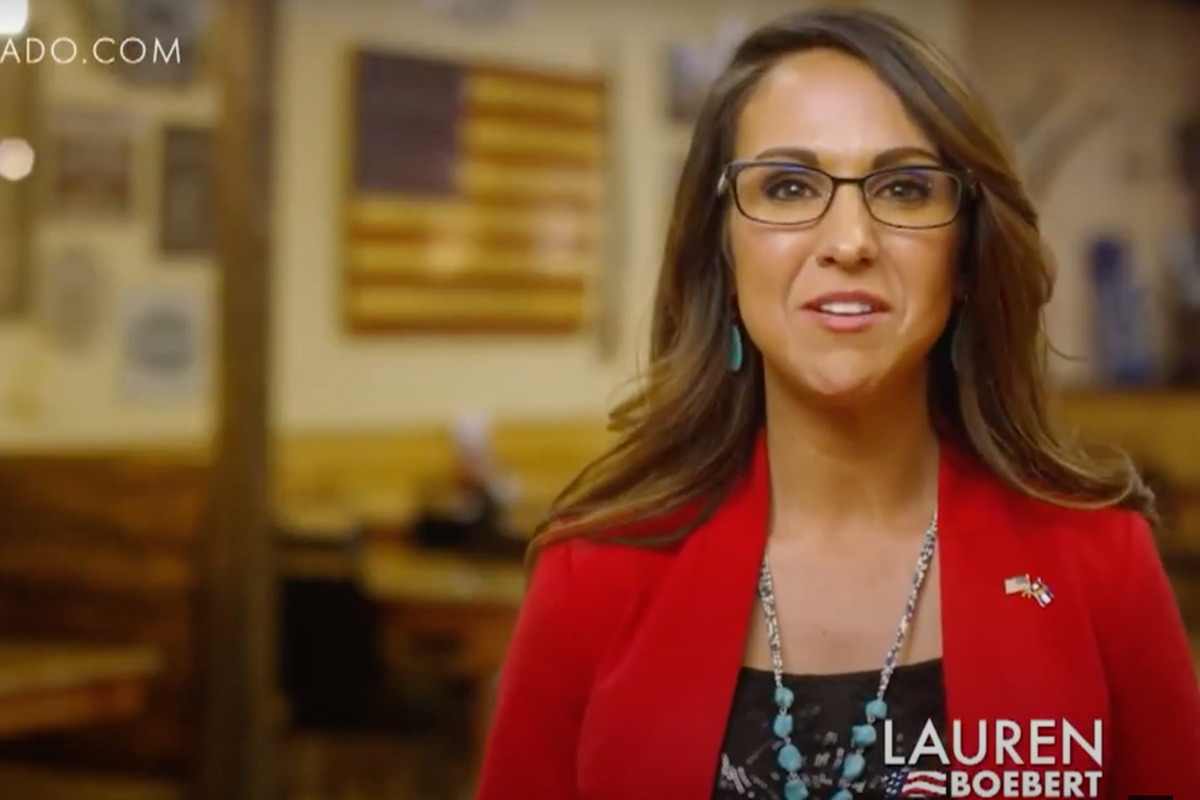 GOP sedition caucus member Rep. Lauren Boebert is desperate for attention. Colorado's shame appeared at a July 4th rally with a pistol strapped to her hip, ranting about JESUS. It was weird.
The Stand for the Constitution group hosted a "freedom rally" right after Grand Junction's Independence Day parade. Boebert was expected to ride on the Mesa County Republicans parade float, but she didn't make it on time because she'd spent the previous evening basking in the presence of the mad MAGA king in Sarasota, Florida. About 150 people gathered on the Mesa County Courthouse lawn in 150 degree heat waiting for Boebert to arrive. The heat stroke probably made her sound almost sensible.
"There are two nations created for God's glory — Israel and the United States of America," Boebert said. "We stand strongly with Israel."
It was the Fourth of July, so what better time for Boebert to lie about the nation's founding?
---
Boebert declared that the founders "had faith in God and each other" and "dared to go up against the King of England," who we should mention was a delusional leader prone to unhinged outbursts. Boebert probably doesn't know anyone like that.
"We will not back down until we have everything God has promised us," Boebert said. "We are an army for everything that Jesus has purchased for us and our children, and our children's children."
Jesus didn't pack heat, and he rejected the zealot's call to raise an army. This is familiar fundamentalist claptrap but it never fails to make me sick. Jesus also advised his followers to "love your enemies and pray for those who persecute you," but Boebert warned her flock about the dangers of even listening to their many enemies: "Put a guard over your mouth when you're tempted to agree with the enemy." This is hardcore even for the Old Testament.
During her tent revival meeting, Boebert insisted that it's "not a coincidence that Independence Day is on a Sunday this year," and she was correct in the sense that the Fourth of July didn't randomly fall on a Sunday. It's an outcome of the Gregorian calendar, where the dates shift over one day each year. Boebert isn't a smart person, but she compensates with extra rudeness and racism. She boasted about her pointless border trip last month with Donald Trump, who she claims is still "leading this nation." (He's not.)
"Then suddenly Kamala decides to go herself."
Boebert is referring to Vice President Kamala Harris, who can go wherever she damn well pleases. She's free, Black, and 21. Boebert is not Harris's friend and definitely not a peer. If Boebert loved America as much as she claimed, she'd show appropriate respect for its elected officeholders, but she's just leaning into Jim Crow etiquette. Harris has no rights she's bound to respect. It's a wonder she doesn't just call the vice president "auntie" or "girl."
When Boebert visited the border, she met up with Anthony Aguero, a reported "close ally of Rep. Marjorie Taylor Greene" who participated in January 6's spontaneous tourist demonstration. Aguero hasn't yet been charged with unlawful entry at the Capitol despite entering the Capitol unlawfully. The vice president didn't pal around with insurrectionists during her trip, so she's one up on Boebert.
Boebert false witnessed all over the crowd with sycophantic nonsense about how great Trump looks (he doesn't) and that he didn't age "20 years" like most presidents with a human soul who feel the weight and burden of their office.
"That is the anointment of God," she said.
To borrow from Christian Troy, Trump's face looks like a fraternity couch. That's not some gold bond "anointment." It's God's wrath.
This actual member of Congress wound up her speech with some more seditious conspiracy about how President Joe Biden isn't the real commander in chief.
"God is on the throne," she said. "It doesn't matter who is President; we serve the almighty King. Trump has not given up and he will not give up."
Whatever, lady.
A book is probably like kryptonite to Boebert, but Thomas Jefferson himself strongly rejected the theocratic rule conservatives crave when he wrote in his final letter: "The general spread of the light of science has already laid open to every view the palpable truth, that the mass of mankind has not been born with saddles on their backs, nor a favored few booted and spurred, ready to ride them legitimately, by the grace of God. These are grounds of hope for others—for ourselves let the annual return of this day forever refresh our recollections of these rights, and an undiminished devotion to them."
Follow Stephen Robinson on Twitter.
Keep Wonkette going forever, please, if you are able!
Stephen Robinson
Stephen Robinson is a writer and social kibbitzer based in Portland, Oregon. He writes make believe for Cafe Nordo, an immersive theatre space in Seattle. Once, he wrote a novel called "Mahogany Slade," which you should read or at least buy. He's also on the board of the Portland Playhouse theatre. His son describes him as a "play typer guy."