Florida GOP Candidate Busted For Possession Of PhD (Phony Diploma)
Elections
August 14, 2018 10:51 AM
Florida GOP state House candidate Melissa Howard apologized Monday for falsely stating (wait, she's not Donald Trump and this isn't the New York Times, the lady straight-up lied) that she'd graduated from Miami University (the one in Ohio):
---
"I would like to apologize to my family and my supporters for this situation," said the Facebook post by Melissa Howard, a Republican running for Florida House of Representatives District 73.

"It was not my intent to deceive or mislead anyone. I made a mistake in saying that I completed my degree," the post read. "What I did was wrong and set a bad example for someone seeking public service. I am staying in the race and intend to win and lead by example from now on."
The Facebook post was later taken down -- probably because it made no sense. She lied about her education and qualifications while seeking an elected position, so of course she intended to "deceive or mislead" people. It's not like she just forgot she never graduated. True, Miami University was ranked number 3 in the Niche 2017 Top Party Schools list (just behind my own alma mater the University of Georgia, so suck it RedHawks!), but no matter how often you got blackout drunk, you'd recall whether you actually received a diploma.
Howard had originally disputed the FLA News story that she'd, I guess, "accidentally" deceived and misled folks about her distinguished academic background. She'd released partial college transcripts (seems misleading) and even posted on Facebook a photo of herself with what she claimed was her framed college diploma (seems very deceptive). But like Barack Obama's birth certificate, this wasn't even a convincing forgery. it's such shoddy work Howard can forget about being included in the Ocean's 8 sequel.
The degree Howard was holding in the picture contains inconsistencies, according to the university's general counsel.

Miami University does not offer a Bachelor of Science in Marketing, instead it offers a Bachelor of Science in Business. Howard's major while attending Miami University was Retailing and if she had graduated would have received a Bachelor of Science in Family and Consumer Sciences.

The diploma Howard is holding contains the signatures of James C. Garland, President and Robert C. Johnson, Dean. Mr. Garland was President of Miami University in 1996, but Mr. Johnson was dean of the graduate school not the dean for either the School of Business nor the School of Education and Allied Professions. Johnson would not have signed Howard's diploma.
I presume the effort put into hurriedly faking a diploma probably explains why Howard and her mother are pictured holding it so proudly as if it's a middle school arts and crafts project.

Miami University told CNN and other news outlets it has no record of Howard earning a degree there. The school said that Melissa Marie Fox (Howard's maiden name) had attended Miami University from August 1990 to May 1994, but she never graduated.
Yeah, Howard, 46, apparently shaved a couple years off her age while she was nipping and tucking her fake diploma and claimed she graduated in 1996. Anyway, it looks like she just pulled a Gatsby and let people think she was an "Oxford woman" when she really only "went there."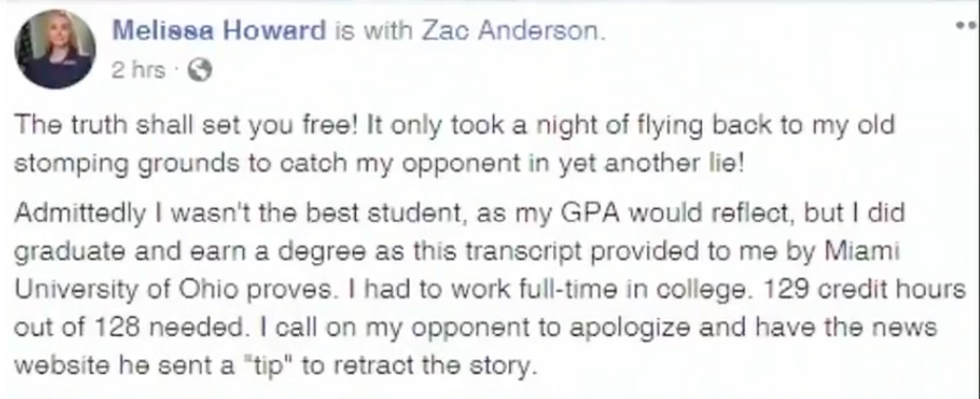 The truth did free Howard from public officeFacebook
Howard has justifiably ghosted on the public and press.
In an unrelated bummer twist, her husband suffered a "cardiac event" on Friday. He's since been released from the hospital, and we are glad to hear it. Her campaign released this statement Saturday morning: "Melissa is focused on her family – not fake news this morning."
Wait, is the news fake, or is her degree fake? That's right, her degree is fake.
There's a new tip jar in town! Hit it below, to support the ad-free Wonkette experience, or click this link to make it monthly!
Stephen Robinson
Stephen Robinson is a writer and social kibbitzer based in Portland, Oregon. He writes reviews for the A.V. Club and make believe for Cafe Nordo, an immersive theatre space in Seattle. He's also on the board of the Portland Playhouse theatre. His son describes him as a "play typer guy."