Florida Man Sentenced To Eight Months Time Out For Storming Capitol
Right Wing Extremism
July 20, 2021 02:25 PM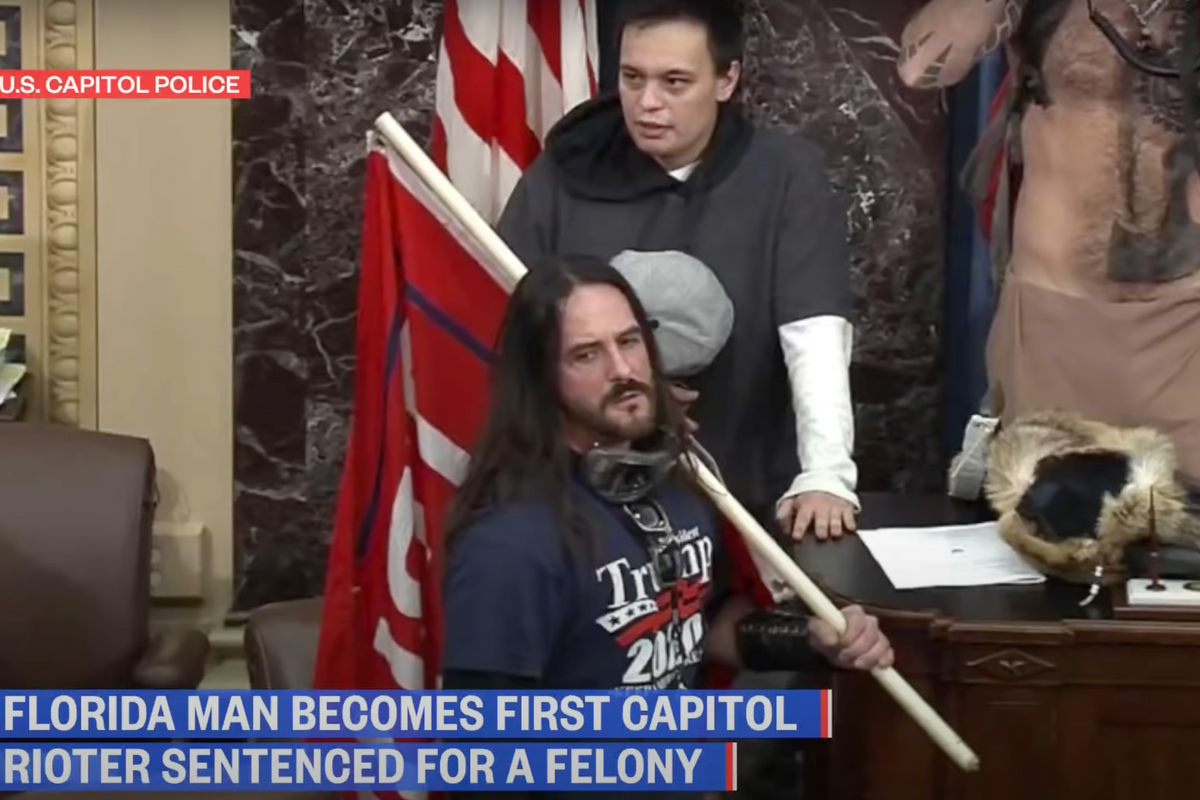 Paul Hodgkins from Florida pleaded guilty last month to obstructing congressional proceedings as part of a Donald Trump-inspired mob that stormed the Capitol on January 6, forcing members of Congress to evacuate and delaying the certification of Joe Biden's Electoral College victory. Hodgkins spent 15 minutes inside the Senate chamber while wearing a Trump shirt and carrying a Trump flag, like any good cult member.
Hodgkins is the first convicted insurrectionist to be sentenced, and his punishment is a preview of what to expect. District Judge Randolph Moss sentenced Hodgkins to eight months in prison on Monday. Will he recognize the world once he's released?
The Justice Department had asked for a whopping year and a half sentence. Hodgkins would've left prison like an elderly Prince Phillip from Maleficent's castle, but prosecutors argued that the stiff sentence would deter future political violence and send "a strong warning" to anyone possibly contemplating any coup revivals. After all, a growing number of Republican voters believe the January 6 attack was "justified," and Trump himself keeps promoting the Big Lie.
But Moss believed Hodgkins deserved some leniency: He'd pleaded guilty "exceptionally early," wasn't personally involved in any violence during his criminal trespass, and had given a "sincere" apology. I haven't seen video of his allocution so I can't comment on the authenticity of his performance.
---
It wasn't all flowers and candy. Moss gave him a stern tongue lashing:
Hodgkins was staking a claim on the floor of the United States Senate, not with the American flag but with a flag declaring his loyalty to a single individual over the entire nation.

When a mob is prepared to attack the Capitol to prevent elected officials from both parties from performing their constitutional and statutory duty, democracy is in trouble.
You heard the man: Democracy is in trouble! That's why someone who attacked the nation's Capitol with the objective of overturning a democratic election should at least do more time than a hockey season. Angela Williamson and Tamara Cotman each served more than a year in prison for their involvement in a district-wide cheating scandal in Atlanta that didn't actually threaten democracy.
Yes, oversentencing is a problem in the criminal justice system, especially for people of color. Richard Pryor observed in 1975 that "they give (Black people) time like it's lunch. You go down there looking for justice, that's what you find: Just Us." However, the sentence the prosecution requested was already a sweet deal. In Utah, they tried to slap a life sentence on some Black Lives Matter protesters who had allegedly splashed red paint and smashed windows during a protest. They were charged with felony criminal mischief with a gang enhancement policy. The MAGA mob was also a gang that showed up at the Capitol wearing gang colors. Williamson and Cotman were hit with racketeering charges, because that's what prosecutors do when they want to put people away for a while.
New York lawyers Colinford Mattis and Urooj Rahman are both accused of attacking an empty police vehicle with a Molotov cocktail during the protests after George Floyd's murder last year. They're facing life in prison and a mandatory-minimum 45-year term if convicted. Plea talks have stalled, but they presumably weren't offered eight months or even a year and a half.
Chinese national Yujing Zhang was sentenced to eight months in prison for trespassing at Mar-a-Lago in 2019, and there's no direct evidence — like, say, hastily erected gallows on the property — that Trump's life was in danger.
[District Judge Roy Altman] said trespassing on a government property, particularly one where the president is staying, is a "serious offense." He also said "the evidence was overwhelming" that Zhang lied to Secret Service agents to get into Mar-a-Lago and when they confronted her.
Zhang told Altman she went to Mar-a-Lago "to meet the president and family and just make friends." She's probably just as delusional as the fools who believe Trump won the 2020 election, but the clear malicious intent of the insurrectionists is right there on sickening video. House Speaker Nancy Pelosi and Vice President Mike Pence were in grave danger. A traumatized Rep. Alexandria Ocasio-Cortez believed she might die that day. Everyone who besieged the Capitol contributed to this.
Moss's passionate exhortations about democracy Monday, while suitable for framing, don't match the sentence.
If I were a good liberal, I suppose I'd oppose oversentencing even for seditious white boys, but fuck all that. The justice system only works when it's applied equally, and we all know what happens when Black people step out of line. I'm also not inclined to believe that slaps on the wrist for white guys would ever translate to fairer treatment for Black folks.
This isn't pettiness, either, as relatively light sentences only help strengthen the Big Lie. After all, how could democracy truly have been at stake on January 6 when the people involved serve less time than Wesley Snipes did for tax evasion. I guess you can smash Uncle Sam's house but don't fuck with his money.
[CNN]

Follow Stephen Robinson on Twitter.
Keep Wonkette going forever, please, if you are able!
Stephen Robinson
Stephen Robinson is a writer and social kibbitzer based in Portland, Oregon. He writes make believe for Cafe Nordo, an immersive theatre space in Seattle. Once, he wrote a novel called "Mahogany Slade," which you should read or at least buy. He's also on the board of the Portland Playhouse theatre. His son describes him as a "play typer guy."