FLOTUS Campaigns Against 'Aggressive' Tank Tops
News
September 07, 2010 10:06 AM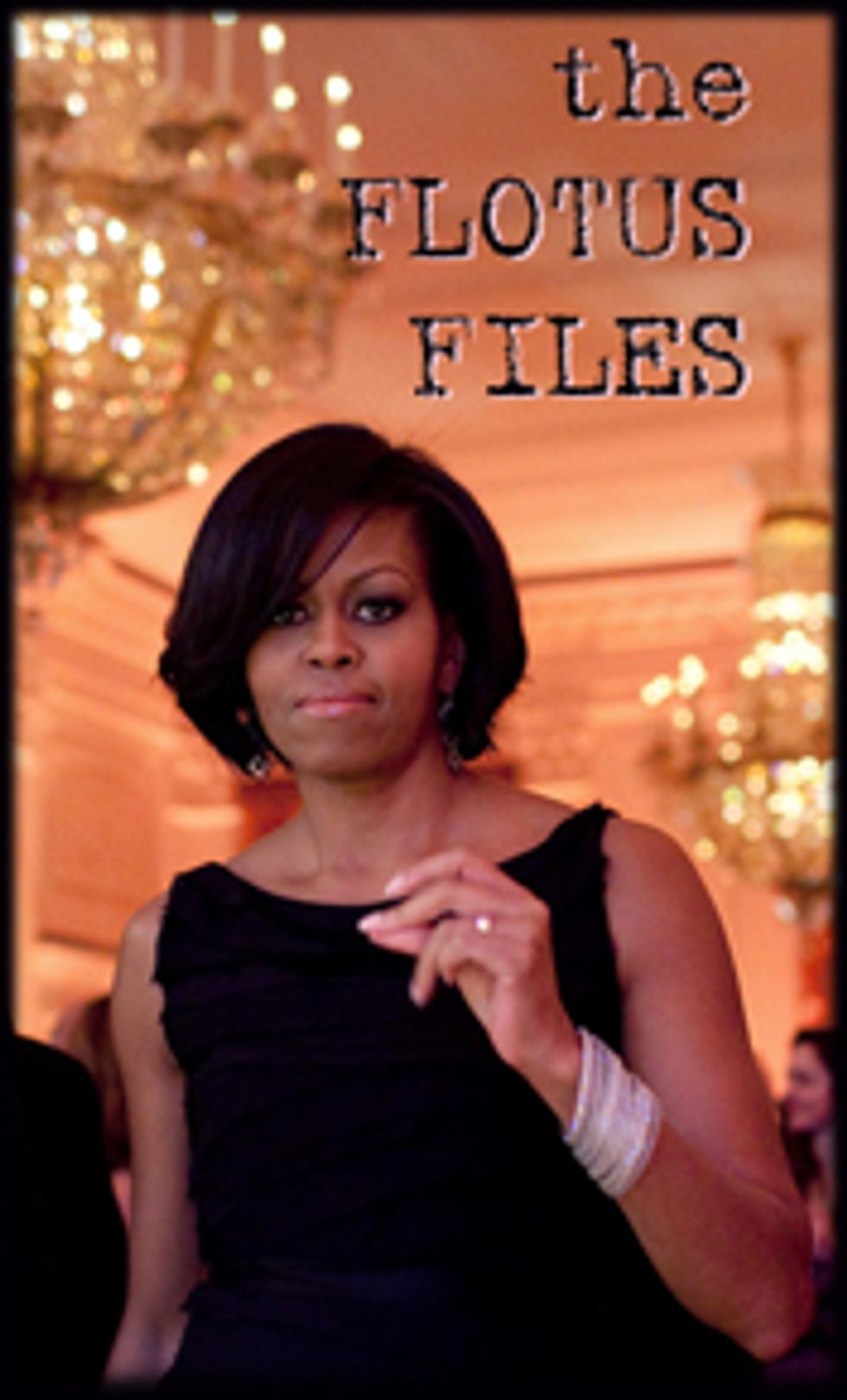 If you had a proper Labor Day celebration, you were too drunk on Freedom to carefully plan out a weekend wardrobe, and according to theWashington Post, this makes you a disgrace. Thankfully, for Americans wishing to do their part not to "mar this country's natural beauty," there is someone with all the answers. Her name is Michelle Obama, and she can wear a patchwork tunic like nobody's business. Our FLOTUS traveled a lot this summer, and while we were told it was for "vacation" or "obesity" or "The Gulf," it turns out that it was really a fashion campaign against the classic American cultural dress, which consists of jorts and NASCAR t-shirts.
---
Her travel attire served as a wake-up call to all those American tourists who have blighted the national landscape with their ill-fitting shorts, sad-sack T-shirts, and aggressively revealing tank tops: You can do better.
Can Americans really be blamed for the fact that out-of-touch fashion designers refuse to construct shorts for the unique size and shape of the American frame? Michelle Obama seems to think so. She wants everyone to be skinny so they can buy fancy French clothes, just like her great-grandmother Marie Antoinette used to wear.
In Gaultier, she heralded a Frenchman known for his interest in outsiders, immigrant cultures and the unique beauty found in a multitude of ethnic backgrounds. And Olowu is a Nigerian-born designer now based in London. He is the rare prominent black designer with his name on his own label.
Whether she's bicycling in Martha's Vineyard or heading over to the nearest mosque for a quick prayer, Michelle Obama wears things that explain every detail of who she is. In this case, Michelle's clothes tell us that she likes immigrants and allowing black people to have successful businesses. We can learn all of this from her one-shoulder top.
Unlike the first lady, everyday tourists are not the center of attention. Still, when regular folks travel abroad, they represent both themselves and the collective American identity. Must we continue to be perceived as the most poorly dressed of all tourists? And for those who remain in the States during the final long weekend of the summer, as you visit national parks and local beaches, remember: We are all part of the landscape.
It's a good thing these "regular folks" probably can't afford to travel abroad, because they are so ugly. For now, only our national parks and local beaches must suffer. [WP]
Blair Burke (blairelinor@gmail.com) obsessively follows Michelle Obama's every move for "The FLOTUS Files," which appears every Monday here at your Wonkette.