For F*ck's Sake! Get Your Damn Flu Shot, You Stupid Baby!
Science
October 22, 2018 10:17 AM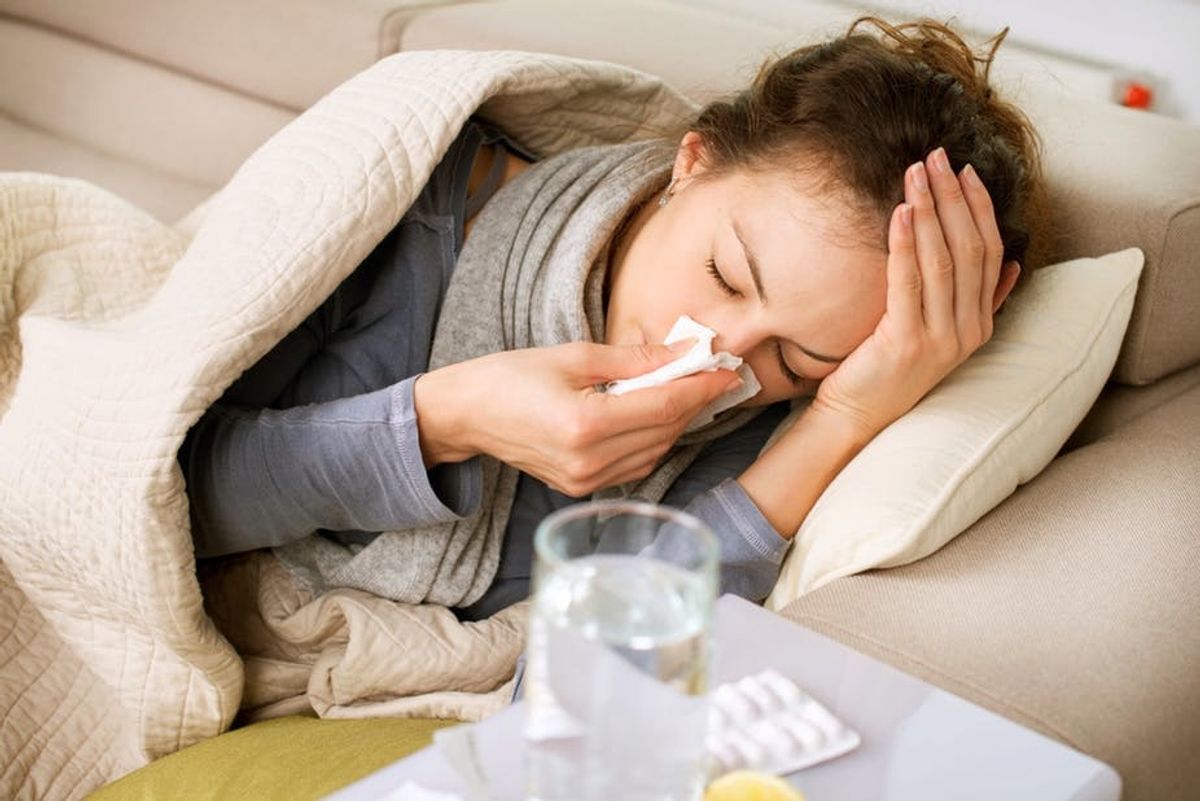 No, the flu vaccine doesn't cause autism. It doesn't cause the flu either. Oh, you're worried about the "mercury" (thimerosal, actually, not pure mercury, but just being a science dick) or the formaldehyde in the vaccine that will end up being injected into you? Let's take the scary mercury one first. That's used as a preservative for multi-use vaccine vials. If you get a single shot vaccine, it won't have it. If you get one that has it, it is in really small amounts, you nervous Nelly. You'll get the same amount of mercury in one shot as there is in three ounces of tuna fish. If you eat any tuna at all this year, you're getting more mercury in your sandwich or spicy tuna roll than in the one vaccination that might prevent you ACTUALLY DYING from the flu. Yes, healthy people die too. More on that in a bit, but back to formaldehyde. That chemical is used during manufacture of the vaccine in the process to kill the virus, and YES they kill the virus and NO you aren't getting live virus which is why the shot can't give you the flu. The level of formaldehyde in the shot you get is less than the naturally occurring amount of formaldehyde you ALREADY have in your body. Ah, you didn't know you have formaldehyde naturally occurring in you? Now you do, bitches! Okay, so lead paragraph complete and we can check off "safety covered," right? Paragraph two is the scare campaign, so let's get to it.

How many people die from the flu each year in the USA? Well, we don't know for sure, but the CDC estimated 10,000 to 14,000 people died in the 2015/16 flu season with ~60% of those being 65 or older, but that still leaves some 4000 to 6000 younger folks with mostly preventable flu related deaths. Does that seem like a lot? Yes, it does, but last year the estimate was ~80,000 dead due to the flu, the deadliest year since 1976, or basically since we started counting. You don't REALLY want to help break the record again this year. Get your damn shot.
---
So, what IS the flu? Let's chat about that shall we?
Here's a mug shot of the tiny pendejo: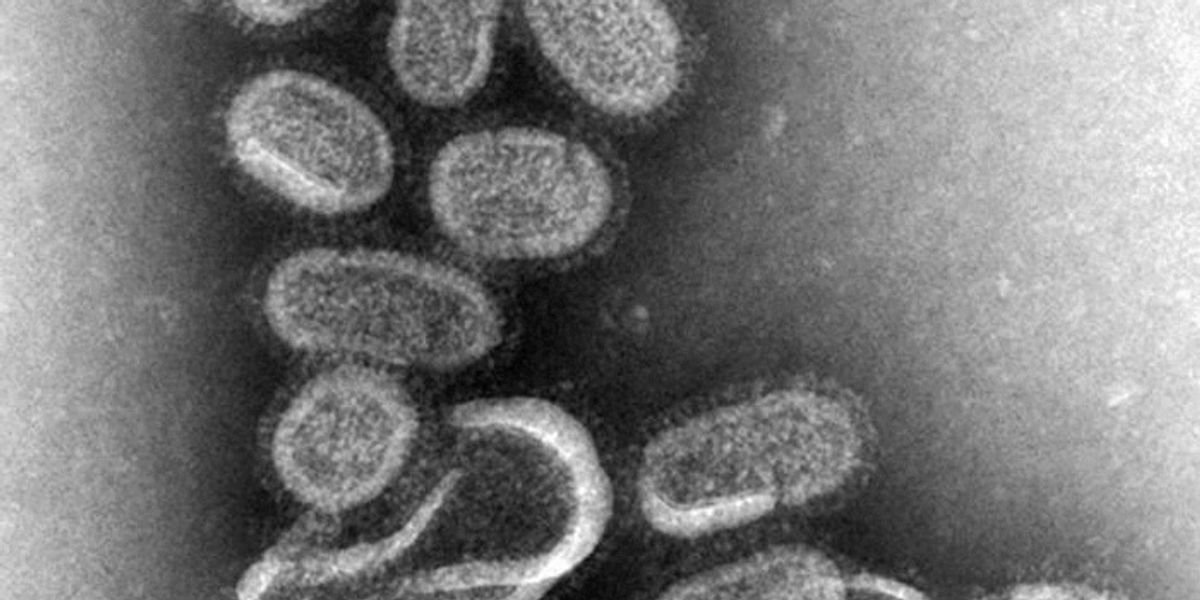 A face not even a mother can love. Of course, the flu doesn't have a mother because it's a virus and those fucks aren't even technically alive. Like Trump's sex life.
There are four species of flu virus, creatively named influenza A, B, C, and D. The latter only infects cattle and pigs, so maybe some MAGAs as well. "A" is the worst one in that it's caused all the pandemics. It infects human, other mammals and also birds. Remember the bird flu? Yeah, that was an "A" bastard. Swine flu in 2009 that killed over 200,000 worldwide? Type A.
Flu "C" infects humans, pigs and dogs but is mostly mild. It's not even in the seasonal vaccine you'll be getting, if you haven't yet.
Influenza B is an oddball in that it infects only humans and seals. Yeah, seals, but even so, the typical breakdown in the US of flu cases that need a doctor visit is 70% of cases are type A and 30% are type B. Here's an actual photo of a seal passing on the flu to a human: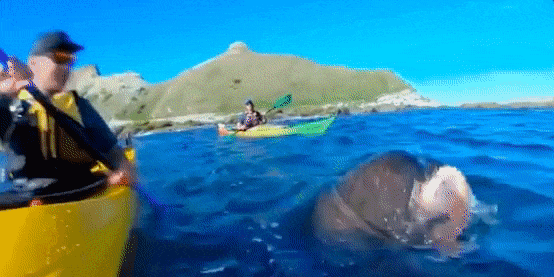 Credits: Instagram/Taiyo Masudafsmedia.imgix.net
You can sub classify and add to the names to be more specific about particular strains. Here's an example:

A/Disneyland/666/2018/H1N1
A = the species
"Disneyland" = the geographic origin of the virus
666 = the strain number
2018 = the year it was isolated
H1N1 = the subtype, related to the specific surface proteins on the virus.
The subtype is super important, because some subtypes are more infectious, deadlier than others, and also that's how manufacturers create the season-specific vaccine. What you get in your shot is a cocktail of virus antigens, or proteins that your body's immune system will recognize and then create an immune response to. If an actual flu virus comes along later, at it has one of those surface proteins, then your body is all "hell NO!" It remembers the vaccine antigens and mounts a defense MUCH faster than your body would have otherwise. Worst case if you get a vaccine is that you still get the flu but it lasts much less time and your symptoms are not as severe. Did you get your shot yet? Are you sensing a theme to this story?
Why are the vaccines different each year? Well, we haven't figured out how to create a universal flu vaccine yet that would work for ANY species or subtype. Sometime around February, the WHO makes some educated guesses on which of the little bastards are likely to hit us hard in winter and based on that, the various manufacturers kick off the work. Sometimes they guess wrong and the vaccines are only partially successful. Even then, they still help.
Here's what you'll get in this year's shot:
A/Michigan/45/2015 (H1N1)pdm09-like virus
A/Singapore/INFIMH-16-0019/2016 A(H3N2)-like virus
B/Colorado/06/2017-like (Victoria lineage) virus
So, here is my last plea to you. If you haven't yet, get your flu shot. I don't PERSONALLY care if you get sick and are miserable. However, if you get the flu and can't get out of bed on November 6, I will personally come over to your house and slap you with an octopus. If for some weird reason, you're a MAGA and are reading this article, then everything I said is a lie. For Trump's sake, DON'T get a flu shot! Do you want to die of mercury poisoning?!?
Wonkette is ad-free and not afraid to be SERVICEY. Get your flu shot and GIVE US ALL YOUR MONEY.
Carlos Sagan
I am a biochemist MexiCAN. I also write screenplays, ever hoping to get one made.
email me at: carlossagan2018@gmail.com
follow me at: @RealCarlosSagan