For Trump, Russia Investigation Is A Laser Pointer, And He's An Obsessed Pussy
Russia
June 23, 2017 10:30 AM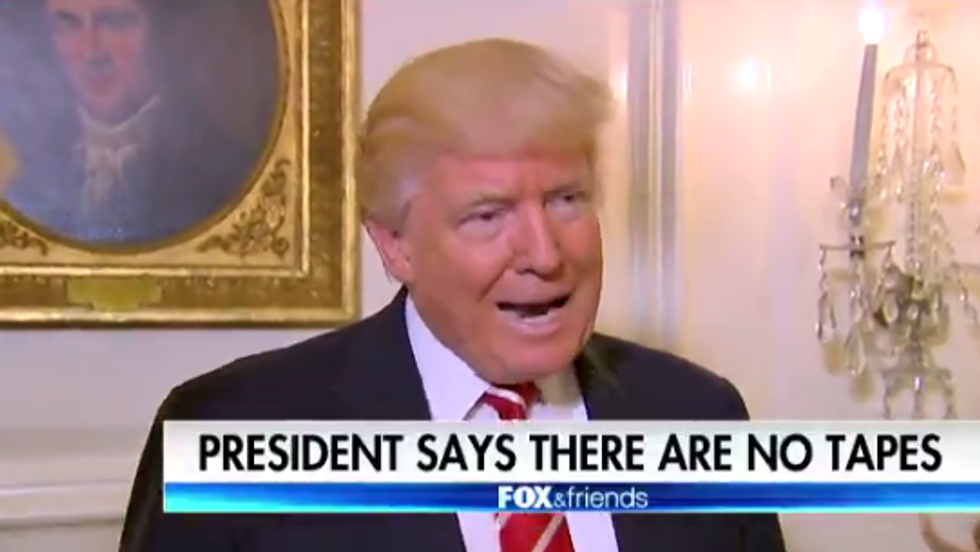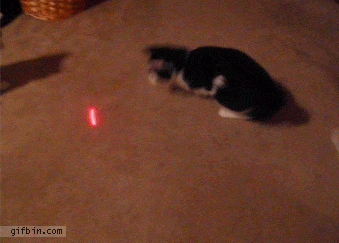 ---
A couple weeks ago, Dan Coats, the Trump-appointed Director of National Intelligence, went before the Senate Intelligence Committee and pissed everybody off by refusing to answer simple questions about whether Trump had pushed him to obstruct justice in the Trump-Russia investigation. He didn't say it was classified, he didn't say Trump had invoked executive privilege, he merely said it was "inappropriate" to share that information. This caused Senators Angus King, Kamala Harris and Martin Heinrich to literally explode into balls of white hot rage and the fire department had to be called and oh boy, it was Must See TV.
But apparently Coats wasn't so tight-lipped in a closed hearing with the House Intelligence Committee on Thursday. (UH OH THERE WAS A LEAK FROM A CLOSED SESSION! Time for all the Republicans obsessed with leaks and unmasking to panic!) NBC's Ken Dilanian reports that Coats confirmed that "in March, [Trump] asked him repeatedly to say that he had seen no evidence of collusion between the Trump campaign and Russia. And Coats said he was surprised by that request, he found it to be inappropriate, he told others about it, and he turned it down." Dilanian also reports that Coats told the congresspeople Trump was "obsessed" with the Russia investigation, like a common house cat chasing a laser pointer across the ceiling. Here, have a video news report:
My reporting on DNI Coats telling House investigators today that Trump seemed obsessed with the Russia probe. https://t.co/khoEOFjDhB

— Ken Dilanian (@KenDilanianNBC) June 22, 2017
Dilanian notes that it's also been reported that Trump pulled the same grab 'em by the pussy move with NSA Director Adm. Mike Rogers, who was also unwilling to share those conversations in public testimony. But now that Coats has confirmed it behind closed doors, it seems safe to say the reporting about Rogers is probably correct. Obstruction of justice say WHAT HUH NOW?
In response to this information, Rep. Trey Gowdy, a prominent Republican on the House Intel Committee now that Devin Nunes is recused/not recused/never really was recused from the investigation, vowed to stop trying to distract everyone with inane nonsense about "unmasking," and promised to follow the Democrats' lead in really getting to the bottom of this. HAHAHAHA FOOLED YOU, that was #joke! It is not Opposite Day! Instead, Gowdy went on the "Outfront" TV program and said this:
About eight hours ago, Adam Schiff and I looked Dan Coats in the eyes and we assured him that there would be no selective leaking of his testimony to us. And I'll be damned if eight hours later, there aren't three different leaks with what he told us.
Oh go tittyfuck a squirrel, you goddamned corn pone waste of space.
As to Trump's "obsession" with the Russia investigation, he went on Fox News Thursday night and further admitted to lying about having "tapes" of his conversations with James Comey. But get this -- he thinks he was playing a strategic chess game with Comey, in order to keep Comey honest! LOLOLOL you guys, watch this video, it's like one of those "America's Funniest Home Videos" compilations where guys keep accidentally racking themselves in the balls with common sporting goods:
.@realDonaldTrump to @ainsleyearhardt: "My story didn't change. My story was always the straight story. My story was always the truth." pic.twitter.com/SgLHoYua8f

— Fox News (@FoxNews) June 23, 2017
TRUMP: Well, I didn't tape him, you never know what's happening when you see that the Obama administration and perhaps longer than that, was doing all this unmasking and surveillance and you read all about it and I've been reading about it for the last couple of months about the seriousness of the, and horrible situation with surveillance all over the place, and you've been hearing the word "unmasking," a word you probably never heard before. So you never know what's out there, but I didn't tape and I don't have any tape and I didn't tape, but when he found out that I, that there may be tapes out there, whether it's governmental tapes or anything else and who knows, I think his story may have changed [...] My story didn't change, my story was always a straight story, my story was always the truth.
James Comey's story never changed. He leaked the memo about Trump, and then his Senate testimony was the exact same. If you'll remember, the most famous Comey line from that testimony was "LORDY, I hope there are tapes!"
Fox News journalism failure Ainsley Earhardt cut in to tell Trump how smart he was to lie about having tapes, and he replied:
Well, uh, it wasn't very stupid, I can tell you that. He did admit that what I said was right, and if you look further back, before he heard about that, I think maybe he wasn't admitting that.
Elsewhere in the interview, Earhardt asked Trump a leading question about if it's UNFAIIIIIIIR that Robert Mueller is investigating him, since Mueller and Comey are friends, and also a lot of Mueller's hires have given to the Clinton Foundation. For real, that was her question. Here's Trump's response:
.@realDonaldTrump to @ainsleyearhardt: "Robert Mueller is an honorable man and hopefully he'll come up with an honorable solution." pic.twitter.com/fwZKKfl7dC

— Fox News (@FoxNews) June 23, 2017
Well he's very, very good friends with Comey, which is very bothersome, but he's also ... we're gonna have to see. I mean we're gonna have to see in terms of ... There has been no obstruction. There has been no collusion. There has been leaking by Comey, but there's been no collusion, no obstruction and virtually everybody agrees to that.[LOL! - Ed.] So we'll have to see. I can say that the people that have been hired are all Hillary Clinton supporters.
Trump did allow that Robert Mueller is "an honorable man," probably because his lawyers stuck the Electric Buzzy Ouch Ouch up his asshole right about then.
But oh boy! Trump sure is acting like a completely innocent man right now, isn't he? You betcha!
Wonkette is fully funded by readers like you, because we ain't got no ads! If you love us, click below to fund us!
Evan Hurst
Evan Hurst is the managing editor of Wonkette, which means he is the boss of you, unless you are Rebecca, who is boss of him. His dog Lula is judging you right now.
Follow him on Twitter RIGHT HERE.