Former MO First Lady Sheena Greitens Says She Has Proof Ex-Husband Is Abusive Sack Of Sh*t
State/Local Politics
April 06, 2022 08:55 AM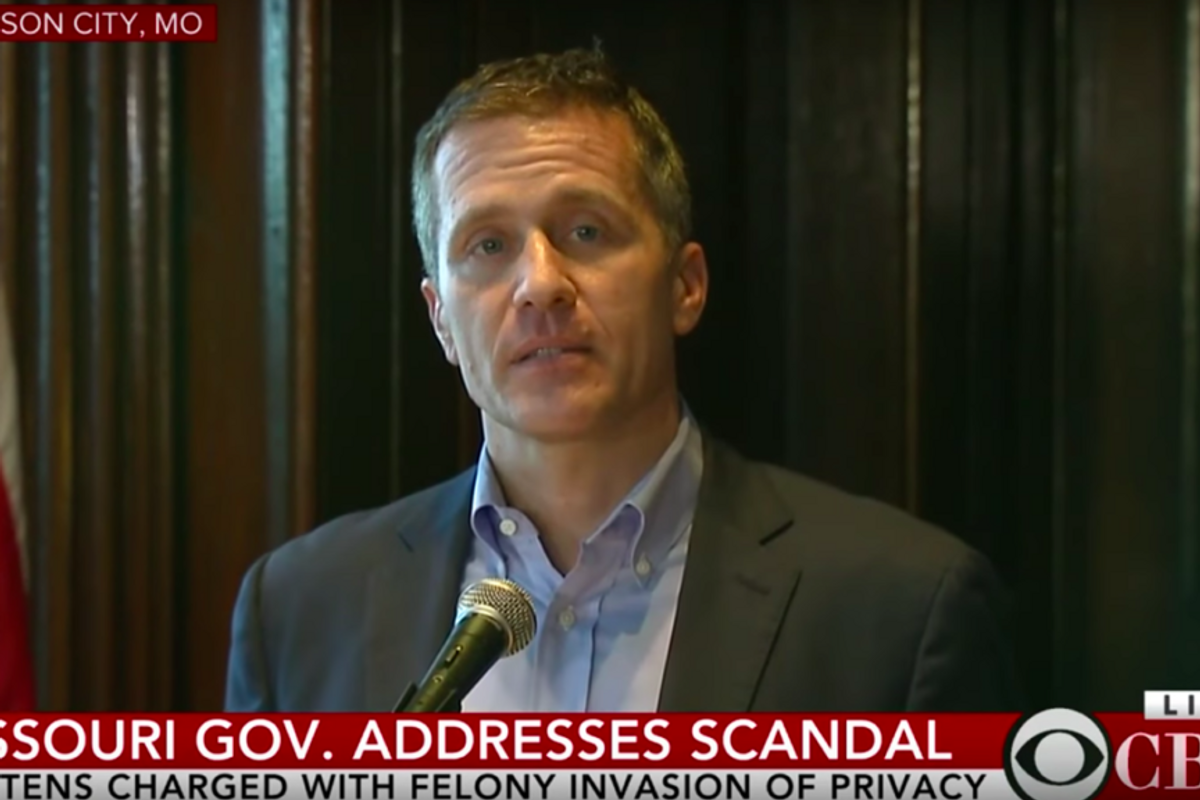 Former Missouri First Lady Sheena Greitens revealed in a recent court filing that she has photos and other evidence supporting her claim that scumbag GOP Senate candidate Eric Greitens physically abused her and their children.
Prof. Greitens, who directs the University of Texas's Asia Policy Program, had wanted to keep all this quiet for her children's benefit, but Eric Greitens has responded with gross smear tactics. He's called his ex-wife "a deranged individual" and said she had "a documented history of mental illness and emotionally abusive behavior."
PREVIOUSLY: MO Senate Candidate Eric Greitens Is Somehow Even More Trash Than We Knew
He's one to talk about "emotionally abusive behavior." When he was facing criminal charges and possible impeachment over his violent sexual relationship with an entirely different woman, he threatened to kill himself unless Prof. Greitens — the woman he'd cheated on and publicly humiliated — showed "specific public political support" for him. Then there's the actual physical abuse he's alleged to have inflicted on his family. In her sworn affidavit, Prof. Greitens claims Greitens struck their then three-year-old son across the face at the dinner table in front of her and yanked him around by his hair. She also describes a chilling incident in November 2019 when one of their sons returned from visiting Greitens with a swollen face, bleeding gums, and a loose tooth. He said his father had hit him. Greitens said his son fell down some stairs injured himself while roughhousing. The tooth had to be surgically removed.
---
Greitens should be serving time in the Phantom Zone, not running for Senate, but he refuses to drop out and is even seeking full custody of his sons. That's a stretch even if you aren't a complete monster, so it's clear that he's not interested in sparing Prof. Greitens and his children further pain.
Former governor asshole claims his ex-wife made all this up just to "vindictively destroy" him. His "proof" is that prior to escaping her abusive marriage, Prof. Greitens had signed a document stating there were "no undisclosed material facts." She'd also agreed to a joint custody parenting plan. However, Prof. Greitens revealed in this week's filing that she did document and report Greitens's abuse. She agreed to the joint parenting plan because she considered that her best chance to get her kids safely out of Missouri. (They currently live with her in Austin.)
PREVIOUSLY: Now Is The Time For Fifty Shades Of Missouri Gov Eric Greitens To GET THE FUCK OUT
"In fact, they were reported to multiple lawyers, therapists, and our mediator, in 2018 and afterward," Sheena Greitens said. "I will provide contemporaneous documentation of the relevant communications, as well as photographic evidence of my child's 2019 injuries, to the court at an appropriate time."
As for Sheena Greitens's "documented history of mental illness," that crawling piece of slime is referring to the therapy she sought from January 2018 to April 2020 when coping with her husband's infidelity and physical abuse. Gaslight is a movie, not an alibi, motherfucker.
Prof. Greitens's attorney Helen Wade notes that Greitens's "all-out, calculated, and purposely public attack" on his ex-wife is also purposely "outside the confines of the courtroom, off the witness stand and notably without being under oath." Prof. Greitens has physical evidence of her claims, which she made in sworn affidavits. She's not the one lying.
Greitens is now tied in Missouri Republican primary polls for the US Senate race with Rep. Vicky Hartzler and Attorney General Eric Schmitt, both of whom suck in their own way. However, neither has been accused of knocking out a child's tooth. Although individual Republicans, including Senator Josh Hawley, have demanded that Greitens drop out of the race, the Missouri Republican Party has kept quiet.
The state GOP's silence has "appalled" Rene Artman, a member of the party's executive committee who also serves as chairwoman of the Republican Central Committee of St. Louis County. She said:
Eric Greitens disgraced the state as governor and has somehow taken that disgrace to a new level with highly credible reports that he beat his then-wife and three year-old son. Eric Greitens does not have the character to represent Missouri.
That's obvious, but the relevant question now is whether Greitens can still manage to win a GOP primary.
[KCUR]

Follow Stephen Robinson on Twitter.
Do your Amazon shopping through this link, because reasons.
Yr Wonkette is 100 percent ad-free and entirely supported by reader donations. That's you! Please click the clickie, if you are able.
Stephen Robinson
Stephen Robinson is a writer and social kibbitzer based in Portland, Oregon. He writes make believe for Cafe Nordo, an immersive theatre space in Seattle. Once, he wrote a novel called "Mahogany Slade," which you should read or at least buy. He's also on the board of the Portland Playhouse theatre. His son describes him as a "play typer guy."