'Fox & Friends' Jizz Their Stockings In Yuletide Rage
News
December 15, 2015 04:00 PM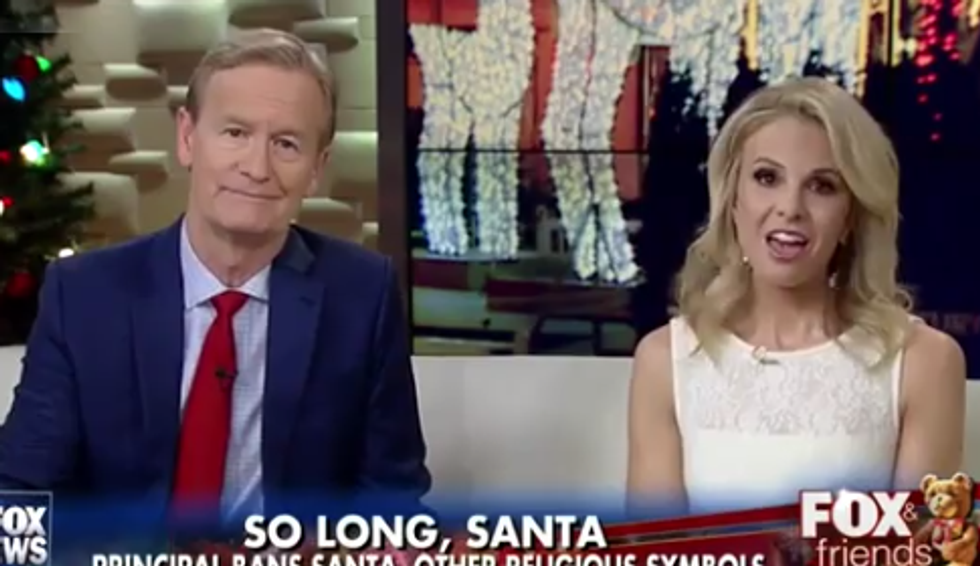 Fa la la la la, la la la SHART
---
Two of the unique strains of brain syphilis that sit on the "Fox & Friends" couch every morning have finded a real War On Christmas! Oh so exciting! You see, there is this school in Brooklyn, P.S. 169, and it has this new Millennial principal, Eujin Jaela Kim, who is pretty sure she needs to create a safe space for everybody, and seems to be pissing everybody off in the process.
You see, P.S. 169 is ninety-five percent Asian or Hispanic, according to the New York Post, and Kim wants to make sure everybody is included:
"We definitely can't say Christmas, nothing with Christmas on it, nothing with Santa," PTA president Mimi Ferrer said administrators told her. "No angels. We can't even have a star because it can represent a religious system, like the Star of David." [...]

A memo last month from assistant principal Jose Chaparro suggested a "harvest festival instead of Thanksgiving or a winter celebration instead of a Christmas party." He urged staff to "be sensitive of the diversity of our families. Not all children celebrate the same holidays."
That is very true. Kim has also reportedly murdered the Pledge Of Allegiance, although there are conflicting "reportedlys" in the Post article:
​A DOE spokesman said classrooms can recite the pledge "at the teacher's discretion." But PS 169 teachers said that Kim never told them they could do so.
Hmmmm! Well anyway, the "Fox & Friends" human dildo couch is SO MAD. They sat down with Mimi Ferrer, the PTA mom quoted above, to learn about what's going on at the school:
What you'll hear in this interview is that actually (!!!!) the mom makes a lot of sense. She's way open to ALL the traditions being celebrated. Jewish stuff for Jewish kids, Christmas for the Christers, etc. Expose the kids to ALL the diversity in this very diverse school. Hell, she is Latina and says she used to organize Day of the Dead festivities for the school, which is (SPOILER ALERT) not how traditional 'Murcan kids celebrate Halloween.
What we are saying is that this lady has a point, but it's not the one Elisabeth Hasselbeck and Steve Doocy think it is. The two hear Ferrer out and pay an assload of lip service to the idea of diversity being amazing, and then Doocy sets PTA mama up to deliver Fox News's trademarked ass-chapping grievance of the holiday season:
DOOCY: You're wearing a Santa Mickey shirt. You can wear that into the school, BUT?

FERRER: We're not allowed to say the "Merry Christmas." :(
FOX NEWS SADFACE JIZZ EXTRAVAGANZA, DING DING DING!
[contextly_sidebar id="r2dSLqDyxabCeMUPJOvMfIbhkKt1xy6r"]
But you see, this is not typical Fox News War On Christmas fare. This isn't Gretchen Carlson bellyaching about how the Festivus Feats Of Strength are prohibiting her from suckling the baby Jesus to her Miss America teats. This is not Fox's Todd Starnes, Alleged Pee Enthusiast, pushing a fake story about a Georgia school confiscating Christmas cards. And it's definitely not Starbucks doing abortions to Jesus in His manger, by making a red cup.
What we have here is a young principal who probably means very well, and is probably trying to create an environment where ALL the kids are comfortable, but she's doing it in that stupid Millennial Twitter way, where if you ban ALL THE WORDS, then nobody can get microaggressioned with words, and if you ban ALL THE HOLIDAYS, then nobody can get beated up by somebody else's Santa Claus.
Mary Elizabeth Williams, a New York City mom who writes for Salon, points out that while this story has the whole right wing internet shitting itself, because of course it does (and fuck those people, sideways, with both of their teeth), there's a lesson to be learned:
[W]hen education is done right, it moves toward inclusion rather than exclusion, adding on rather than cutting off. [...] My kids go to school in a system in which Christian, Jewish, Asian and Muslim holidays are observed as official days off on the calendar. So rather than automatically assuming what's going on at PS 169 is yet another example of the made-up War on Christmas, maybe instead it's possible to say it's an attempt — albeit one that seems to have come down without a lot of feedback or communication with the parent community — at more openness in how the year is celebrated.
Maybe so. And maybe this is a teachable moment for the parents, the students, AND the principal.
[contextly_sidebar id="sf8ReVVykVXU0m8jcbFVYmhkyx6CYMB8"]
It's not a teachable moment for the "Fox & Friends," of course, because they are unwashed nut sockets of stupid who don't even understand why sharks gotta live in the ocean, GAH YOU SHARKS.
[New York Post / Salon viaCrooks & Liars]
Evan Hurst
Evan Hurst is the managing editor of Wonkette, which means he is the boss of you, unless you are Rebecca, who is boss of him. His dog Lula is judging you right now.
Follow him on Twitter RIGHT HERE.