Fox News Anchor Tells Of Living Among 'Radical Vegetarians' In Park Slope, Brooklyn
News
April 04, 2012 01:25 PM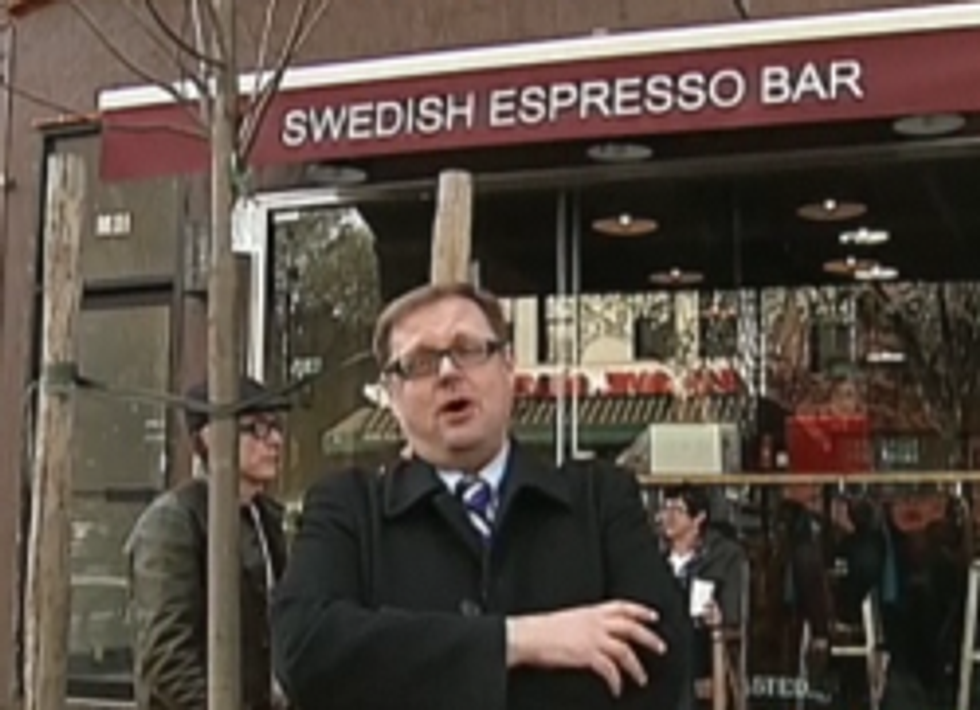 Cuddly southern man, Fox News employee and likely Tea Party embed Todd Starnes recently decided to move to -- of all places -- Park Slope, Brooklyn! His employer has this amusing online feature called "City Rant!," in which members of the public are supposed to write in or videotape themselves ranting about New York, which comes easily to most. But no wants to "City Rant!" on Fox News's website. And so the only people that Fox can seem to get to rant is actual Fox News employees. So here is Todd, Fox News anchor and radio host! He has a voice for radio, and he wants to rant about how he loves "shade trees" but hates liberals. He is fond of "A Tree Grows In Brooklyn" but was pleasantly surprised to find that trees do grow in Brooklyn. Now he can touch them every day, and they are shady, too. But the problem is, he is in the 0.1 percent in Park Slope, as a Southern conservative man, walking among the vegan ice-creaming-hating rally stroller racers. Hear his cry.
---
Here is Todd's introduction:
We are introducing a new City Ranter. He's Todd Starnes -- author, anchor and commentator for Fox News and Fox News Radio. Todd is also a dyed-in-the-wool Southerner who recently landed in Park Slope, Brooklyn, which may explain why he's still in shock over some of the things New Yorkers take for granted.
WHATEVER COULD HE MEAN?
Not wanting to live among the snobs of Manhattan, Starnes said he knew "early on" that he wanted to live "right here, in Brooklyn" BECAUSE OF THE FOOD CO-OP!! Geraldo has kindly offered to do his co-op work shifts when he is "working late"!!!! And what about that Swedish espresso bar, Swedish Espresso Bar! Starnes prefers espresso because it is gentler on his stomach, although he has to admit he's coming around to the pour-over coffee revolution and has gladly waited hours at the Brooklyn Flea for one six-ounce cup of Blue Bottle! Last week he went to the Stumptown in the Ace Hotel for his morning coffee and even asked the barista where he got his suspenders! He later went on Etsy and found a similar pair. Change is good!
Tune in for next week's City Rant, with real New Yorker and member of the public and Fox news anchor Ernie Anastos! And in two weeks...Rupert Murdoch's son's wife's friend! [Hmm?]