Fox News Decided To Spare America From Thinking Of Donald Trump Boning Porn Star Before Election
News
January 19, 2018 10:20 AM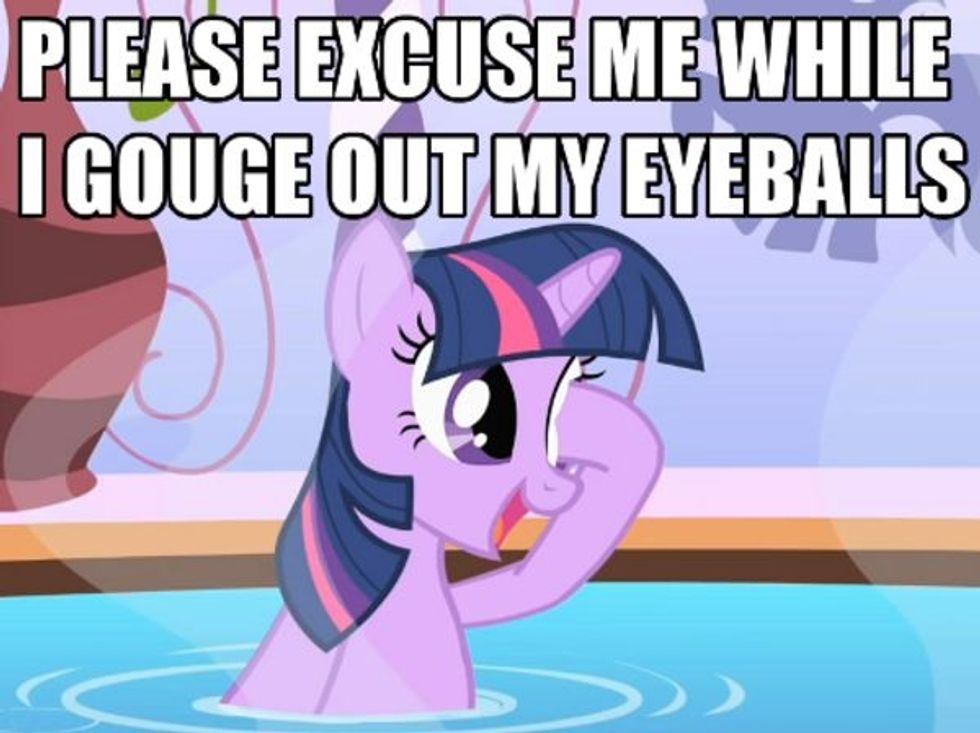 Nope, won't need the ol' brain anymore either.
---
While we've all tried to avoid thinking about Donald Trump imagining his hot daughter while aimlessly flailing his svelte 239-pound meatchops against the lissome naked flesh of porn performer Stephanie Clifford (nom de porn Stormy Daniels) as she demurely suppressed the urge to gag, CNN was out doing some journalisms and discovered that Fox News actually killed a story about the (alleged) 2006 affair shortly before the 2016 election. For some reason.
One of the network's reporters, Diana Falzone, had filed a story in October 2016 about an alleged sexual relationship between Clifford and Trump, people familiar with the matter said.

Falzone had an on-the-record statement from Clifford's manager at the time, Gina Rodriguez, confirming that her client had engaged in a sexual relationship with Trump, three of these people said, and Falzone had even seen emails about a settlement.
Two of the sources said that Falzone had been very frustrated that Fox sat on the story, for some reason. One said, "She had the story and Fox killed it." CNN did not elaborate on whether Falzone had noticed, by October of 2016, which network she was actually working for.
Falzone later filed a lawsuit alleging gender discrimination by Fox News, in May 2017 -- probably because of how women get bitter and all. Fox denied the charges, which ought to be enough for Fox News viewers, so why bother going forward with the case? Incredibly, the courts are letting it proceed.
Fox News editor-in-chief Noah Kotch sexplained the story wasn't killed for any other reason than Fox's very high standards of journamalism, the kind that kept Bill O'Reilly in his own show for decades:
Like many other outlets, we were working to report the story of Stephanie Clifford's account in October 2016 about then-Presidential candidate Donald Trump and a possible payment by Trump lawyer Michael Cohen. In doing our due diligence, we were unable to verify all of the facts and publish a story.
Strangely, however, Fox News didn't make any use at all of that previous reporting in its recent coverage of the alleged affair, once the Wall Street Journal broke the story last week. Nor did a Fox News spokesperson have any comment for CNN on why Fox didn't use it. Maybe they forgot. Or couldn't find the deleted files. Or tape all the shredded bits together. Probably just one of those little everyday oopsies.
Ms. Clifford denied that she'd had a relationship of any kind with Trump or that she'd received any financial settlement, as she had when the WSJ broke the story, although that may have been undercut just the slightest bit by the release of a 2011 interview with In Touch magazine in which she reportedly said Trump had compared her business acumen to his daughter's ass, that he didn't use a condom, and that Trump just sort of lay there like a lox in bed (we're paraphrasing).
CNN also notes that Fox wasn't the only outlet working on a story about Trump and the pornlady at the time; others included ABC's Good Morning America, Slate, and the Daily Beast. Both Slate and the Daily Beast ran stories in the last week detailing that they dropped their stories only after Clifford had suddenly stopped returning reporters' calls shortly before the election. You know, the way someone might do if they'd received a nice chunk of hush money.
In the meantime, the Wall Street Journal reported last night that Trump's lawyer, Michael Cohen, had arranged the hush-money payments through a Delaware shell company, making the payments to Clifford's lawyer but using the pseudonym "Peggy Peterson" instead of either Ms. Clifford's real or stage names. Cohen didn't respond to the WSJ's requests for comment yesterday, although he did have some peachy denials last week when the story first broke, telling the paper in emails to "cease wasting my time" and getting so irritated that he misused an apostrophe:
"You're [sic] obsessive drive to prove a false narrative, one that has been rebuked by all parties, must come to an end."
So really, we should all just drop this, because after all, it would be silly to make a big deal about what a president had been doing with his peener in his private life, wouldn't it?
Yr Wonkette is supported by reader donations. Please click here to pay us some never-hush-up money!
[CNN / WSJ (Paywalled? Try the Twitter link)]