Fox News's Jesse Watters: America's Not Racist, But I SURE AM!
Post-Racial America
August 16, 2017 01:27 PM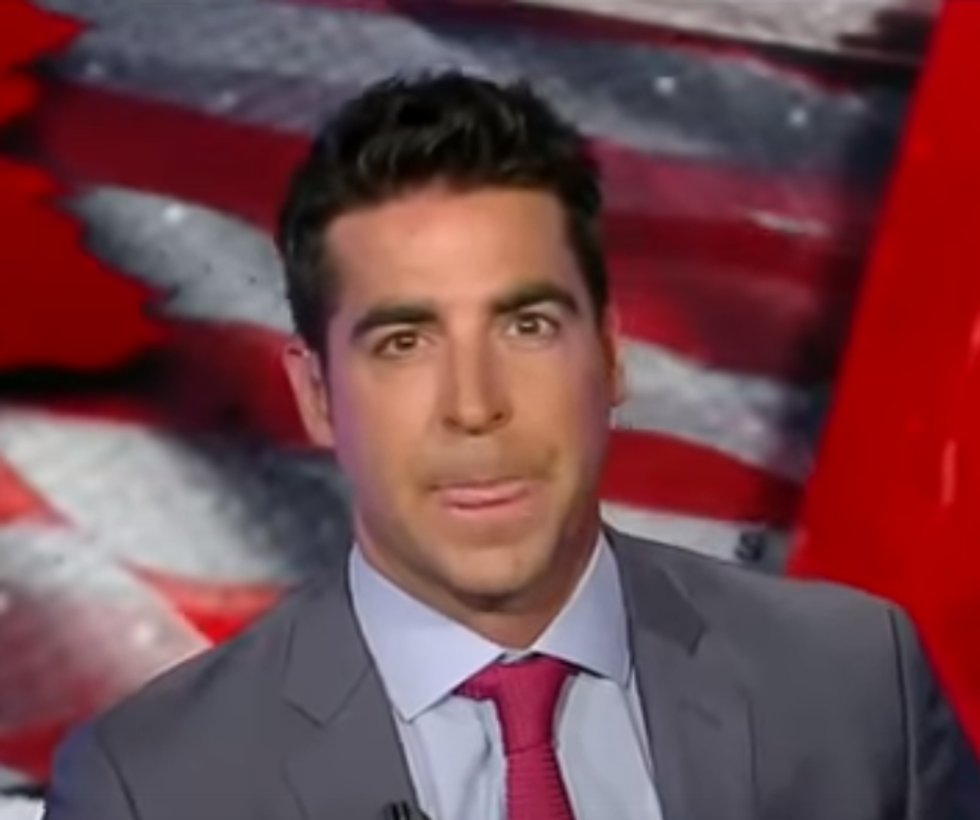 not racist
---
Oh, Fox News! Never change! Just kidding, please change!
Jesse Watters, Bill O'Reilly's former "funny" ambushing Man On The Street sidekick, is definitely not racist. He certainly isn't racist about Chinese people, he just thinks they're HILARIOUS, as he showed when he visited Chinatown and Made Asian Racism Fun again, for the amusement of O'Reilly's viewers.
And Watters knows America The Beautiful is NOT a racist country, even as we are reeling from the LITERAL NAZI TERRORIST ATTACK in Charlottesville. Now that Watters has his own show (gross! he does), he used his bigger platform to deliver a soliloquy about how racial harmony is just breaking out all over in the United States. It ended like this:
What we saw in Charlottesville were fringe fanatics who don't represent this country. America is not a racist nation. It's time we stop acting like it is.
OK! Whatever you say, Jesse Watters! Racism is nonexistent, as long as you close your eyes, stick your fingers in your ears and ignore all the racism!
Having said that, Watters moved on, because he had more non-racist Fox News to say. For instance, he was JUST WONDERING IF THESE TWO BLACK LADIES ...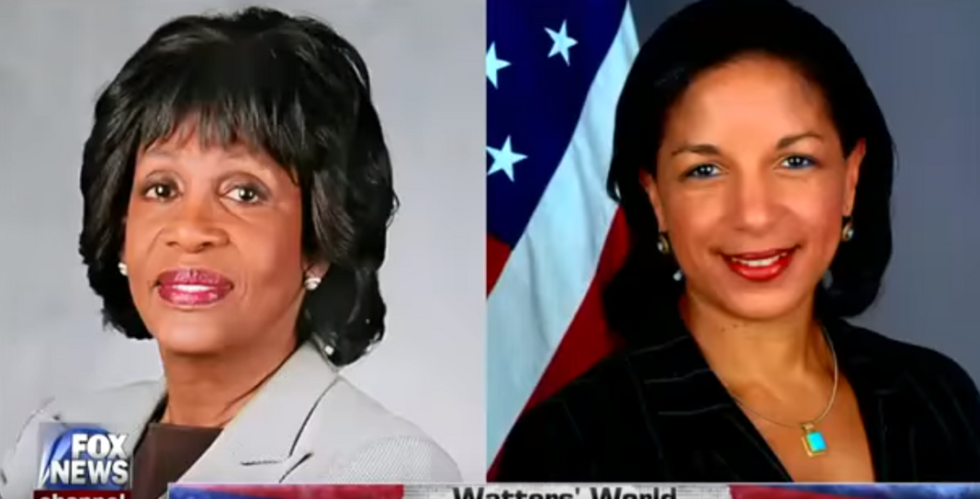 ... MAXINE WATERS AND SUSAN RICE, are "siding with the North Korean dictator." It is an innocent question! WELL ARE THEY? Never mind that Waters and Rice are two of the black women Fox News most commonly throws up onscreen when they want to dogwhistle the N-word into their pig racist viewers' brains. Tucker Carlson does it! Jesse Watters's old boss did it!
To be clear (and you'd understand this if you watched the video LIKE YOU'RE SUPPOSED TO) that was an immediate transition. The whole thing took fewer than twenty seconds.
But that's not all! Watters also previewed another very important story, which was just about whether SCARY BLACK GUYS WITH GUNS, LIKE THIS DUDE ...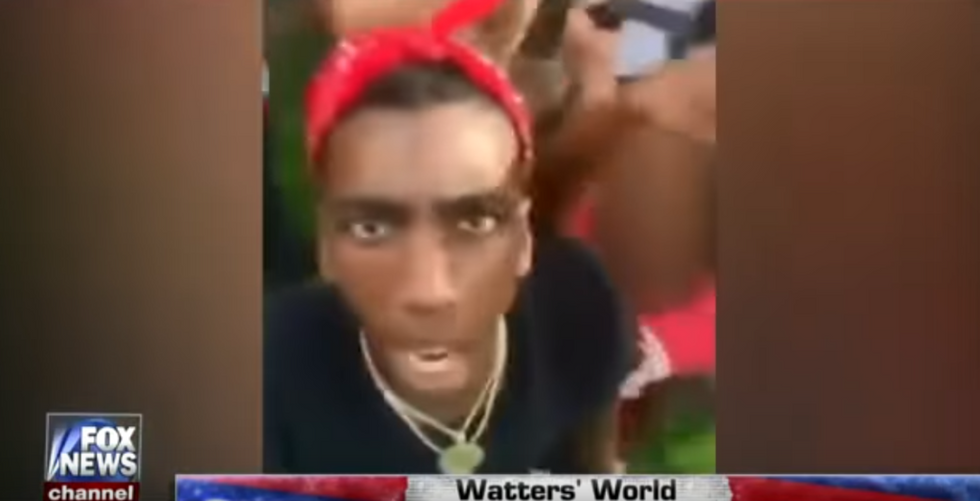 ... are "threatening President Trump over food stamps." Is that SCARY BLACK GUY going to make "pew pew!" at Dear Leader Trump, because he's mad he can't use his Obamaphone to buy bejeweled lobster cakes with his food stamps? IS THAT GOING TO HAPPEN, RACIALLY TRANSCENDENT FOX NEWS VIEWER? WELL IS IT? IS IT?
MAXINE WATERS? SUSAN RICE? THAT GUY MAKING THE GRRR FACE AND WEARING THE HIPPITY HOPPER BLINGS?
IS HIPPITY HOPPER GUY ON NORTH KOREA'S SIDE TOO?
DOES MAXINE WATERS HAVE A GUN?
PANIC, WHITE AMERICA, PANIC!!!!!!!!!!!!!!!!!!!!!!!!!!!!!!!!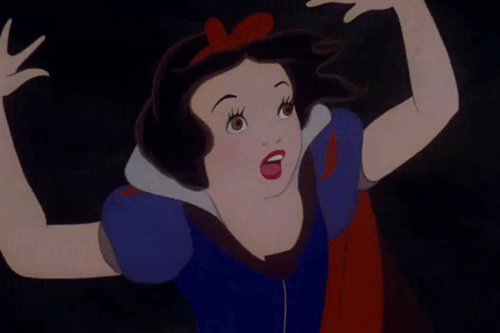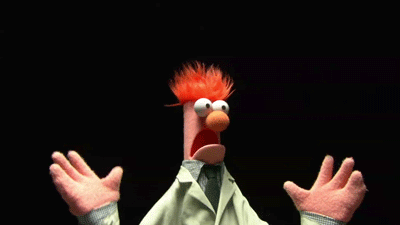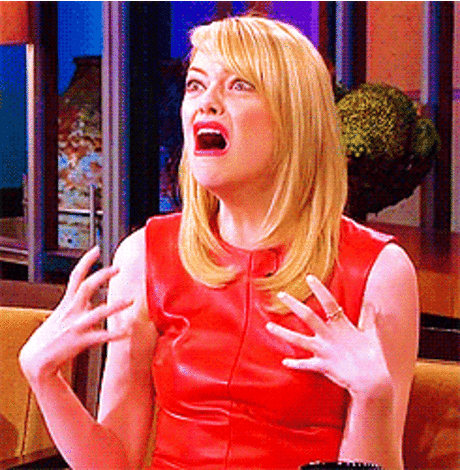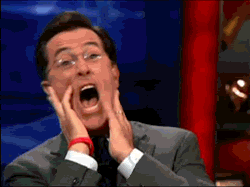 But no worries. America is not a racist country. It's just those Leftists who so angrily do racism to poor innocent Nazis, many of whom are fine historical statue enthusiasts who just love statues so much they refuse to discriminate against the Confederate ones. That's what (also Fox News host) Tucker Carlson and (guy who masturbates to "Fox News," allegedly) Donald Trump said.
Next up on the Jesse Watters TV program: another heartfelt condemnation of neo-Nazis, immediately followed by the Fox News exclusive, "How Many Angry Blacks Are Hiding In Your Bathroom RIGHT NOW?"
Wonkette salaries are fully funded by lovely souls like you! If you love us, click below to pay our salaries!
[h/t Mother Jones]
Evan Hurst
Evan Hurst is the managing editor of Wonkette, which means he is the boss of you, unless you are Rebecca, who is boss of him. His dog Lula is judging you right now.
Follow him on Twitter RIGHT HERE.