Fox Producer Sues For Allll The Discrimination
Legal
March 21, 2023 02:40 PM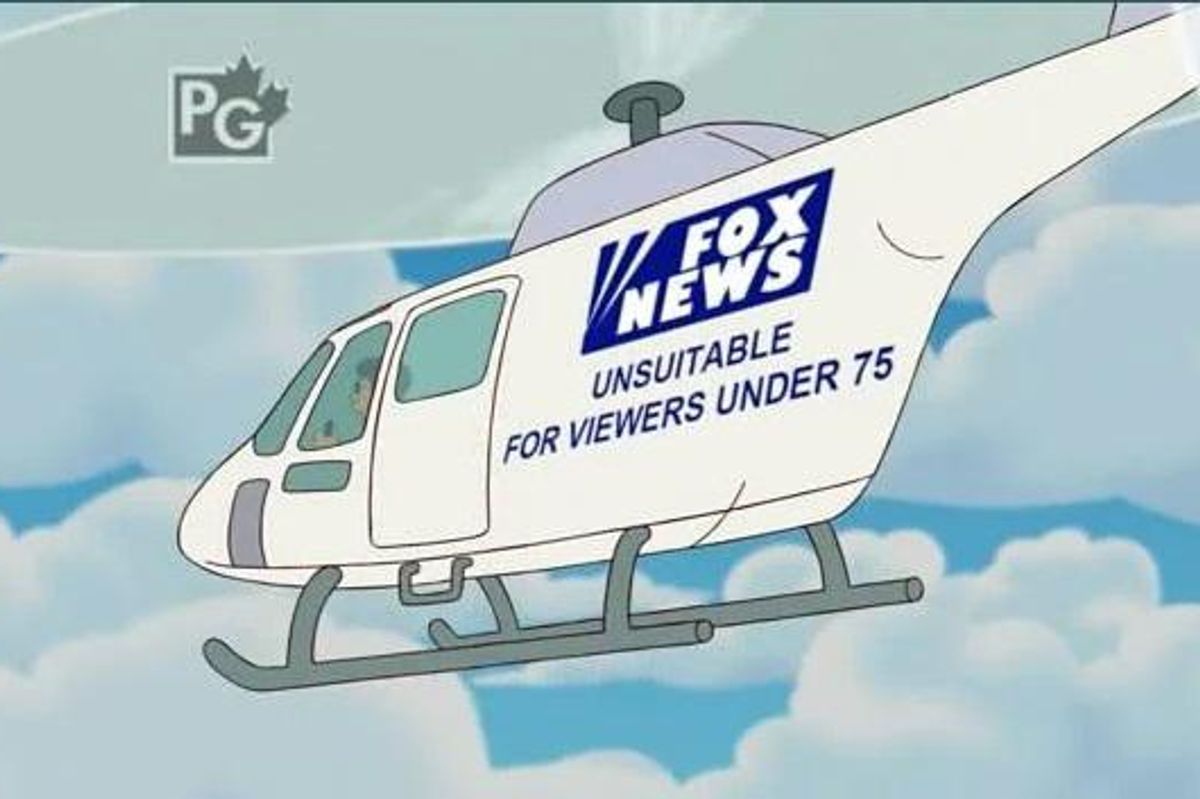 Would it shock you to learn that Fox News is still a raging dumpster fire of sexism even six years after Roger Ailes found out if he won his bet that there is no hell? Would you faint dead to find out that putting Suzanne Scott in charge of the place and installing a handful of women in the C-suite didn't change the corporate culture? Would it shake you to your core to discover that the company was still underpaying female employees and subjecting them to routine harassment at work?
Well, maybe you should sit down for this one, kids, because a newly filed gender discrimination suit by former Fox producer Abby Grossberg is making Rupert Murdoch's machine for turning white rage into green money look like a house of horrors. It's also going to be pretty darn interesting to the lawyers representing Dominion Voting Systems in its $1.6 billion defamation suit against Fox.
The New York Times, which was first to break the news of Grossberg's multiple lawsuits last night, reports that the longtime TV veteran has filed claims in federal court in New York, where she worked, and state court in Delaware, where Fox Corp is registered. We haven't yet seen the state complaint, but the federal one is brutal.
---
In it, Grossberg claims she was denied a promotion to executive producer for Maria Bartiromo's "Sunday Morning Futures" program because the male executives around her believed only a man could manage the host, whom they described as "crazy," "menopausal," and often "hysterical." Grossberg herself depicts Bartiromo as something of a dotty aunt figure, but also claims that her show was systematically starved of resources as compared to programs by her male counterparts. In frustration, Grossberg moved to Tucker Carlson's show, after which she claims was replaced at "Sunday Morning Futures" with three staffers.
Why Grossberg thought things would be better working for Tucker freakin' Carlson is unclear. But she describes walking into the office the first day to find screensavers of Nancy Pelosi in a swimsuit, because hawhaw. The second day, she was summoned by her direct report, who demanded to know "Is Maria Bartiromo fucking Kevin McCarthy?" And things went downhill from there.
Office discussion about women's bodies was constant. Before hosting a Republican gubernatorial candidate, there was a lively debate in the newsroom about whether she was more sexually desirable than her Democratic rival. One of Grossberg's male colleagues mocked a Republican congresswoman as being "fat like Kelly Clarkson," to which another male employee responded that "she only became a congresswoman because she fucked the person who had the job before her."
Then there's this bizarre colloquy:
During yet another offensive discussion on or about December 12, 2022, at TCT, Mr. Kass and Mr. Neret declared that women with tattoos, nose piercings, or rainbow-colored hair were "disgusting," should be shunned, and mused that such personal appearance choices reflected on their "character." Mr. McCaskill agreed.

Ironically, Mr. McCaskill himself has tattoos, and most tellingly, did not speak degradingly of men with body art. 204. Ms. Grossberg interjected to her male colleagues that they should still respect these women, even if they did not find them attractive. Ms. Grossberg added that she herself had three small tattoos, so she found the comments particularly offensive.

To add insult to injury, Mr. McCaskill invasively asked Ms. Grossberg where her tattoos were, and Mr. Carmichael stated he thought it was illegal for "Jews" to have tattoos.
In fact, Grossberg says that there was rampant inappropriate discussion of Jews, despite the presence of multiple Jews in the office. Here's a fun little snippet to make an HR official's head spin:
As the year came to an end, Ms. Grossberg bought each of her team members a gift to thank them for their diligent work. In turn, Mr. Yaron bought a babka (a historically Jewish sweet bread) for the office. When Mr. McCaskill learned that there was babka in the office, he began to loudly and obnoxiously demand that the TCT booking team have "the bread made by the Jews." Thereafter, anytime Mr. Yaron purchased his lunch from the Jewish bakery known as Breads Bakery, Mr. McCaskill loudly proclaimed to the TCT booking team that Mr. Yaron went to the "Jew bakery," and that he had gone "to see his people."
And to top it all off, Grossberg was paid significantly less than her male colleagues for performing the same work.
When Grossberg complained, she was immediately given a poor performance review. And when she became clinically depressed and anxious due to her "hostile" work environment, she claims she was retaliated against in violation of the Family Medical Leave Act. But perhaps most worrying to Fox, who could likely eat a settlement with Grossberg in the low seven figures without batting an eye, the producer claims that she was coached by Fox's lawyers to downplay the way that Fox shaped its coverage in response to ratings and to deflect blame from the male hosts onto herself and Bartiromo.
And indeed, Grossberg and Bartiromo looked pretty terrible in Dominion's filings, with the producer conceding that they didn't fact- check the insane claims being made by Sidney Powell about Dominion, even after seeing that batshit email from the headless ghost woman. At one point, Grossberg reassured Bartiromo that it was fine that she hadn't pushed Trump on his election fraud claims because "To be honest, our audience doesn't want to hear about a peaceful transition." In her defense, Grossberg claims that she was directed by Fox's lawyers to minimize the extent to which Bartiromo's show was drastically understaffed, taking the blame on herself and deflecting it from male stars and executives.
The day after her deposition, on September 14, 2023, [Grossberg's supervisor] Mr. McCaskill asked Ms. Grossberg about what she covered in her testimony, and she revealed that Mr. Carlson's name had come up, but that she protected him. Mr. McCaskill said he was happy with the answers she had given and suggested they order the staff lunch to celebrate her defense of Mr. Carlson's misogynistic-laden text. Later that day, an email was sent to the whole TCT team in recognition of "Abby Day."
None of it is good, and Fox tried desperately to keep it from coming out by filing a motion to enjoin her revealing supposedly attorney-client privileged materials about her interactions with its lawyers. That appears to have had zero effect, with Grossberg docketing the 12-count New York claim, encompassing a claim under the federal Equal Pay Act, as well as multiple violations of New York state employment law. She also filed the Delaware case as well as an EEOC claim, and she plans to amend the New York complaint to add Title VII and the ADA counts once the administrative case is resolved.
All of which is bad news for Fox, particularly coming just a month before the Dominion trial. And you can bet your bottom dollar Dominion is going to want to revisit its depositions with Grossberg now that she's changing her story.
And, yeah, Grossberg participated in some gross, horrible shit. But that doesn't mean she wasn't abused at work! Two things can be true, and in this case, apparently are.
TL, DR? Let them fight.
Catch Liz Dye on Opening Arguments podcast.

Click the widget to keep your Wonkette ad-free and feisty. And if you're ordering from Amazon, use this link, because reasons.
Liz Dye
Liz Dye lives in Baltimore with her wonderful husband and a houseful of teenagers. When she isn't being mad about a thing on the internet, she's hiding in plain sight in the carpool line. She's the one wearing yoga pants glaring at her phone.