Fox's Roger Ailes Did Not Rub His Pervy Sex Boner On Gretchen Carlson, Says Roger Ailes
News
July 07, 2016 12:18 PM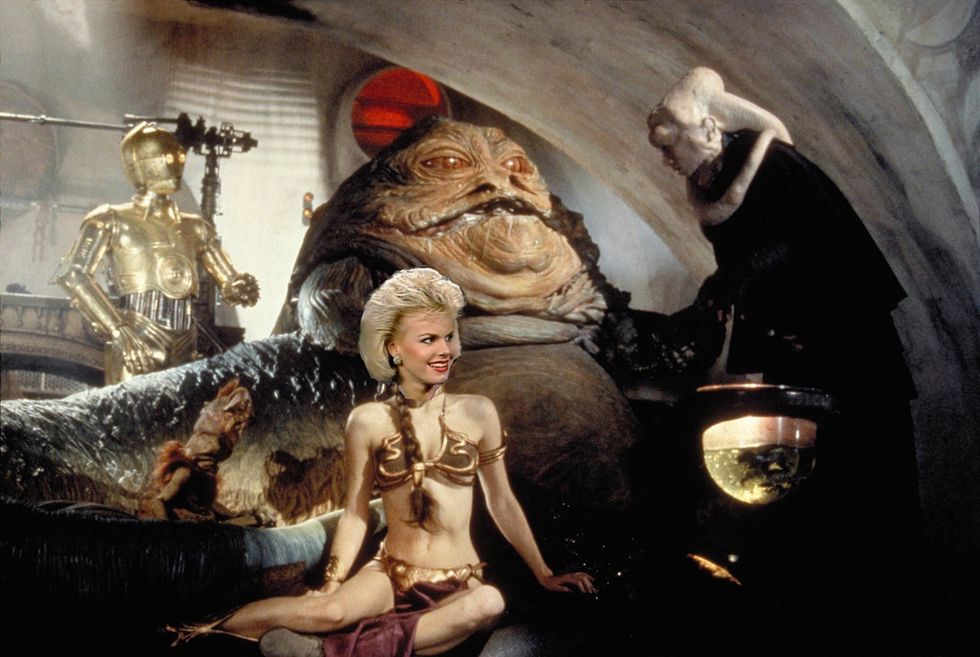 How Roger Ailes remembers it, probably.
---
That Gretchen Carlson lady is just mad because she's a loser whose contract didn't get renewed, and she made up ALL those stories about how Fox News chairman and CEO Roger Ailes sexually harassed her and tried to express his boner glands in her bathing suit region, according to Ailes.
[wonkbar]<a href="http://wonkette.com/603763/fox-newss-gretchen-carlson-allegedly-fired-for-refusing-to-bang-roger-ailes-on-his-penis"></a>[/wonkbar]Fox News's Howie Kurtz, an Ailes ass-kisser, filed the Fox version of a straight news report on Carlson's lawsuit, reporting JUST the facts. Except he sort of downplays all of her harassment claims, and talks instead about how Roger Ailes is just a mensch who doesn't do boners to anybody, because Fox News is his family, and you don't do boners to family.
Here is Ailes's statement:
"Gretchen Carlson's allegations are false. This is a retaliatory suit for the network's decision not to renew her contract, which was due to the fact that her disappointingly low ratings were dragging down the afternoon lineup. When Fox News did not commence any negotiations to renew her contract, Ms. Carlson became aware that her career with the network was likely over and conveniently began to pursue a lawsuit."
See? Roger Ailes is not a gross man, and all the stories about him being a sexist, rapey pig dingleberry (for YEARS) are BASELESS.
Howie licks his boss's boots, pointing out that Gretchen Carlson failed to provide key evidence, like "e-mail, texts or voice mail," and follows that with five asshole-rimming paragraphs about how Fox is the bestest and so is Ailes:
"Ironically," Ailes says in his statement, "Fox News provided her with more on-air opportunities over her 11-year tenure than any other employer in the industry, for which she thanked me in her recent book. This defamatory lawsuit is not only offensive, it is wholly without merit and will be defended vigorously."

When the new program was announced, Carlson said: "I am thrilled that Roger Ailes has given me the opportunity to host a signature show for Fox that will focus on the real stories of the day."

In her book "Getting Real," published last year, Carlson called Ailes "the most accessible boss I've ever worked for," and said "he saw Fox as a big family, and he cared about everything we did." She said he had even urged her to speak occasionally about having been Miss America in 1989. [...]

In her book, Carlson wrote of her time on the morning show with Doocy and Brian Kilmeade, "I teasingly called Steve and Brian my 'work husbands' because I spent more time with them than I did with Casey." She is married to sports agent and former pro baseball player Casey Close.

In describing her success, Carlson says in the suit that her daytime show consistently ranked first in its time slot. But it is also true that she lost to CNN more often than any other Fox News program.
Awwwwwww! How odd that when she was a member of the team in safe standing, Gretchen said nice things about Ailes and also-rapey Steve Doocy in the public eye! This obviously proves that Bitches Be Lyin' now, because isn't that how it always is? Oh, you silly LADIES.
Speaking of ladies, the Daily Beast talked to several who say yeah, Roger Ailes acted like a rapey cock goblin toward them too:
"One time he asked me if I was wearing underwear, and was he going to see anything 'good,'" said a former Fox News employee, who said she has spoken with other women at the network who said they were targets of Ailes's sexually charged remarks. "It's happened to me and lots of other women… He's a disgusting pig who's been getting away with this shit for 20 years."

A second ex-employee, who also said Ailes verbally harassed her with inappropriate comments during one-on-one meetings ... [...]

A third former Fox News employee told The Daily Beast: "When I met Ailes he wouldn't stop staring at my legs, and at one point he asked if I was single. I was taken aback and said yes. And he was like, 'Oh, OK, so you're not gonna get pregnant any time soon.' And then he asked my age.
And a fourth former employee and a fifth, and we imagine there is a probably a 10th and a 13th and a 27th and a 65th former employee, all of whom are currently emailing Gretchen Carlson right now, like former employee number four did, to tell her she's their their hero right now.
It's so weird how all these ladies have such similar stories. It's kind of like how all the eighty-billion-teen ladies Bill Cosby raped had similar stories. Ho hum, so weird how that happens.
Oh well, nothing to see here probably.
Evan Hurst
Evan Hurst is the managing editor of Wonkette, which means he is the boss of you, unless you are Rebecca, who is boss of him. His dog Lula is judging you right now.
Follow him on Twitter RIGHT HERE.