Freedom Industries Too Busy And Too Evil To Talk To Congress About WV Chemical Spill
News
February 10, 2014 05:46 PM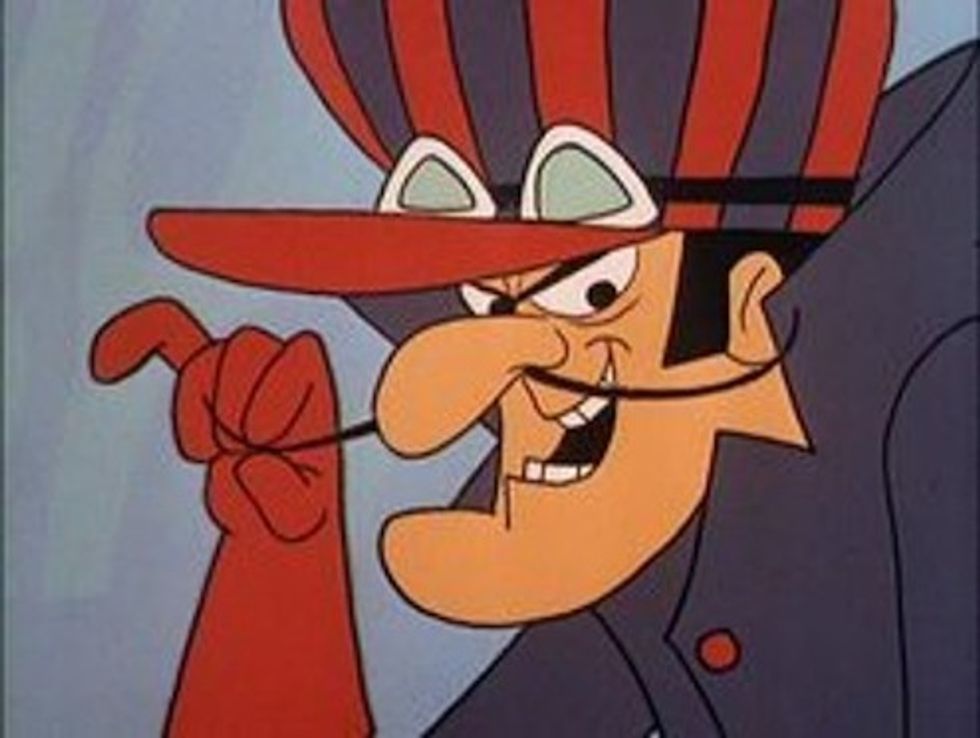 Not that we're complaining, because we need the post fodder, but is Freedom Industries, they of the "whoops, sorry we murdered your water, West Virginia" problem, behaving in an almost comically evil manner? First, there was their brave leader, Gary Southern, chugging bottles of water while Virginians had none. Then there was the refusal to explain exactly what horrorshow chemicals they threw in the water, because it is a trade secret. Today, we find out that very thirsty man Gary Southern couldn't be arsed to show up to chat with Congress about the whole shebang.
---
Exactly one month and a day after 10,000 gallons of chemicals spilled into West Virginia's water, members of the U.S. House Transportation and Infrastructure committee on Monday traveled to the state's capital city, ostensibly to ask state leaders the still-unanswered questions surrounding the leak. There are many.

Perhaps the most important party that could provide answers would have been Freedom Industries, the company whose chemical storage tanks leaked a coal-cleaning chemical called crude MCHM into the water. Company president Gary Southern had been invited to testify, but in the end, did not show up.
To be fair, it probably takes a TON of time to take candy from babies, twirl your carefully groomed evil mustache and figure out what other sources of drinking water you can destroy. But it is rude to just ignore members of Congress, especially when they come to you. Good lord, the lazy government employees who work for West Virginia's Department of Environmental Protection showed up, even. Why couldn't the job creators from Freedom show up? They don't even have to chat, because the individual executives could plead the Fifth Amendment, just like Kenny Boy Lay did when Enron was asked to chat with Congress. Also, too, it doesn't even sound like this was yet a formal hearing, so no one could compel Southern or anyone else to say anything.
But hey guy, maybe just showing up and saying something like "here is what we are doing to turn the water in West Virginia from a dusty gritty brown to sparkling and clean again" would be nifty, and that wouldn't even incriminate you a tiny little bit, Freedom Industries! Freedom's excuse? They're just too small a company to send someone to chat with Congress AND remediate the spill. Lolwhut? Is Gary Southern out there throwing down booms to sop up oil or doing some water testing with a little pH kit of his very own? That really does not seem likely! Also, too, the company's LinkedIn profile brags about all the cool things you can do because of your awesome staff, which sorta undercuts the whole idea that you couldn't spare ONE FUCKING GUY to come talk to this House committee.
Freedom Industries is the largest sole producer of mining chemical products in the United states with primary production plants in Nitro and Charleston, WV; as well as satellite operations in Pittsburgh, PA; Owensboro, KY; Chicago, IL; St. Louis, MO; and Grand Junction, CO. We are able to deliver drum, tote, truck, and rail car quantities of our products anywhere.

Freedom Industries has extensive equipment support services to design, engineer, and fabricate equipment to optimize product application. The Charleston, WV based facility is committed to meeting our customers' unique needs and requirements. A wide range of systems are available from simple, standard injection schemes to complex, programmable controllers for full process automation.

Freedom Industries' service technicians support you at your facility. Staff is trained to understand the chemical, electrical, and mechanical aspects of your system. Your process is surveyed routinely by our staff to insure economic and effective chemical treatment. These inspections include system performance analysis, component repair and replacement, inventory check, and a program status review with facility management to discuss program effectiveness. Product technical support is provided by our analytical laboratory in Charleston, WV. The analytical laboratory is responsible for new product development as well as supporting field service technicians.
You sound pretty competent and well-staffed, Freedom Industries! We bet you could have spared Gary Southern for the day to have a little chat with Congress. However, we all like to have a thing that makes us special, a thing that we are extra-good at, and right now, you are the very best at sucking, so if that's what you're going for, keep on keeping on.