Frothy Rick Santorum Thinking About Lubing Up For 2016 Republican Primaries!
News
April 09, 2015 03:01 PM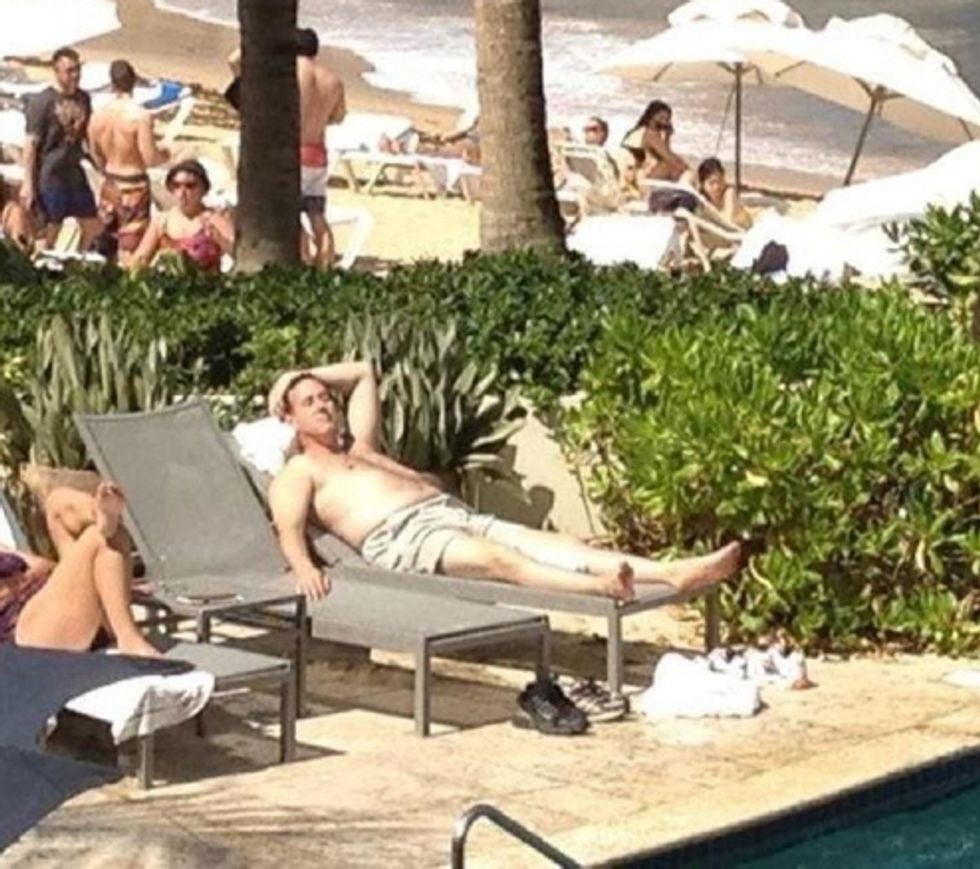 Hurray, Rick Santorum is dipping his toes into the frothy fecal waters of the 2016 Republican clown car! Rand Paul and Ted Cruz are already in there, just splash, splash, splashing around, but Rick Santorum is not 100 percent sure he's DTF yet, so he's created a "testing the waters" account, just to see if maybe he might want to lose another Republican primary:
---
The account allows Santorum, a Republican who ran for president in 2012, to raise and spend money under the same caps governing an actual campaign committee ($2,700 for individual donors, and $5,000 for couples.) Unlike a campaign committee, though, a testing the waters account does not have to disclose its finances.

"He just formed the testing the waters account this week," Santorum adviser Matt Beynon told CBS News. "His timeframe for making a formal decision on a bid is still what it was - by late spring, he'll make an announcement."
[contextly_sidebar id="YyQ7vHQqjdsm9awUQtQMspgb0j1gjeCq"]
The article goes on to say that Lindsey Graham is the only other one "testing the waters." He's on the other side of the pool from Santorum, having yet to decide whether or not he wants to get his hair wet.
Santorum, who is so much like Nelson Mandela that we can't even tell them apart, is fun and unique among Republican presidential contenders, in that he's even creepier and more disgusting than Ted Cruz when it comes to talking about sex and the gays and abortion and stuff. So, what kind of gross sex things is Santorum going to spend the next year and a half telling us?
Well, for one thing, President Santorum is not very happy with the way Americans use their erotic liberties! He's for all the other kinds of liberty, of course, the ones that Catholic Jesus tells him are okay. He's pretty sure that those kinds of freedoms are greater than the ones involving how people like to smoosh their junk together in the dark. Also, when it comes to butchers and bakers what hate the fags, he will completely make sure their cakes and meat pieces are only cockgobbled in a fully Christian heterosexual marriage way. Yes, finally the anti-gay wedding vendors will be persecuted no more!
But that's just normal religious freedom stuff. We're MOST excited for him to teach us how to fuck again, the hot Rick Santorum way. First of all? IT'S NOT SEX IF YOU'RE NOT BAREBACKING. Rick Santorum is not about to wear a dumb condom, they don't feel that good, and they hurt baby Jesus's feelings. God is trying to put a baby in you, and if He happens to put some AIDS in you too, well, that probably means you're having sex in gay ways, which Rick Santorum says is gross and just like man-on-dog stuff.
[contextly_sidebar id="iANXSB3N3yTPb9TVos2cmPm7x7RpuDkB"]
Also, boys? Clean the kitchen once in a while. Because that is how Rick Santorum keeps his wife hotsky to trotsky for their weekly Saturday Morning Santorum Sex Hour. You don't want Karen to get bored and start sexting with that hot abortion doctor she used to date, do you?
[contextly_sidebar id="vOf9IJEp96NJsJjWCHChAHfF9Ya2Ofcu"]
Speaking of abortion, Santorum was for it before he was against it, but unfortunately he "read the literature," which turned him into the womb invading goon he now is. And even though he totally hates it now, he's definitely sure that gay-bashing is more important than stopping the murders of tiny babies inside their mommies. ALL THE SAME THOUGH, abortion is always bad, even in cases of rape pregnancies, which Santorum views as, surprise!, Broken Rape Gifts From Heaven. Want to prevent possibilities like that with slut pills of some sort? NOPE. Santorum doesn't want you doing that either. Just lie back, kick your legs in the air and let Rick Santorum's God have his way with you!
[contextly_sidebar id="AjURnecAa5FB0dfXe2T32x1DpsCsDUAV"]
Oh, yes, he will also take away your porn, to make sure that you are just as uptight and sexually frustrated as he is. There is literally no way in which this man is NOT weird about anything involving sex.
So, rejoice, Wonkers, it's time to get on the boat. Santorum is going to slide us all right into 2016! It won't hurt a bit, he promises.
[contextly_sidebar id="IU5nm6cizSw8LwcnegAEYEsYctQD96f2"]
[CBS News]
Evan Hurst
Evan Hurst is the managing editor of Wonkette, which means he is the boss of you, unless you are Rebecca, who is boss of him. His dog Lula is judging you right now.
Follow him on Twitter RIGHT HERE.