NICE TIME! Georgia GOP Running Some Idiots Against Kick-Ass Stacey Abrams And Lucy McBath!
Post-Racial America
July 25, 2018 01:07 PM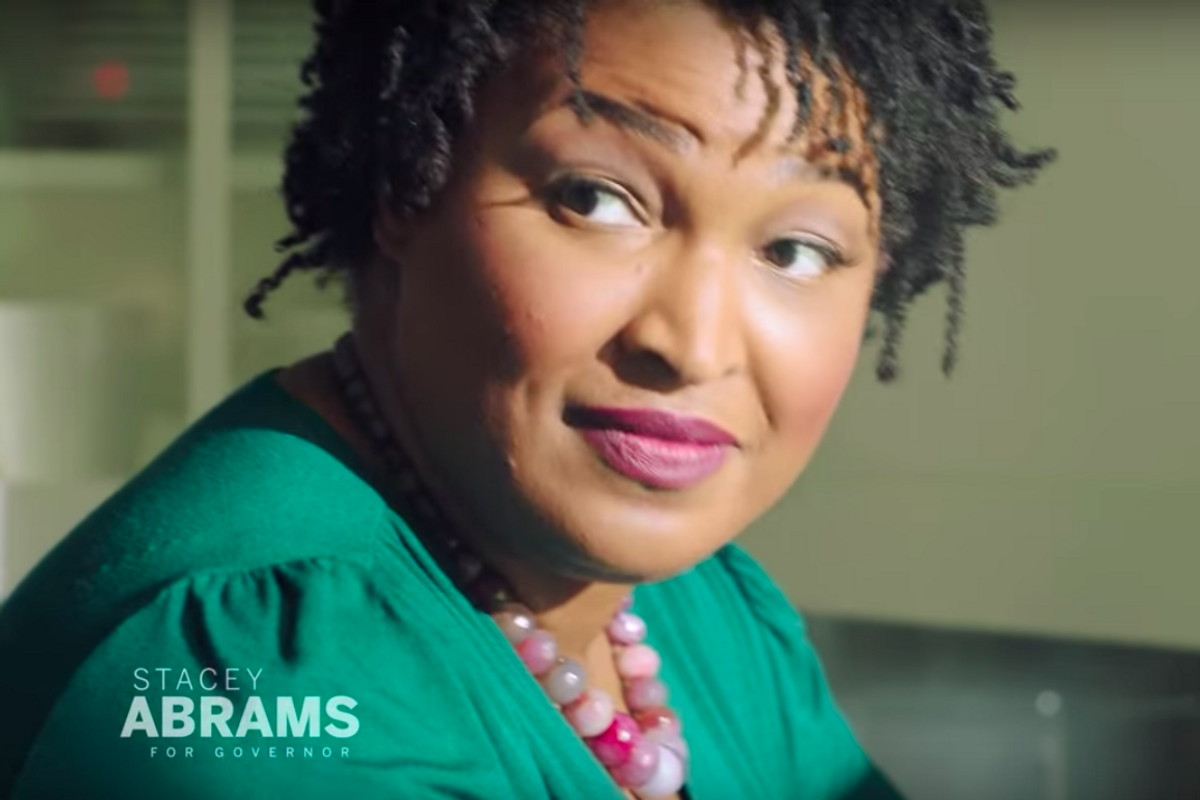 Hellllooooo, Georgia! Yesterday the Peach State held runoffs for the November ballot, and as usual Donald Trump managed to rub his orange ass all over it. After promising Republican governors months ago that he would stay out of contested primaries, President Impulse Control tweeted out his support last week for lunatic Secretary of State Brian Kemp over the Georgia GOP's preferred candidate, less lunatic Lieutenant Governor, Casey Cagle.
Brian Kemp, who is running for Governor of Georgia and has my full endorsement, is campaigning tonight with VP… https://t.co/pSk7Gt3YrO

— Donald J. Trump (@Donald J. Trump) 1532214657.0
Did the president warn anyone in Georgia that he was breaking his DO NOT ENDORSE pledge? Of course not! But it seems to have done the trick: Kemp beat Cagle by 40 points after polls showed them within single digits two weeks ago. So now Georgians get to choose between a nutjob who brags about having "big truck, in case I need to round up criminal illegals and take 'em home myself" ...
---
and Stacy Abrams, the Minority Leader of the state's General Assembly, who has a long history of protecting civil rights and supporting families and NOT being a crazy person!
Kemp also famously accused the DHS of hacking Georgia's elections system when it tested the vulnerability of the state's polls to attack. Don't faint, y'all, but the system was massively vulnerable! So weird that Kemp declined offers of federal assistance in securing the state's elections.
Georgia still is heavily Republican, but if anyone can beat that gun-waving loon to become the nation's first African-American female governor, it's Stacey Abrams. Last week, SurveyUSA found that women favored Abrams by 9 points over Cagle, but the margin widened to 12 points with Kemp on the ballot. Which is why the state's GOP was pulling hard for Cagle, even after he got caught on tape last month admitting that he backed a bill that was "bad public policy" just to hurt Clay Tippens, another rival in the GOP primary.
Did the ladies get hysterical about Kemp's har-har-hilarious ad where he points a shotgun at his daughter's date to protect her chastity? Or are they just voting with their vaginas?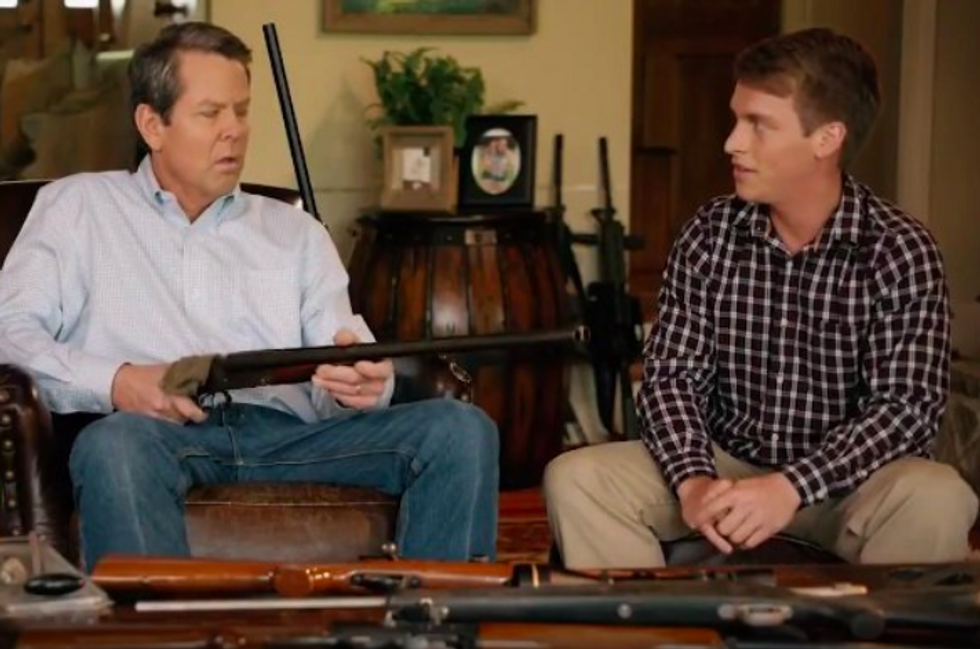 Yeah, get back to us when someone writes a thinkpiece on dudes voting with their dicks because they favor Kemp (and That Orange Idiot) by 15 percent!
SurveyUSA shows Kemp leading Abrams by 2 points, so anything could happen in November. Because, have we mentioned, Kemp is BATSHIT CRAZY? Got a few bucks to throw at Abrams? DO IT.
Further downballot, Lucy McBath won a congressional runoff in Georgia's Sixth District to face that horrorshow Karen Handel in the general. This is Tom Price's old seat, and it trends heavily Republican. But McBath is an amazing candidate, and a wave year might just put her over the top.
I am at a loss for words. Thank you to my supporters, friends & family. And I want to thank my dear Jordan, my rock… https://t.co/it8lti9yaR

— Lucy McBath (@Lucy McBath) 1532496272.0
In 2012, McBath's son Jordan Davis was gunned down in a Florida convenience-store parking lot for "playing his music too loud." Even in Florida, parking while black is not a crime, and the killer was -- pretty surprisingly really -- sentenced to life without parole. McBath became a gun control activist, eventually known as one of the Mothers of the Movement, a group of African American women who lost their children to gun violence. After the Parkland, Florida, school shooting in February, McBath decided to take her fight to Congress, telling CNN,

What I began to recognize is that I can keep helping to build this national movement and organize for gun violence prevention. But you've got to have people on the inside that are willing to do the work, creating the bills and initiatives, who will push the issue. You've got to have gun-sense champions on the inside. Until I'm able to create real, hard, systemic change, broad change that saves a large number of lives, there's no justice. We've got children dying in the classroom. Where's the justice in that?
She's got our vote! Except we don't live in Georgia, so we'll have to settle for sending her a little money. Support her however you can, Wonkers!
BLUE WAVE, IF YOU WANT IT!
Follow your FDF on Twitter!
Please click here to fund Yr Wonkette. You know we'll cover these races just the way you like -- with cusses!
[WaPo / NYT / SurveyUSA / CNN]
Related Articles Around the Web
Liz Dye
Liz Dye lives in Baltimore with her wonderful husband and a houseful of teenagers. When she isn't being mad about a thing on the internet, she's hiding in plain sight in the carpool line. She's the one wearing yoga pants glaring at her phone.