Georgia Militia Dudes Arrested Trying To Buy Bombs; Sadly, No Dildos Or Tranny* Porn
News
February 25, 2014 09:02 AM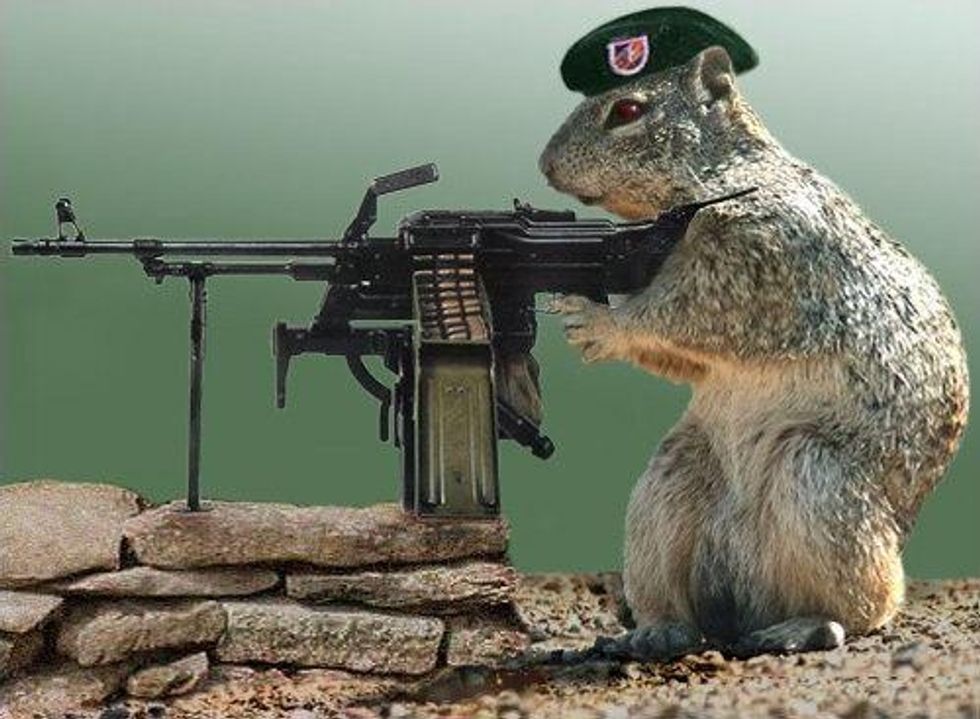 Oh, hai there, militia guys, how goes the Second American Revolution these days? Not so great, huh, what withgetting arrested just for trying to buy some pipe bombs and thermite grenades? Bummer. These three super-Patriot militia guys from Georgia -- Brian Cannon, Cory Williamson, and the seriously misnamed Terry Eugene Peace -- are just not going to get the chance to water the Tree of Liberty this time, since they got themselves arrested on February 15. Instead, they were charged in federal court last week. The three heroes had been reported to the FBI after participating in online discussions about attacking government targets, and then Mr. Peace asked a "cooperating witness" to sell them explosives. Sadly, this time around, the genius freedom fighters did not have any remote-controlled pink dildos or "Tranny Hunter" DVDs. We truly are suffering from a poorer grade of domestic terrorist these days.
---
As far as we can tell, this is not one of those deals where the FBI created the plot and then entrapped people; instead, it looks like our intrepid trio had been chatting online about starting an uprising (so the government would declare martial law, of course, like it usually does), and then the feds got involved once someone they were chatting with reported them.
After the FBI began monitoring them, Cannon told one of the two cooperating sources in the case that the group was hoping to
"start a fight" with the government by attacking power grids, transfer stations and water treatment facilities, which they hoped would trigger martial law, according to prosecutors. Cannon said he would invite the FBI's source to a private Facebook group, where plans were being made, according to the government.
And then Peace gave another informant the shopping list -- 12 pipe bombs and two thermite grenades -- and arranged to meet that informant in Cartersville, Georgia, to pick up the explosives. The feds sent dummy explosives, and after taking possession, the three militia guys were arrested. It's getting to where you just can't trust people these days.
Peace had told the cooperating witness that the group was getting ready for an attack sometime in February, and planned to target "TSA, DHS, non-emergency FEMA, road blocks, etc." Like these bozos usually say, he expected that tons of other militia groups were just waiting to follow up their attacks in a broader uprising once martial law was declared:
"The group with me will move first mainly to make a point," the person using the handle Chief wrote, according to the FBI. "I stand by what I say. The other groups should start within the next 24 - 48 hours in order to keep the operational tempo up so that when one unit is done another is hitting nonstop."
Peace really wanted the thermite grenades so he could destroy a police armored vehicle, which would have been really cool and would have shown the government that the group was very serious. Instead, he ended up with a court date Monday.
So far, we haven't yet seen any of the usual wingnut sources complaining that this is just another false-flag government operation designed to seize everyone's guns/make the right look bad, but give it a day or two. They'll get there. Just as soon as they find the batteries for their remote.
*We know that "tranny" is not the preferred nomenclature these days, dude, but calling it "trans* porn" would be inaccurate, because "trans* porn" typically refers to actual good "by trans for trans" queer porn, and we would not want to taint that genre by "Tranny Hunter" association.
Follow Doktor Zoom on Twitter. He would never rat you out to the feds, as long as you share your porn.