Giuliani Wanted The Corrupt Ukrainian Prosecutor To Pay Him To ... Look, It's Complicated
Ukraine
December 02, 2019 12:29 PM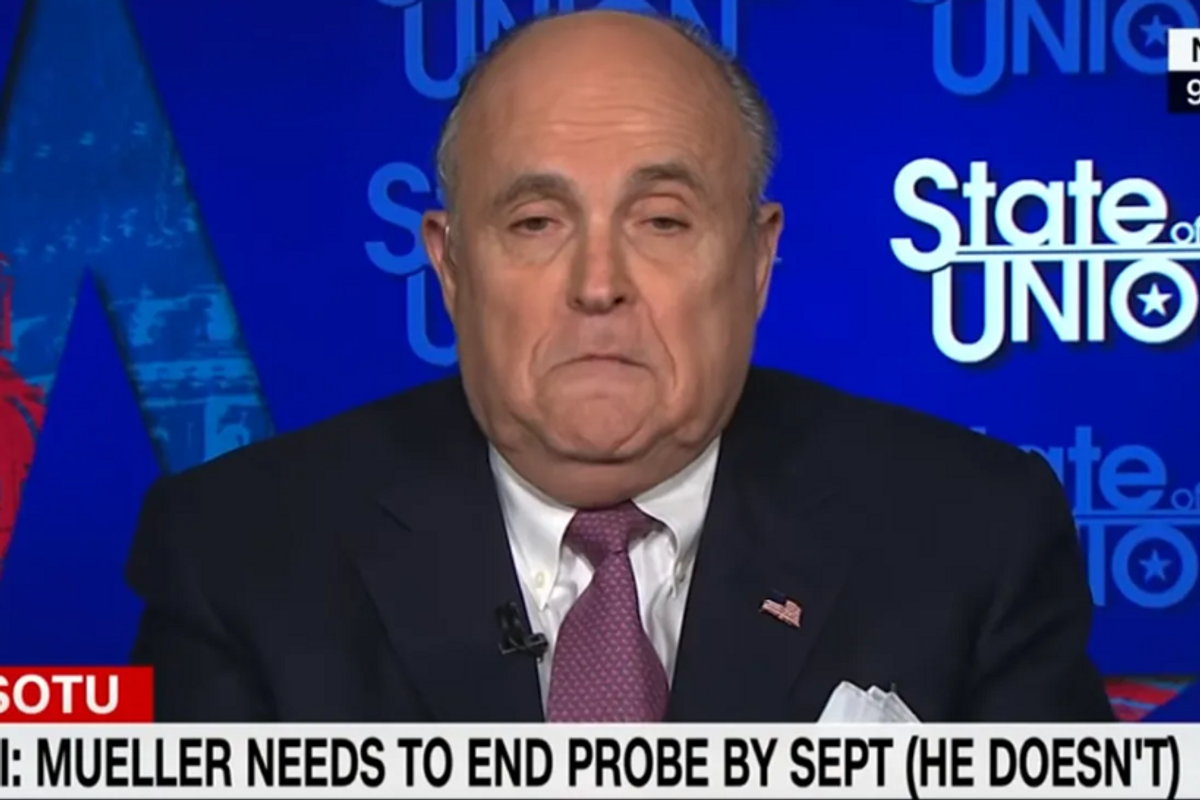 If you're not the customer, you're the product. Every 15-year-old on TikTok knows this, and yet President Dementor persists in believing that his free lawyer Rudy Giuliani is representing his personal interests, rather than selling access to the DOJ and the State Department, which flung their doors open to accommodate the president's personal attorney. Because Donald Trump is A IDIOT, but the Ukrainians are not. Which is why they tried to hand over cold, hard cash to get Rudy to plead their case to Attorney General Bill Barr.
The Washington Post reports that in February, while he was digging for dirt on Joe Biden in Ukraine, Giuliani was simultaneously negotiating with the county's top prosecutor, Yuriy Lutsenko, to represent the Ukrainian government in a bid to recover assets stolen under the previous regime and allegedly routed into American bank accounts. Lutsenko, who has since been fired by President Volodymr Zelenskyy, was ostensibly seeking a meeting with Barr to discuss asset recovery. Lutsenko told local publication Ukrainian Truth that Giuliani said the only way a foreign government could get in front of the DOJ was to hire a lobbyist, but the noble Ukrainian prosecutor steadfastly refused to pony up cash for access, claiming, "I said that I am the prosecutor general of Ukraine and will not pay a dime."
---
In fact, Post sources report at least two versions of a contract to do just that. In the February 2019 contract, Lutsenko would have paid Giuliani's company $200,000 upfront to begin working to secure the meeting. By March, the figure had risen to $300,000, the "customer" was the Ukrainian Ministry of Justice, and Giuliani was to be aided by hairball lawyers Victoria Toensing and Joe diGenova. Also in March, Toensing and diGenova were negotiating to join Donald Trump's legal team. Which is quite a coincidence, no?
Remember that hilarious time when the DOJ fell all over itself to say Brian Benczkowski, the head of the Criminal Division, would NEVER have met with Giuliani about a bribery case -- likely this charming Venezuelan fellow -- if they had known Rudy was connected to the Parnas and Fruman investigation? This is why they freaked out, since Lutsenko is widely believed to be "the Ukrainian government official with whom they were working" referred to in the chucklefucks' indictment.
Neither of these deals seem to have gone through. Instead, the hairballs went on to represent Ukrainian oligarch Dmitry Firtash, who subsidized "research" into the Biden smear which he hoped might help him get the DOJ to drop its efforts to extradite him to the US. And Giuliani continued to represent Trump for "nothing."
"I could have helped them recover $7B in stolen money, but I didn't. Was paid ZERO," Giuliani told the Post. Which neatly sums up Giuliani's view of justice for a price, but also clarifies that Lutsenko and Rudy's other Ukrainian allies weren't his clients -- they were the product.
On March 20, conspiracy journalist John Solomon published an interview with Lutsenko at The Hill falsely claiming that Vice President Joe Biden had forced then-President Poroshenko to fire prosecutor Viktor Shokin to protect Joe's son Hunter Biden's business interests. Lutsenko and Shokin went on to give affidavits against Biden and Yovanovitch which form the backbone of the smear campaign cooked up by Solomon, Giuliani, the hairballs, Parnas and Fruman, and Devin Nunes's henchman Derek Harvey in the back room at Trump's DC hotel.
But Lutsenko didn't walk away emptyhanded, since Giuliani's group did manage to get Ambassador Marie Yovanovitch booted. Yovanovitch had admonished Lutsenko in the past about prosecutions of anti-corruption officials and NGOs. And her fierce anti-corruption stance put her in conflict with Firtash's efforts to maintain his stranglehold on Ukraine's imports of natural gas, the same industry Parnas and Fruman were ineptly trying to muscle in on by dropping the oligarch's name. Most importantly, Yovanovitch would never have gone along with efforts to leverage a White House meeting, much less congressional aid, to force Ukraine to smear the Bidens. So they had to get her out ... and they did.
Rolling Stone paints Lutsenko as a guy who tried to save his job by hopping in bed with Donald Trump's powerful allies. Fearing that incoming president Zelenskyy was going to fire him, Lutsenko threw himself into the arms of Trump's cronies, promising damaging info he didn't have on Joe Biden. But he badly miscalculated -- America's rightwing propagandists treated him as their star witness, even as Lutsenko walked back every one of his claims in the Ukrainian press. Zelenksyy replaced him with the formidable anti-corruption advocate Ruslan Ryaboshapka, who is, unlike Lutsenko, an actual lawyer. Facing an investigation for "facilitating illegal gambling," Lutsenko has now decamped to London, where he claims to be studying English.
Worst of all, Rudy Giuliani has made it clear that he no longer has any use for Lutsenko's services, telling CBS's Margaret Brennan, "Mr. Lutsenko is exactly the prosecutor that Joe Biden put in in order to tank the case." Because when you're not the customer, you're the product. And you're disposable.
[WaPo / Rolling Stone]
Follow Liz (AKA your FDF) on Twitter!
Please help keep your Wonkette snarky and ad-free!
Liz Dye
Liz Dye lives in Baltimore with her wonderful husband and a houseful of teenagers. When she isn't being mad about a thing on the internet, she's hiding in plain sight in the carpool line. She's the one wearing yoga pants glaring at her phone.