God Already Forgave Good Christian Fame Whore For His Ashley Madison Account
Featured
August 22, 2015 09:30 AM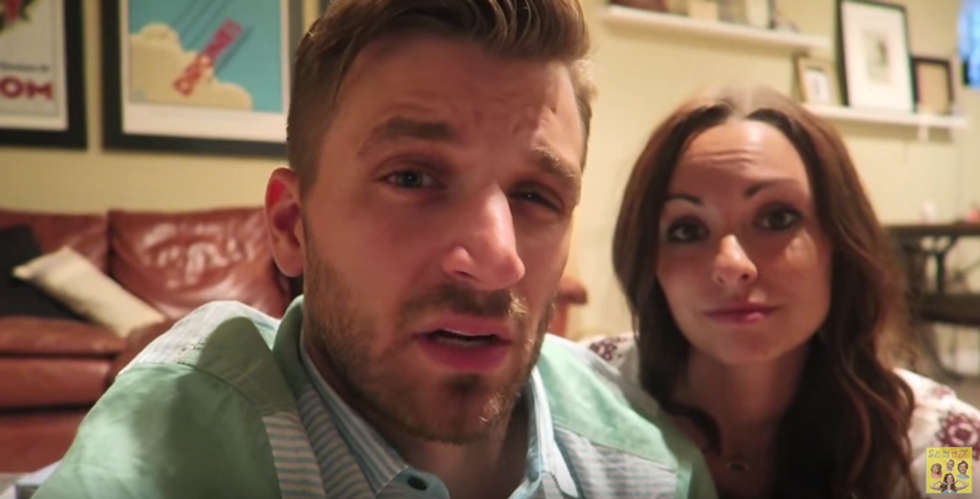 You knew this was coming
---
That nice "Good Looking Parents" couple from YouTube, Sam and Nia Rader? The pretty young Christians in Terrell, Texas, who just want to share their message of love and family and faith and THIS VIDEO! OMG, MAKE IT GO VIRAL!!! so they can be famous, please, so famous, and make enough money that they don't even have to work at all, just be famous all the time, SO super famous?
[contextly_sidebar id="NnElGwU5U5573ysd7mRrM9iqA6h2B7pp"]
Yeah, well, in addition to being a creepy water sports enthusiast who stole his wife's pee so he could tell her she's -- SURPRISE! -- pregnant, only to miscarry days later, proving that God chose them for internet persecution, because that's what happens to Christians, you know, Sam Rader also wanted to fuck other women. And he paid to have an account at Ashley Madison so he could look into getting him some strange. SURPRISE!
But that was before he was a YouTube star and leader of his fan base, the "Fan BASICS" (brothers and sisters in Christ, naturally). God, he says now, already cleansed him of his grave sin years ago. (It is a grave sin, right? One of the big ones? Assuming that if you should not covet your neighbor's wife, you probably shouldn't covertly covet the nice ladies on Ashley Madison either?)
Sam explains the whole thing in, what else? A NEW VIDEO! called "Forgiveness" (and no, we won't help make it go viral with clicks, EW, just trust us, this is what he says):
I've sought forgiveness to God, and he's forgiven me. So I've been completely cleansed of this sin, and also, I need to be clear that I've never met with a single person face to face through that website, and that I never had an affair with anybody ever while I've been married with Nia. The account was opened out of pure, fleshly desires and just sinful curiosity.
So he wanted to fuck other women, which is still against the rules as we understand them, but it's not like he actually did, in, say, a Josh Duggar way. Not that it would have mattered; he could have blamed the porn demons, like Josh did, and surely God would have still assured him, "Nah, man, we're cool. You just do you and go be famous!"
Some of you are questioning my faith, and me being a Christian and doing this, and I guess what some people don't understand is that we're all broken, even Christians. We come to God as broken people, and he set Jesus on the cross to save us from those sins.
No doubt Jesus would be thrilled to know he died on the cross so Sam Rader could look at illicit p-tang online.
And because this is in our past, and because this has already been completely resolved within our family and within my church, we won't be saying anymore of this matter, I won't be talking to any media outlets. The only place you'll hear of this out of our mouth is here on this video, the only time.
Oh, does that mean he doesn't want ALL THE FAME anymore? Such a different story mere days ago, when the Raders were being persecuted just for loving Jesus, and wanted to share it with the WHOLE WORLD:
"Absolutely everything is true," Sam Rader tells PEOPLE. "We're a Christian family, the last thing we would ever do is deceive our audience. We're very open with our fans."

He adds, "I think as long as you're a Christian in this world and a God believer, you're going to get hatred and persecuted and that's just what you expect when you're living the life of God."
But maybe the Raders don't want to be quite that open and honest. Like how they deleted the video they made of adorably trying to coax their five-year-old daughter into saying gay marriage is bad and wrong. That was not good for their #brand and their corporate sponsorship.
Finding out that two years ago, Christian Soldier Sam Rader was thinking, "Yeah, you know, life is short, maybe I should have an affair, I'll just grab my credit card!" isn't terrific branding either.
But you know what they say, Always Be Closing! So let us not forget why Sam and Nia™ are happy to "vlog" the prettier parts of their lives: goin' to the Golden Arches, headin' off to church, shoppin' for arts and crafts supplies at Hobby Lobby (!!!), and getting all indignant about not getting into Legoland for free because they are internet famous. Now close the deal, Sam!
You know, this is why we need a savior. We're sinful by nature and we do stupid things like this. And this is what the atonement's all about. Forgiveness and second chances.
"We" need a savior because Sam Rader couldn't keep his virtual dick zipped. And this is why you should forgive him, this fame-whore creep, with his wife smiling and nodding along beside him. She says it's all good, and his church says it's all good, and of course God's chill, so never mind the past. Time to get right to the forgiveness and the second chance to make lots of money being a good Christian on the internet.
[Daily Mail / E! Online / People]