GOP Murders Ethics Office, Wonder Why! Wonkagenda For Tues., Jan. 3, 2016.
POTUS
January 03, 2017 10:06 AM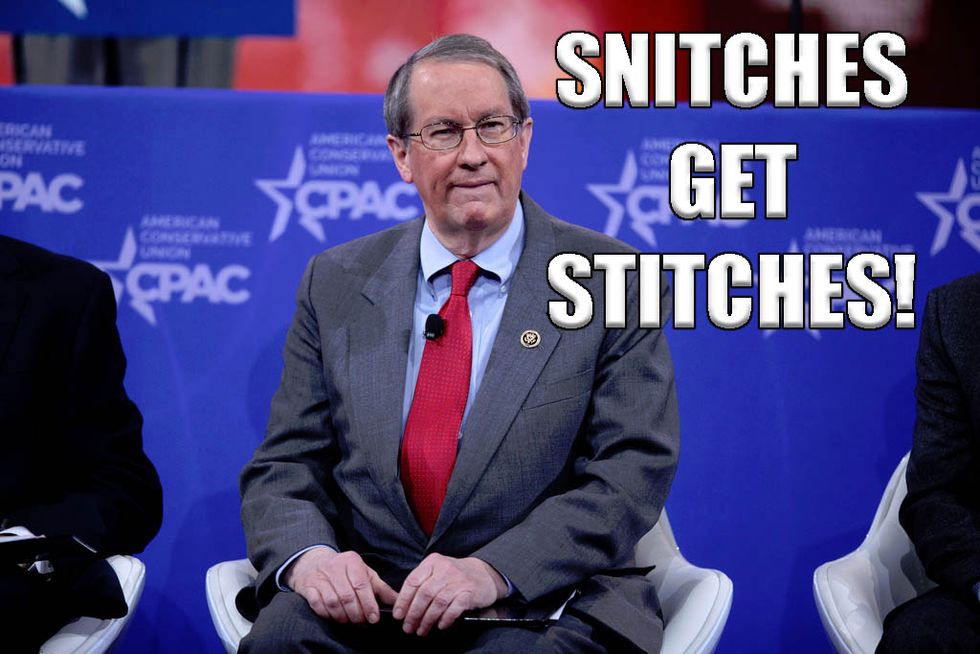 ---

Republicans voted to scoop big heaping chunks out of the Office of Congressional Ethics and replace it with an Office of Congressional Complaint Review that would report to the House Ethics Committee. Basically the Republicans just got rid of their own investigatory force so they can stick a little comment box outside Bob Goodlatte's office door. Remember, kids, snitches get stitches!

Donald Trump's transition team is preparing to build his wall with a large cache of documents on border security and failed surveillance programs from the DHS, but there's still no word on how large the faux-gold Trump sign will be that sits atop the 400+ mile fence.

Today is Tuesday, and if you're all good boys and girls who eat your vegetables, do your homework, and wash your bums, maybe Donald Trump might read you a story about his super secret Russian hacking knowledge.

Islamic militants are already targeting Trump properties around the world as they are large and gaudy sore thumbs that stand out to the crazed zealots desperately seeking attention.

Trump tweeted that Chicago has a high murder rate, and that Chicago Mayor Rahm Emanuel needs to ask for federal help to stop the staggering amount of gun violence that Trump said he himself could stop in a week.

Trump was up and bitching about G.M. on Twitter this morning because they want to make an economy car in a fancy Messican robot factory instead of some rusty old Midwestern assembly line that "You're Fired" its workforce for being a bunch of olds.

The world's worst house guest and Wikileaks co-founder, Julian Assange, was on Hannity bemoaning how Obama is being so mean to Donald Trump. The two whined about KKKillary Klinton and cheese pizzas, and how Russia is totally not the source of Wikileaks's dripping faucet of DNC emails because Vladimir Putin personally sent a hipster bike messenger across the English Channel to hand deliver a "Thank You" card.

In case you missed it, a federal judge stopped protection for transgender and abortion-related healthcare service in response to a lawsuit from some states that hate the government so much, but still want bureaucrats to dictate what you can do with your bits and pieces.

Trump's pick for the U.S. Trade Representative office is Robert Lighthizer, another left-over Reaganite who thinks NAFTA and TPP kill all the jobs in America, China is the devil, and corporate quotas are just as good bullying your enemies.

And now, your morning Nice Time, MORE KITTENS! In fact, there's 10 MINUTES of kittens! You're welcome!
Dominic Gwinn
Dominic is a broke journalist in Chicago. You can find him in a dirty bar talking to weirdos, or in a gutter taking photos.