SD Gov. Kristi Noem Lied Her 'Face The Nation' Off
coronavirus
March 01, 2021 09:36 AM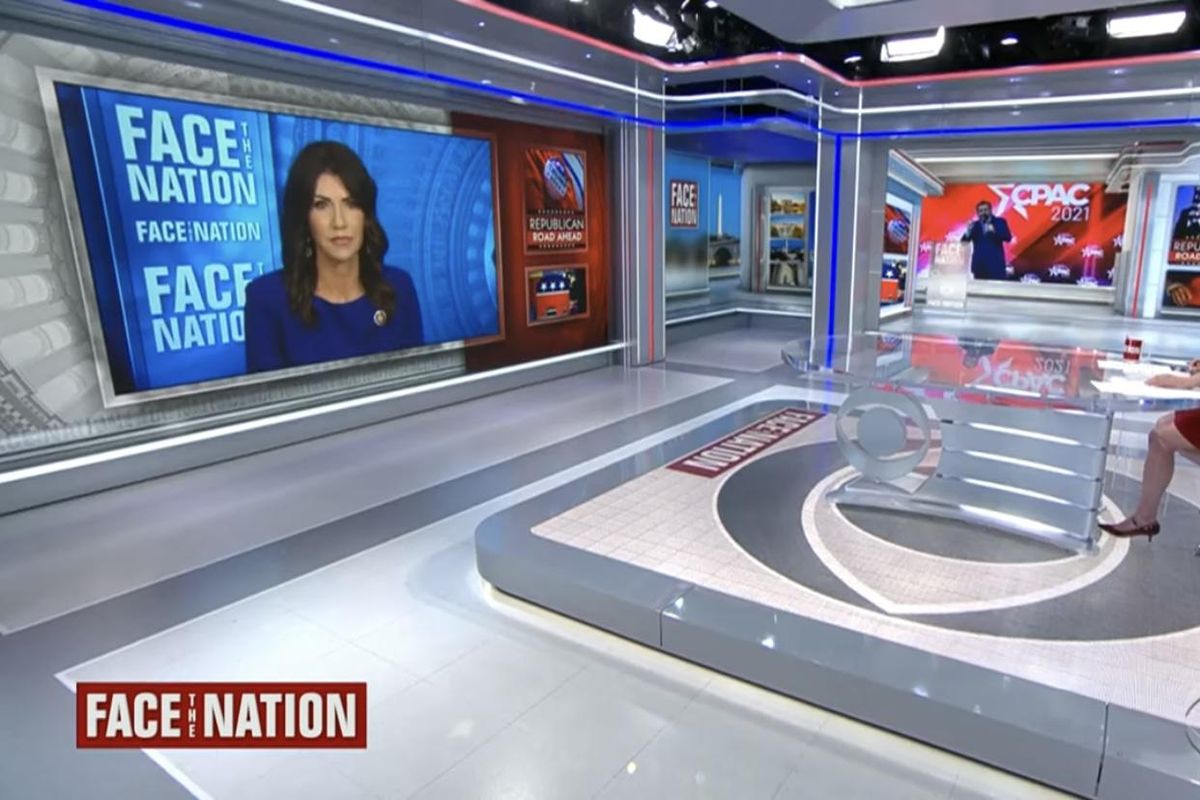 While Orlando was hosting the Conservative Political Action Conference (CPAC) after we assume Matt Schlapp read from the Necronomicon and summoned the unmasked hordes to a Hyatt hotel using ancient Nazi runes, the GOP's lack of credibility was no more apparent than on CBS's "Face The Nation."
Host Margaret Brennan began by interviewing Kristi Noem, governor of one of the two redundant Dakotas (the southern one), fresh off her Saturday CPAC appearance where she pushed COVID lies and gave herself a pat on the back.
South Dakota is in the bottom 10 in the country in terms of Covid mortality and yet she's out here taking a victory… https://t.co/JNgTelciVV

— Aaron Rupar (@Aaron Rupar) 1614459311.0
---
Noem immediately took issue with some very simple facts that Brennan quickly and easily disputed:
NOEM: Well, I'd like to respond to something that you said. You indicated that I ignored medical advice, I didn't listen to my health experts and I most certainly did. In South Dakota, we took this virus very seriously. [...]

BRENNAN: Well, we played that clip from your speech. And in that speech, you also said you never instituted a mask order, shut any churches or businesses, or even defined what an essential business is. As of today, the CDC says your state has the eighth highest death rate per capita in the US. That's a rate of deaths per a hundred thousand residents.
So Brennan asked the very obvious follow-up question and it was here that you quickly saw how little Noem's alternate reality could withstand.
BRENNAN: Don't you think your decisions as an executive contributed?

NOEM: You know, South Dakota's infection rate peaked earlier than a lot of other places in the country, so we're definitely on the downward trend and earlier — and peaked earlier than what you're seeing happen across the country as well. You know, you can talk about masks. We can talk about mitigation measures, all of that. [...]

BRENNAN: These were CDC numbers as of today. And it was the death rate.
Brennan then quoted other governors, including Republican Jim Justice of West Virginia, using Noem's COVID response as an example of what NOT to do; Noem countered with an ouright lie mixed with some whataboutism.
NOEM: Our state peaked earlier than other states, than his state, than New York, than California. They certainly are seeing much higher infection rates, much higher hospitalization rates and much higher deaths today than — than we are. And that's really how we've seen this virus spread across the country. What I'd like to know, Margaret, is why are — are you asking Cuomo these questions? Are you talking to Newsom about these questions, and how their mitigation measures —

BRENNAN: When both of those governors accept an invitation to come on this program...
As anyone with even the tiniest awareness of the news knows, South Dakota was definitely not hit earlier with COVID than other more populous states like New York or California, as this timeline shows. But Noem refused to take any measure to mitigate COVID, and mobility analytics from Google show South Dakotans made almost no reductions in their movement from pre-pandemic time, causing what some have called a "failed experiment in herd immunity."
So what was Noem's answer when asked about this by Brennan?
BRENNAN: So for your state, you have, if you look at starting in July, which was after that spring peak, you have the highest death rate in cumulative COVID deaths per million in the country. The CDC says you have the eighth highest death rate per capita now. I'm not talking about infection rates. I know you're a conservative and you care about the sanctity of life. So how can you justify making decisions that put the health of your constituents at risk?

NOEM: And those are questions that you should be asking every other governor in this country as well. The region that —

BRENNAN: I'm asking you today, Madam. You're our —

NOEM: — South Dakota's in —

BRENNAN: — you're facing the nation.
That deflection was so hard, Margaret Brennan said the title of her own show like a David Caruso's CSI:Miami one-liner before putting on his shades (roll credits).
Noem was also asked about encouraging people to come to the Sturgis motorcycle rally last August. That superspreader event, a month after South Dakota became the state with the highest COVID death rate, could have infected as many as 266,796 people and caused more than $12 billion in health care costs. Noem disputed those facts before Brennan moved on to her final question, which happens to be one that most Trump sycophants fail to answer in varied ways. Noem chose to avoid the question all together.
BRENNAN: Ronna McDaniel [...] said the former president did not meet the moment with his words on January 6th, the siege of the Capitol. Do you agree with her?

NOEM: You know, I think that we were all just heartbroken at what happened on January 6th, and it was a tragic situation. Going forward, I'm hoping that we can focus on facts, ways to unify this country and bring us together and really make sure that we're pursuing —

BRENNAN: Was it avoidable if the president had met the moment?

NOEM: — opening up new opportunities for our kids and grandkids. You know, I think there's always times that — that we don't like different words that have been chosen.
It wasn't badly chosen words, Noem, it was inciting an insurrection. Choosing a bad word would be calling you dumb or misguided rather than a craven political opportunist who cares little for her constituents.
But Party of Personal Responsibilty, amirite? That GOP motto is even more useless now in Trump's Party than it was when first uttered by a GOP consultant.

Have a week.
Michael Mora
Your friendly neighborhood Puerto Rican Political Freelance Writer for @wonkette. Pop Culture observer, Amateur Movie reviewer & Comics fan. Former Active Duty Marine. All opinions are mine only.