EWW Headline of the Day Reports Rick Santorum Offering Free Jelly
News
August 03, 2011 04:56 PM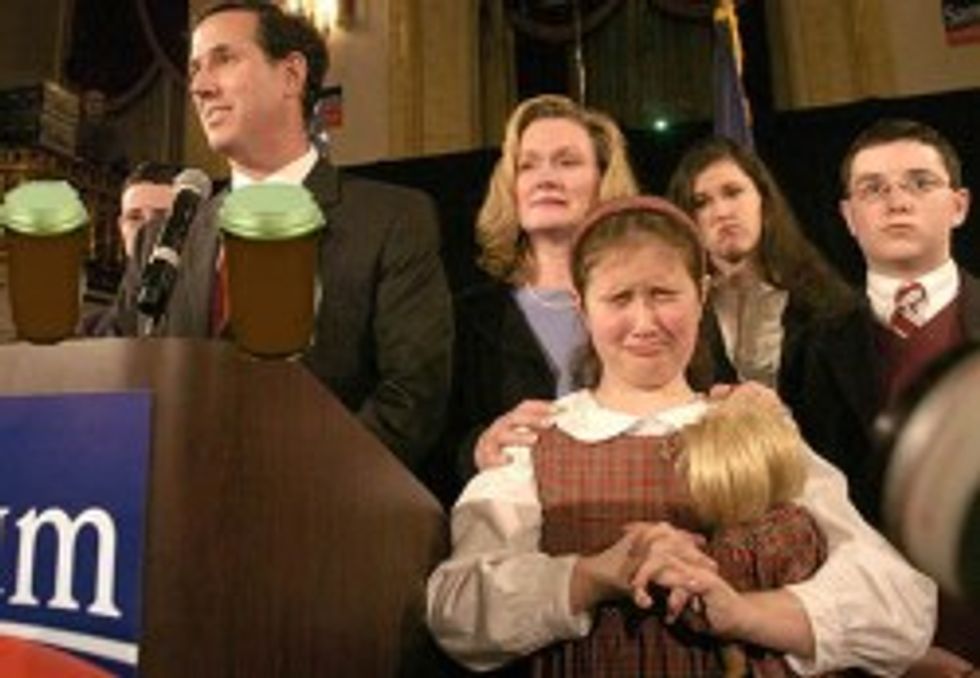 As part of some kind of traditional voter bribery ritual for Ames Straw Poll attendees, Rick Santorum has promised everyone that he will be the one togive away special jars packed with dead fetus preserves or whatever it is he grows in his basement. Haha, Santorum said, "preserves!" Apparently no one on Rick Santorum's campaign staff of child laborers thought to run a thesaurus check or remember that "preserves" is a term sometimes interchangeable with the word "jelly," which is a word that when also put in a phrase with the word "santorum" makes everybody ever do a gigglevomit before immediately alerting your Wonkette, for whatever reason. So here is your TalkingPointsMemo headline reporting to the world, "Santorum To Give Out Free Jelly At Ames."
---
From the wordsmiths at TPM discussing this exclusively for the headline (not that we blame them):
The Des Moines Register reports that Santorum told an Iowa audience on Tuesday that his family has fruit trees back home, and he and his children harvested peaches, peeled them, and made them into jelly. And now, they will be bringing 40 jars to Iowa.

"We are bringing them to the Straw Poll and we are going to give everybody a sample," said Santorum, dubbing the product "Pennsylvania Presidential Peach Preserves."
MAYBE NOT EVERYONE WANTS A SAMPLE OF YOUR SANTORUM JELLY, GOD, EW. [TPM]