Ha Ha, Look At How Todd Akin's Campaign Tries To Spin Losing By 10 Points
News
August 23, 2012 05:45 PM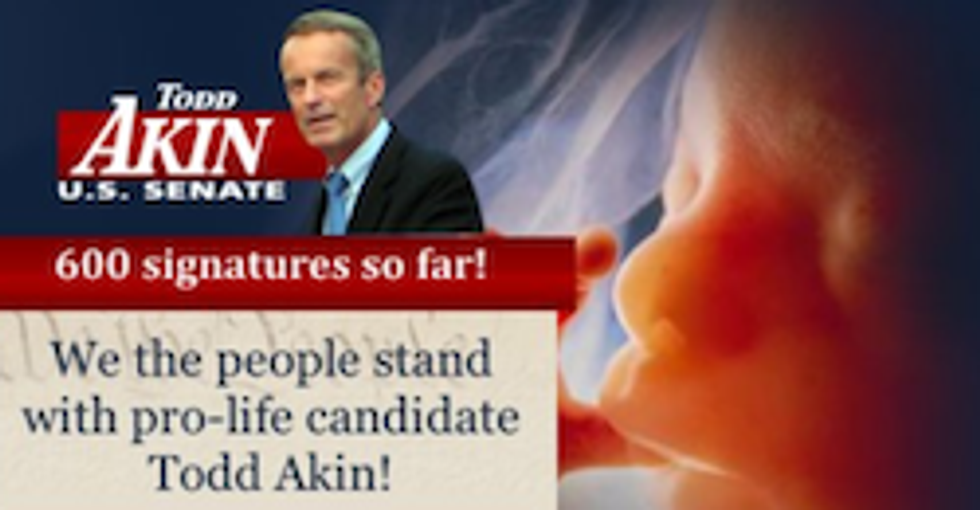 This morning a Rasmussen poll came out showing Missouri magical fetal dumphead, Rep. Todd Akin, trailing Sen. Claire McCaskill by 10 percentage points, 48% to 38%. Considering that any GOP Senate candidate who can spell his own name was expected to be leading McCaskill by 10 to 15 points consistently through November, this is considered a poor polling result for the congressman -- even though Rasmussen's famous Republican bias this week would probably exaggerate the margin, since Republicans all want him to quit the race. Is that the spin Todd Akin's campaign is taking? It's a fine spin, as spinnery goes. What about simply ignoring the poll? That works too! Or there's the option of saying that, uhh, the poll shows thatClaire McCaskill should drop out of the race, which, comically, is the one Akin's campaign is running with.
---
Here's the comment straight from campaign manager Perry Akin, Todd's son. (And you wonder why Akin is staying in? Family members gotta have jerbs, after all):
St. Louis, MO: The following statement was released by Perry Akin, Campaign Manager for Todd Akin for Senate, in response to the Rasmussen poll released this morning:

"The fact that Claire McCaskill is only polling at 48% after 72 hours of constant negative attacks on Todd Akin shows just how weak she is. If she can't break fifty percent after a week like this, Democrats should ask Claire to step down. Todd is in this race to win; we will close this gap and win in November with the support of the grassroots in Missouri and across America."
In the Akin family, stupid doesn't skip a generation.