Handsome Losers Scott Brown, Joe Miller Running For Office Again, But Where Is Christine O'Donnell?
News
March 14, 2014 04:38 PM
FRIDAY TWOFER OF SHAME! Part I: Scott Brown, that handsome former Senator fellow who once accused Elizabeth Warren ofmasquerading as a Red Indian, is expected to "launch an exploratory committee for a U.S. Senate bid in New Hampshire," which is weird because we thought he already did something like that? And he drew a bigger crowd of protesters than supporters? Bqhatevwr, we're sure he knows what he's grifting.
---
But who is Part II of your Handsome Loser twin billing, besides a man called "Joe Miller"? IT IS JOE MILLER, that Alaska stubble-faced frontiersman who went to Yale and once ("allegedly") wrongfully imprisoned a reporter, for asking him a question!
This guy: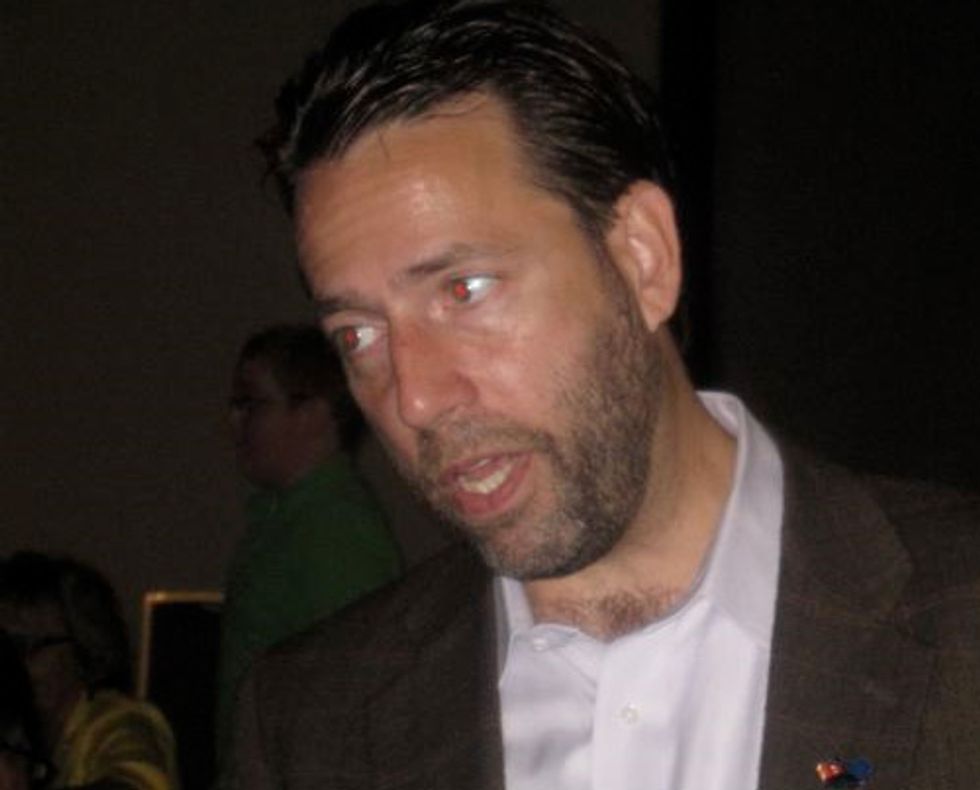 Yeah, that guy! The last guy to lose a Senate race to a write-in candidate since whoever lost to Strom Thurmond in 1954.
Miller gave an interview to Salon the other day. Would you like to read some of the silly things he said? Shut up you would too, liar.
[W]hen I look at Alaska and how that race is shaping up, and we see two other candidates in the Republican primary that really represent more of the same – we call them establishment candidates, some call them RINOs – we had no choice but to run.
Whatsa matter, got your pronouns confused, MR. YALE?! Joe Miller has never written for Wonkette, so it's not clear why he's referring to himself in the first person plural. We are not amused.
Here is the part where Miller tries really, really hard not to commit himself to either side of the very controversial issue of WOULD YOU REPEAL THE CIVIL RIGHTS ACT?
So at the federal level, then, should it be legal for that hotel to turn someone away because they're African-American?

Again, that's all I'm going to say about it. The state has the right to act. The federal government should be more of a libertarian stance. And that's all I'm going to talk about on that issue. I'm a state's right advocate in those areas.

So should a restaurant then be able to turn someone away because they're African-American?

Again, I've said my piece on that.

And so would you repeal the Civil Rights Act?

Again, I've said my piece on the issue.

And –

And of course not. I would not. I've said my piece on the issue of ENDA. That was your specific question, that's my response to it. If the states want to act in that area, they certainly have the ability to do it.

Specifically the public accommodation portion of the Civil Rights Act — should that be repealed?

I've already made it clear what my position is.
Damn journalists with their "gotcha" questions about half-century old laws that are only controversial among unreconstructed racists and mentally ill libertarians.
And here is something we found on YouTube several years ago that deserves way more than 622 views:
Too bad we lost Joe McGinnis before he could solve the mystery of Joe Miller, Sign Stealer.
For those of us who are into such things, these two are a virile fantasy hate-fuck coin flip. But what if we prefer other kinds of abhorrent sex? Well, Christine O'Donnell was at CPAC, talking about who even knows what, the spiritual perils of jerkin' it, most likely. Will she ever run again? Probably not, but we wouldn't mind doing a little "internal polling" for her anyway!
Follow Alex on Twitter. He won't even pretend like he's not a witch.
[foxnews.com / WaPo / Salon / YouTube / WaPo]