Have We Told Mitch McConnell To Eat A Bag Of Turtle Dicks This Week?
Russia
April 27, 2018 12:10 PM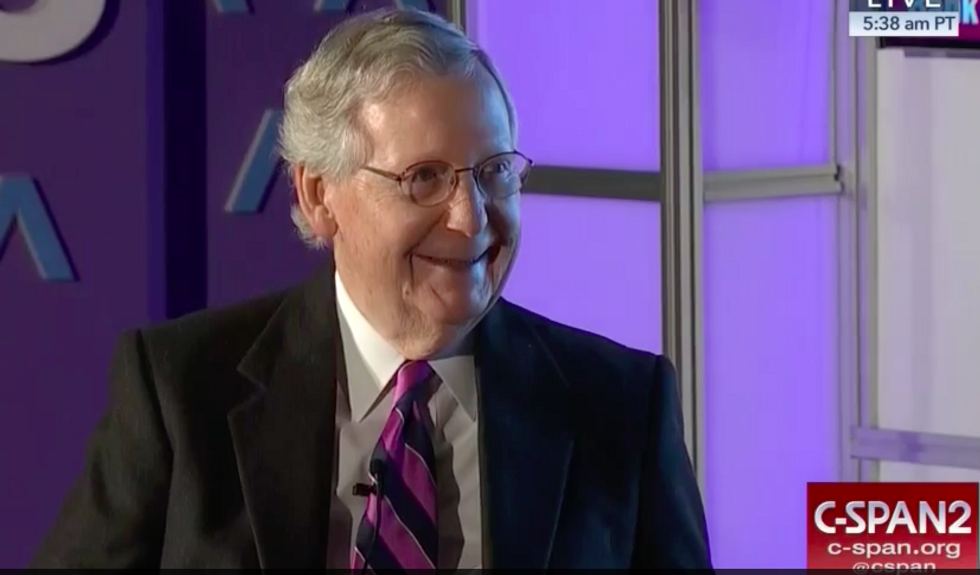 DO IT. EAT THE TURTLE DICKS.
---
Does anyone recall that time Donald Trump went on "Fox & Friends," and toward the end of a completely bugfuck interview, the president started yelling about how he is very disappointed in his Justice Department, and threatening that, while he is allegedly not involved in what DOJ is doing, "at some point" he will start directly intervening like the little piss britches wannabe tinpot dictator he is, because of how there is a Deep State witch hunt against him, at which point the hosts started desperately trying to throw the president his binky, so he could suck on that and shut the fuck up? Of course you do! It happened yesterday!
When we last left the story of whether or not Congress would protect the Robert Mueller investigation, in order to preserve democracy and the rule of law, and also incidentally because the current presidential administration is full of ACTUAL CRIMINALS, Senate Majority Leader Mitch McConnell was calmly dispensing words from his turtle slit about how Donald Trump would NEVER fire Robert Mueller (see first paragraph of this post), therefore he wouldn't use his power to bring a bipartisan bill to the Senate floor to protect the investigation. McConnell, you see, is the decider-in-chief of what happens in the Senate, and he has decided-in-chief that it's simply not necessary, because he eats turtle dicks for breakfast AND LIKES THEM.
Well look, and we hope you're sitting down for this one, but a few Republicans in the Senate actually tried to protect the Mueller investigation (WITH VOTES!):
The Senate Judiciary Committee voted Thursday to advance legislation designed to make it more difficult for any president to dismiss a special counsel, a signal to President Donald Trump amid Robert Mueller's ongoing Russia probe.

Four Republicans, including committee chairman Chuck Grassley of Iowa, voted with all 10 of the panel's Democrats to send the bill to the Senate floor.
HOORAY! THERE ARE REPUBLICANS WHO STILL CHOOSE "AMERICA," WHEN GIVEN THE OPPORTUNITY TO DO SO! EVEN CHUCK GRASSLEY PULLED THE CORN COB OUT OF HIS CORN HOLE AND VOTED FOR IT! REPUBLIC SAVED!
Except for this:
But Senate Majority Leader Mitch McConnell, R-Ky., has said he won't allow the full chamber to vote on it, saying in an interview last week, "We'll not be having this on the floor of the Senate."
Oh yeah, that's right.
This was the bipartisan bill put forth by Republicans Thom Tillis and Lindsey Graham and Democrats Chris Coons and Cory Booker, and though it went through some tweaks in the Judiciary Committee, still four Republicans said yeah, it would be a good idea to vote FOR the Mueller investigation, and AGAINST America burning to the ground. Besides Grassley, Graham and Tillis, the fourth Republican to vote for it was Jeff Flake -- you know, that guy who gives speeches on the Senate floor about the dangers of the Trump presidency like he's Sarah Kendzior or something, and then proceeds to give Donald Trump whatever the fuck he wants.
Here are some details on the bill Mitch McConnell won't put on the floor even though Republicans in his own caucus voted for it and all patriotic Americans support it:
The bill, called the Special Counsel Independence and Integrity Act, would codify into law the existing Justice Department regulation that says a special counsel may be fired only by the attorney general, and only for good cause. It would create a 10 day window within which a special counsel could petition a panel of judges to determine if the firing was for good cause. If it were judged not to have been, the counsel would be reinstated. The bill would ensure that the special counsel's staff and investigative materials would be preserved in the interim.
That just sounds like a very nice bill. Chuck Grassley even got an amendment in there that all special counsels should be required to eat delicious Iowa corn once per day, just kidding his amendment says if special counsels are fired, they have to go ahead and give their findings to Congress, even if they weren't finished yet.
Mitch McConnell offered Wonkette the following exclusive comment on the Republican-led Senate Judiciary Committee voting to put this on the floor of the Republican-led Senate:
I AM A BIG TRUMP SLUT AND MY WIFE WORKS FOR THE ADMINISTRATION AND ALL I CARE ABOUT IS PRESERVING MY OWN POWER, AND IF THAT MEANS I HAVE TO SUCK TURTLE ASSHOLES ALL DAY, SO BE IT.
Just fooling, that is not an exclusive comment Mitch McConnell gave to Wonkette, but we are pretty sure it is what he is saying in his heart.
Point is, Mitch McConnell is invited to eat this delicious bag of turtle dicks at his own convenience, with mayonnaise, the way he likes them, allegedly.
Follow Evan Hurst on Twitter RIGHT HERE.
Are you a fairly regular Wonkette reader and have had a nagging little voice for some time saying "you should throw Wonkette a buck every month"? We would surely appreciate it!
Evan Hurst
Evan Hurst is the managing editor of Wonkette, which means he is the boss of you, unless you are Rebecca, who is boss of him. His dog Lula is judging you right now.
Follow him on Twitter RIGHT HERE.