Help Us Name The World's First Ted Cruz Hardcore Gay Porn Flick, Starring Ted Cruz!
News
September 11, 2015 04:00 PM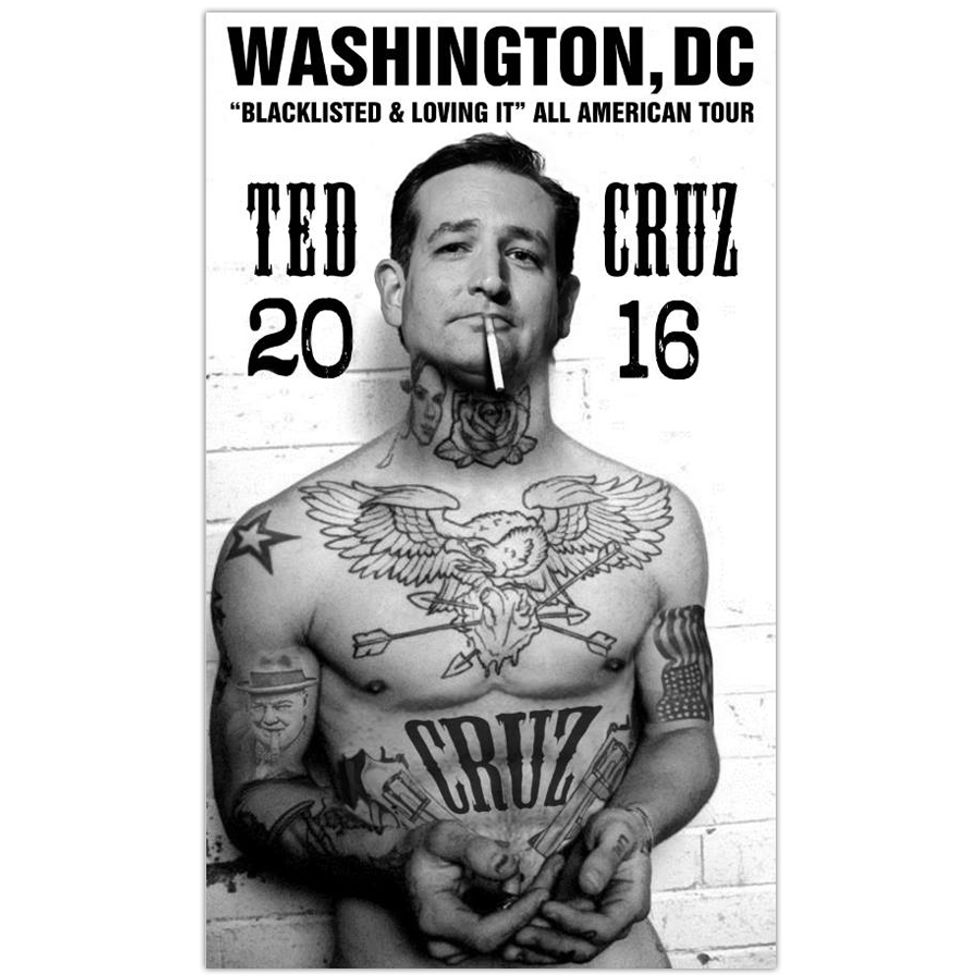 This thing. You have seen it?
---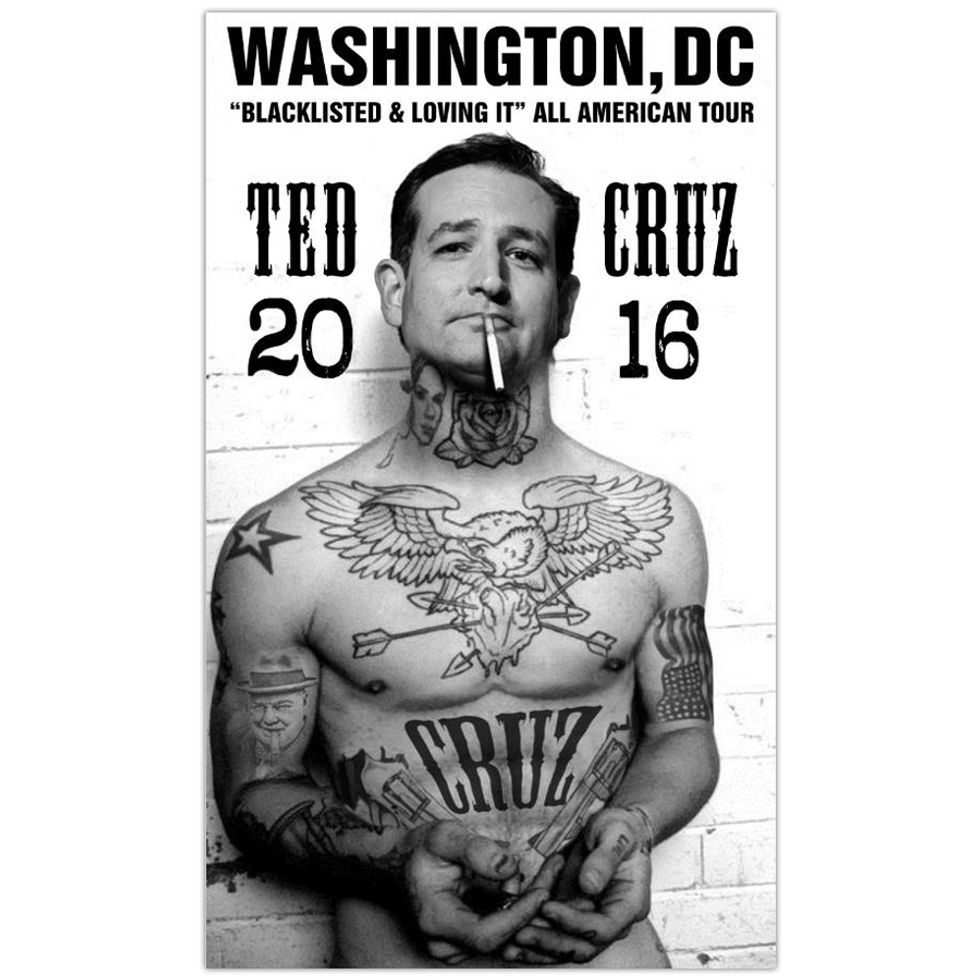 It's a bareback film, obviously
It's a real thing, and Ted Cruz is not embarrassed by it! In fact, he's such a fucking know-nothing that he thinks it's COOL. In fact, he thinks it's so cool that he's selling it, IN HIS STORE, for Rick Santorum and Mike Huckabee to buy and paste on their ceilings, we guess, for when they choke their shame vessels. The only thing he wants everybody to know is that he doesn't REALLY smoke ciggies.
He didn't pose for it, obviously. The Hill explains what had happened was:
The poster was originally designed by a street artist in Los Angeles, who calls himself Sabo. It's been in circulation for more than a year and sold by the artist on T-shirts and posters.

"From [what] I understand [Cruz] asked his people if they were doing anything with the image I'd created and when they said no he asked why not," Sabo told The Hill in an email. [...]

"When we said we intended to capture the youth vote, we meant it. Moving towards posters like these resonates with Millennials and we will do whatever it takes to gain their much valued support," [13-year-old Cruz activist C.J.] Pearson said in an email.
Hmmmmm, he wants to "resonate with Millennials." The only Millennials we think this might really resonate with are those who are into REALLY KINKY GAY PORN. Like, the kind with no condoms, filmed in dungeons, lots of leather ... basically Fight Club but even more nekkid, and with full bareback penetration.
So, cool, we guess this means Ted Cruz is finally making his hardcore gay porn debut! His dry drunk daddy is going to be SO DISAPPOINTED.
[contextly_sidebar id="KfMJygbdtsE3al5Z0j9kbSNmw9XIAF7r"]
Anyway, this movie needs a better name than "Blacklisted And Loving It." Let's come up with some better names:
Black-FISTED And Loving It. Because maybe he will get fisted in the movie, by a black man, and he will be loving it.

God's Chosen Presidential Candidate Gets It, In The Butt. That sounds DIRTY.

Hi, I'm Ted Cruz, And I'm Shoving My Rotten Joe Biden Jokes In My Bible Hole, Like Wonkette Asked Me To.

Forgive Me Father, For I Have Sinned.

Ted Cruz: Cuban. Canadian. Uncut Probably.

Ted Gets Trumped.

Ted Gets Duggared.

Cruzin' For Dick Koch. (via commenter "docterry6973," in the comments!)

Give Me Head 'Til I'm Ted: The story of a boy named Rafael who just wanted to be a real American. (via a brilliant commenter on the Wonk FACEBOOK.
Help us out in the comments, Wonkers! We will judge all your comments, and then we will forget to pick a winner. Ready, set, go!
[The Hill / Ted Cruz store via BoingBoing / Jezebel]
Evan Hurst
Evan Hurst is the managing editor of Wonkette, which means he is the boss of you, unless you are Rebecca, who is boss of him. His dog Lula is judging you right now.
Follow him on Twitter RIGHT HERE.