Here's The Wilbur Ross/Peter Thiel Real Estate Porn You Never Asked For!
News
November 16, 2021 09:43 AM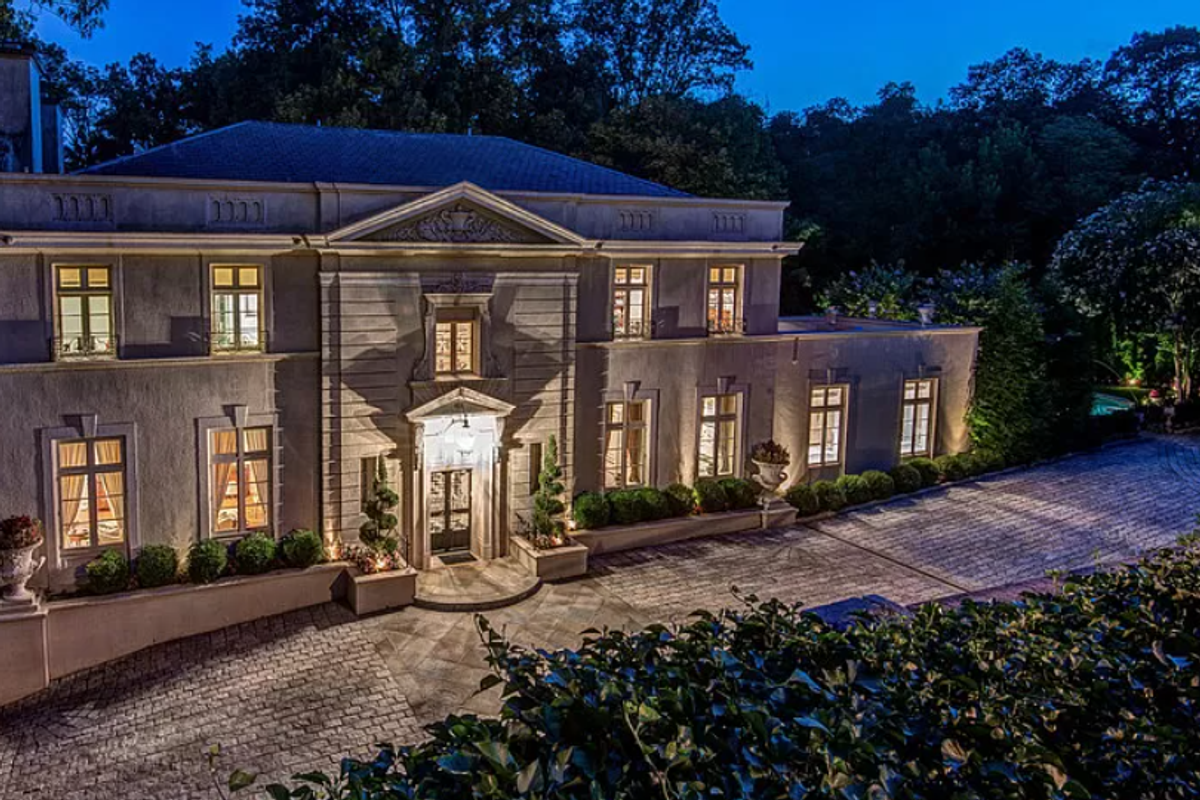 We interrupt our regularly scheduled news to bring you some regular old real estate porn.
Back in the Trump days, we liked to occasionally write about the garish stinky houses Trump people were buying in DC, or rather, it was more like we were writing about the lovely houses being bought by garish stinky Trump people. That way, we could all be disgusted together that Ivanka Trump and Jared Kushner were stinking up the Obamas' beautiful Kalorama neighborhood. (Jeff Bezos also lives there.) We haven't really done it with the new administration, because "nice people buy nice house" just isn't that much of a Wonkette story. Also we kind of feel like Biden people haven't made a ton of really splashy real estate investments inside the beltway.
Here's a story about some real shithole people, though.
You see, up the road from Kalorama, on the other side of the street from the Naval Observatory, where Vice President Kamala Harris lives with her husband, is the very classy and beautiful neighborhood of Woodland-Normanstone. And there, nestled on Woodland Drive, is a quite beautiful 10,000 square foot home, built in 1927, that just sold for $13 million to MYSTERY BUYER. But Politico Playbook revealed the secrets yesterday!
---
You see, the home was owned by former Commerce secretary and current garbage human Wilbur Ross and his wife Hilary Geary Ross. The Rosses have been regretfully unable to tell people who bought their house, because SHHHH IT'S A SECRET. The buyer used a holding company called Salona Village Holdings. There was a confidentiality agreement. Blah blah blah.
"But the secret is out," explained Playbook. One person told Playbook it's "common knowledge" in the neighborhood, and in the real estate community, that the new owner is gross Paypal founder Peter Thiel. Guess he's been washing the Winnebago shirtless in the yard again and everybody was just like "oh gross" and that's how it became common knowledge. (Allegedly! Elegant man human Peter Thiel would never do a plebeian thing like purchase a Winnebago and then wash it himself! Unless he's into that sort of thing! Allegedly!)
The mystery buyer's identity became the talk of the neighborhood, which also includes PENNY PRITZKER (across the street), STEVEN MNUCHIN and LOUISE LINTON (down the hill), GEORGE and KELLYANNE CONWAY, EDEN RAFSHOON and ADRIENNE ARSHT, who sold the home to the Rosses in 2017 and moved around the corner.
Yuck.
So this is all very interesting. Peter Thiel is moving to Washington. Or at least he's buying property there, to use however he sees fit.
Playbook notes that Thiel has been very involved lately in giving gabillion-dollar donations to help (garbage) Senate candidates J.D. Vance in Ohio and Blake Masters in Arizona. Playbook adds:
If Vance and Masters make it to Washington, they should have a nice place to strategize with their longtime mentor and benefactor. Thiel's new home has seven bedrooms, a 12-seat theater, a library, a caterer's kitchen and staff quarters, according to a listing for the property that describes it as a "prestigious" "privately gated limestone beaux arts estate" with "manicured grounds & pool & marble terraces w/ views of Rock Creek Park."
We wouldn't want man of the people J.D. Vance to have to slum it.
Peter Thiel may not be what you think of when you think "classy," but the house really is lovely. As we said, it's 10,000 square feet, in the Beaux-Arts style, and though it's large, it's tasteful. From the listing photos, the rooms are clearly large, but they're not absurd, and some of them even appear comfortable. The kitchen is great, of course, there are lovely terraces, and the home theater -- which has its own kitchen and powder room -- is downright snazzy.
Great pool, too.
So fine, welcome to the neighborhood, yucky person Peter Thiel. At least he didn't buy the house from good people, so we don't have to lament an architectural treasure suddenly falling into terrible hands. It's been in terrible hands the whole time!
Maybe Thiel and Kellyanne Conway can do garden club together.
[Playbook]
Follow Evan Hurst on Twitter.

Wonkette is funded ENTIRELY by a few thousand people like you. If you're not already, would you pls consider being the few thousandth and one?
Evan Hurst
Evan Hurst is the managing editor of Wonkette, which means he is the boss of you, unless you are Rebecca, who is boss of him. His dog Lula is judging you right now.
Follow him on Twitter RIGHT HERE.