Hero Indiana Cops Find Kidnapped Baby After Black Women Literally Did All The Work
Cops
December 27, 2022 10:04 AM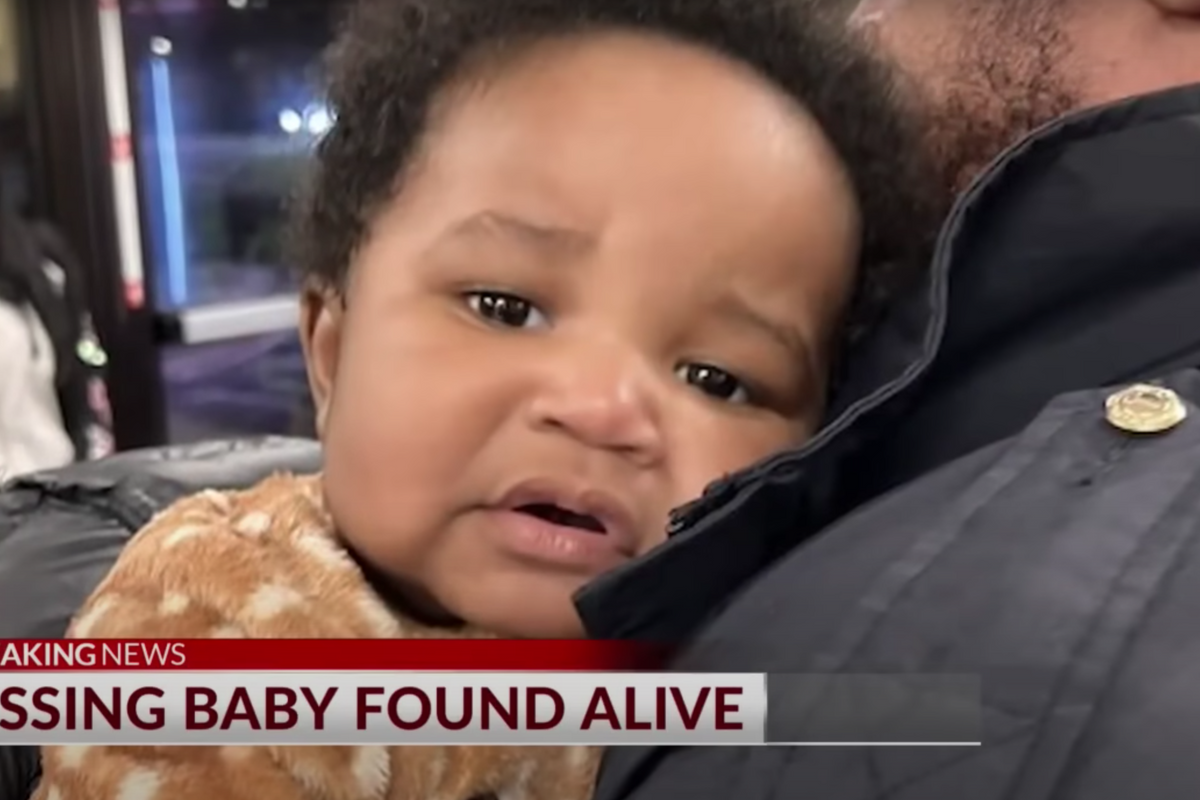 Kason Thomass, a five-month-old baby, was kidnapped with his twin Kyair while inside a car that was stolen last Monday. Their mother, Wilhelmina Thomass, had left them inside a black 2010 Honda Accord that was left running outside a Columbus, Ohio, pizzeria while she picked up a DoorDash delivery order. When she came out the car was gone. While most parents' instinctive response is probably, "You left your kids alone in a running car?" let's not judge Thomass too harshly for having to work while also caring for five-month-old twins.
Early Tuesday morning, Kyair was found abandoned near the Dayton International Airport, but Kason remained missing. Indianapolis Metro Police Department officers eventually arrested the suspected kidnapper, Nala Jackson, around 2 p.m. Thursday after receiving several helpful tips, according to Columbus Police Chief Elaine Bryant. Kason was finally found later that day in the abandoned Honda Accord.
It was a Christmas miracle! And the police were solely responsible. At least that's what they told the public.
\u201c\u201cHolding him was one of the best feelings I\u2019ve had in my career,\u201d - IMPD Sgt. Shawn Anderson \n\nSgt. Anderson and Sgt. Richard El were two of the first IMPD officers to locate 5-month-old Kason Thomas. \n\nEarlier today, they discussed their reaction to finding Kason.\u201d

— IMPD (@IMPD) 1671823130
---
The IMPD Twitter account raved, "Sgt. [Shawn] Anderson and Sgt. Richard El were two of the first IMPD officers to locate 5-month-old Kason Thomas. Earlier today, they discussed their reaction to finding Kason." The tweet includes touching video of the cops holding Kason. CNN's original headline was "Police Found Missing Kidnapped Baby When They Stopped To Eat." It's a "Law & Order" cold open, not even the main story. Should CNN be ashamed? Yes, CNN should be very ashamed.
Sgt. Shawn Anderson and Sgt. Richard El at the IMPD found the abandoned Honda outside a Papa John's, where we hope for their sake they didn't actually eat. Kason was wearing the same clothes from when he was abducted and might've been alone the entire time, but somehow he was still alive.
Anderson told CNN affiliate WISH-TV, "It was time for us to decompress because we were disappointed that we could not find him. And then God opened up the heavens to us and almost took him and put him right in our hands."
It was that easy!
It turns out though that these Santa Cops had help from some elves, who just like in the stories, did all the actual work while "Santa" took all the credit.
Shyann Delmar from Indianapolis had a chance encounter with Nalah Jackson at a northwest Indianapolis gas station Tuesday. After buying some toys from her, Delmar agreed to give Jackson a ride to a Family Dollar store down the street. Delmar steathily took video of Jackson, which she shared with her cousin Mecka Curry. After comparing the video with images of Jackson's mugshot on Facebook, she realized the woman she knew as "Mae" was very likely the kidnapping suspect. But she didn't want to jump to any conclusions.
"I wanted just to verify it before I got her locked up," Delmar said. After conferring, the 27-year-old women immediately took action. Delmar and Jackson had exchanged numbers, and Jackson called Delmar on Wednesday about buying more items from her. Delmar called her back the next day and agreed to meet. She and Curry planned to go together and bring Jackson to a store where the cops could arrest her.
First the cousins called Columbus police, who told them to call the Indianapolis Metropolitan Police Department. When they called Indianapolis police, the women struggled to get the point across that they believed Jackson was in their car.

They got frustrated and hung up, and took the woman to several more stores hoping she would shoplift and draw authorities' attention. They worried taking her to a police station might cause her to run.
During the shopping trips, Curry kept trying to call the police and convince them that they were with the suspected kidnapper. The police called them back but while they were in the car with Jackson, so Curry, like a trained spy, pretended she was talking to a friend while casually giving their location. The cops did make a traffic stop but weren't convinced that Jackson was the suspect. They suggested the cousins take her to a shelter. Curry showed the cops a screenshot of Jackson's mugshot and that finally clued them in. They took Jackson into custody.
The cops later sent an email to Curry on Thursday thanking the cousins for their help: "You guys did fantastic. Because of your help we are so much closer to finding that baby."
Aware that temperatures were about to plunge into subzero territory, the cousins knew they had to turn their attention to finding the baby. In the back seat they found their first clue: "Mae" had left behind a bus schedule.

Since the stolen Honda that Jackson is accused of driving also was missing, they decided to trace the bus route and look for vehicles covered in snow that would indicate the car hadn't moved in a while. At that point, a dangerous winter storm was on the brink of reaching Indianapolis and snow had started falling.
What the police left out of their public accounts is that it was Curry and Delmar who stopped at Papa John's because they were hungry and (very) desperate. That's when they say the abandoned Honda Accord, covered in snow. Curry said she saw baby legs in the back seat and the baby's face in the rear-view mirror. She was terrified because the back car door was locked and she could hear no sound from inside. That's when she found the officers at the Blaze Plaza nearby and told them about the child.
Curry and Delmar saved that baby's life. The cops were present. The police shamelessly never mentioned their names.
This story reminds me of Soledad O'Brien's documentaryBlack and Missing, which details how Black missing person cases are often marginalized by law enforcement and national media, leaving Black people, especially women, to pick up the slack. You should watch while waiting for someone to make a goddamn movie about American heroes Shyann Delmar and Mecka Curry.
Follow Stephen Robinson on Twitter if it still exists.
Subscribe to the Wonkette YouTube Channel for nifty video content!
Look at our pretty photos on Instagram!
Yr Wonkette is 100 percent ad-free! Please subscribe, donate, and otherwise help keep us alive and kicking!
Stephen Robinson
Stephen Robinson is a writer and social kibbitzer based in Portland, Oregon. He writes make believe for Cafe Nordo, an immersive theatre space in Seattle. Once, he wrote a novel called "Mahogany Slade," which you should read or at least buy. He's also on the board of the Portland Playhouse theatre. His son describes him as a "play typer guy."