Hero Nerd Science Teen Ahmed Mohamed Visits White House, Doesn't Blow It Up
Post-Racial America
October 20, 2015 09:45 AM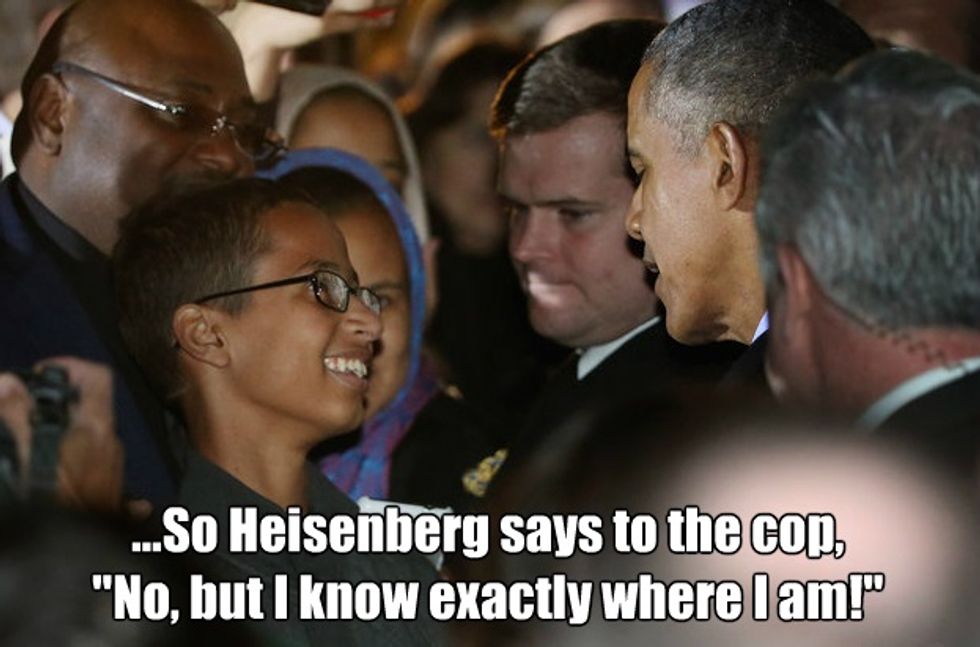 And then the bartender says to the neutron, 'For you, no charge!'
---
Texas nerdboy Ahmed Mohamed, who was arrested in September when school officials and the Irving Police Department decided his alarm clock inside a pencil case looked like a hoax bomb, finally got to meet President Obama Monday night at the annual White House Astronomy Night. Although earlier in the day, press secretary Josh Earnest had said that it was unlikely Obama would have time to meet personally with Ahmed, the two did at least get to shake hands and speak briefly, probably about the new Star Wars trailer that was also released Monday night. The president also gave the nerd kid a hug, which will no doubt cause no end of outrage among wingnuts who are certain that everything about Ahmed's clock was a set-up designed to spread false stories of Muslim victimization and to make police look bad simply for protecting us from terrorists.
[contextly_sidebar id="OXmFBK5Jhe3MChbxX4JQJu8cMADAXi4T"]
Among the guests at the White House event were student winners of national science competitions, plus Bill Nye the Science Guy, Mythbusters hosts Adam Savage and Jamie Hyneman, as well as a whole bunch of working scientists who haven't been on TV, but we hear they do good stuff, too.
Ahmed took a selfie with retired astronaut John Grunsfeld, but did not bring his clock with him. Since his arrest and the outpouring of support from nerds all over, he's been traveling all over the place like some kind of 14-year-old celebrity, and he hasn't gone back to Irving to get the clock. Wingnuts, in the meantime, continue to grumble that all Ahmed did was to transplant the guts of a manufactured alarm clock into a pencil case (or "briefcase," since that's scarier), and no white kid ever got invited to the White House for that, which rather misses the point that Ahmed did some nerdy tinkering and got treated like a terrorist for it. Since President Obama has failed to denounce Ahmed as a fraud, at least the comments sections of Breitbart are full of people willing to take care of that important job.
[contextly_sidebar id="9GsOJKBOx78tSkdCmrKgo1Tt258vLllt"]
Also, too, Sen. Ted Cruz took the opportunity to whine Sunday that Ahmed's invitation to the White House was a terrible, terrible thing:
Over and over again, sadly, he seeks to try to divide us, to try to tear us apart. The president really ought to be looking for ways to bring us together, to unify us.
We aren't sure how honoring a smart kid who likes to mess around with electronics is "divisive," except of course that it's a Thing Obama Did, which automatically made it divisive. Cruz even managed to interpret Ahmed's White House invitation as an insult to police, since Obama didn't attend the funeral of a Texas sheriff's deputy murdered in August. Cruz did attend the funeral, and noted, "Rather strikingly, the president was nowhere to be found," probably because he was leading Muslim youth in a bomb-making class. If Obama really cared about our nation's law enforcement officers, he'd have invited the murdered deputy to the White House astronomy program, too, we guess. Or at least gone to the funeral, so Cruz could condemn him for politicizing the deputy's tragic death and dividing the nation once again.
[NYT / HuffPo / Dallas Morning News]