Hero Rand Paul Saves America From NSA Spying, At Least Until Tuesday
Featured
June 01, 2015 09:15 AM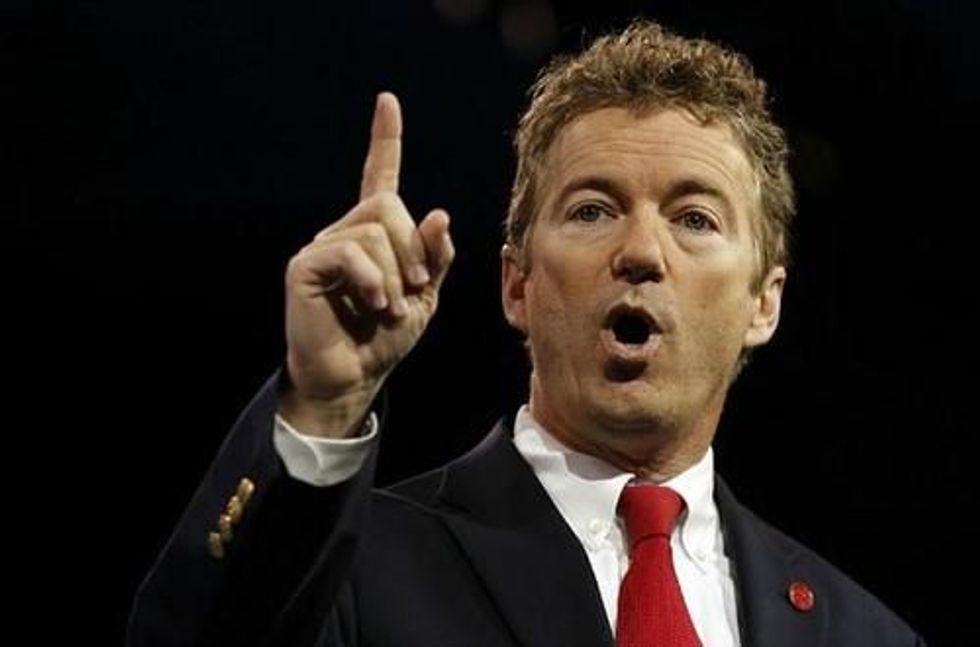 The Senate took the highly unusual step of working on the weekend to pass the USA Freedom Act -- after it failed to do so and took a whole week off for Memorial Day anyway, like all regular Americans do. But while Majority Leader Mitch McConnell had wanted to pass a clean bill to protect our freedoms from the terrorists who want to read all our sexts and listen to our phone calls -- oh wait, that's the National Security Agency, not the terrorists, whatever -- one brave senator stood in the way and blocked the bill, for freedom or at least for grandstanding and fundraising for his laughable presidential campaign:
---
The Senate advanced legislation 77-17 to reform the National Security Agency on Sunday, but parts of the Patriot Act will nonetheless lapse for a few days amid opposition from Sen. Rand Paul (R-Ky.).

The legislation, called the USA Freedom Act, will not reach President Obama's desk until after the three measures expire at midnight, meaning that the provisions will expire until the bill is passed by the Senate and signed by Obama later this week. [...]

Paul argues the USA Freedom Act — which was approved by the House 338-88 earlier in May — does not go far enough to rein in spying programs that he and his allies argue are unconstitutional.

"Are we going to so blithely give up our freedom? Are we going to so blindly go along and take it?" Paul said in heated remarks on the Senate floor before the vote.
See, the Senate wants to renew the Patriot Act forever and ever, but it also wants to address some of the issues Senators eventually noticed, about how maybe it shouldn't allow government agencies to do whatever they want in the name of freedom. Just about anything they want, but maybe with a couple of guidelines. Thus, this "reform" bill to tell the National Security Agency to behave itself a tiny bit better, which Rand Paul thinks is still not good enough or freedom-protecting enough.
On the one hand, sure, we appreciate senatorial sentiments of wanting to protect Americans' right to privacy from their own eavesdropping government. On the other hand, that senator expressing those sentiments about "freedom" and "liberty" and "privacy" and "rights" is Rand Paul, and it's hard to take him seriously when he also believes the federal government should be in the business of legislating vaginas and telling The Gays equality is not for them, and Just Say No to decriminalizing marijuana and stuff like that. Also, too, we're not sure we want to trust a self-appointed expert on national security when he skipped most of his Foreign Relations Committee hearings and Homeland Security hearings because he was busy doing other more important things. Like getting ready to run for president. On the other other hand, we enjoy the hell out of watching Republicans eat each other alive, and most of the Republicans in the Senate do not care for Rand Paul's kabuki shenanigans, like, AT ALL. They're already planning to blame Paul if his theatrics cause any harm to our national security. And some of the crankier senators aren't mincing their words one tiny bit:
Tensions between Paul and other Senate Republicans were evident throughout Sunday's proceedings — particularly when the Kentucky Republican sought to speak in opposition to the bill when Sens. Dan Coates (R-Ind.) and John McCain (R-Ariz.) were holding the floor.

"The senator from Kentucky needs to learn the rules of the Senate," McCain said. [...]

"I think he obviously has a higher priority for his fundraising and political ambitions than for the security of the nation," sneered McCain.
Rand Paul took a victory lap on Sunday, even while admitting it's a mostly meaningless victory, since the Senate will reconvene again Monday and probably manage to pass a bill Tuesday or Wednesday anyway. But hey, at least it allowed him to retweet supporters who claimed to #StandWithRand and to remind them that he's got plenty of freedom-y swag for sale at his campaign website. So everyone wins!
[The Hill]