Hey, Look, Some Of Barack Obama's Judicial Nominees Finally Got Confirmed!
Courts
June 09, 2021 10:24 AM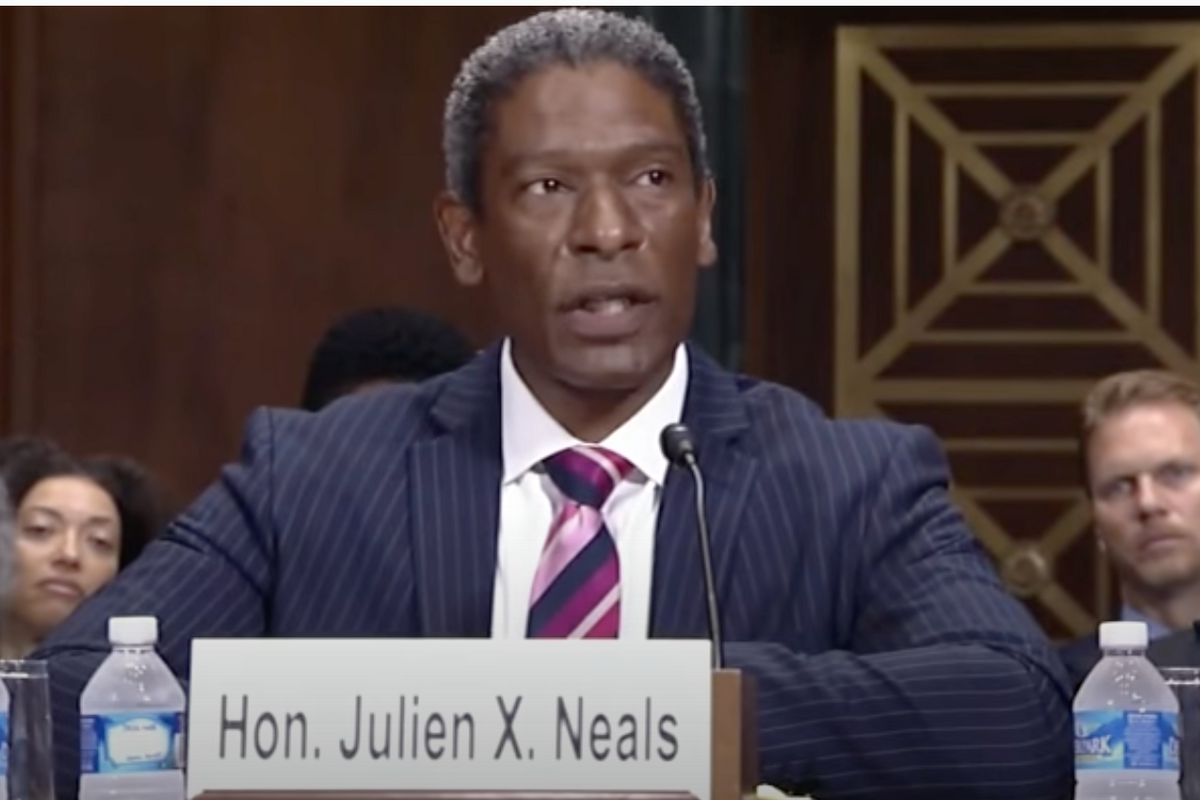 Here's some good news: We currently have a Democratic president who can nominate judges and a Democratic-controlled Senate that can confirm them! President Joe Biden's first two judicial nominees were confirmed on Tuesday, Julien X. Neals and Regina M. Rodriguez. They each had to wait more than five years. It was like they were trying to catch a cab in Manhattan.
Neals, who's Black, was confirmed 66 to 33 for a seat on the US District Court for the District of New Jersey. President Barack Obama had nominated him in 2015, but the GOP, which gained control of the Senate in 2014, decided that Obama wasn't president anymore. There was no major controversy surrounding Neals's nomination, which the Senate Judiciary Committee voted to approve on a voice vote, but the full Senate never acted on the nomination. He waited 674 days until his nomination died on January 3, 2021.
---
The Senate voted 72-28 to confirm Rodriguez to the District of Colorado. Obama had nominated her in April 2016. That was typically audacious of Obama because Mitch McConnell had already told him to go pound sand over Merrick Garland's nomination to the Supreme Court. Did he think McConnell would let him have some pity confirmations? Republican Senator Cory Gardner even advanced her nomination with Democrat Michael Bennet. Gardner praised Rodriquez as one of Denver's best litigators.
"I applaud the progress made to fill the vacancy and look forward to working toward Regina's confirmation," [Gardner] said.
Both Gardner and Bennet pushed the Judiciary Committee to consider Rodriquez's nomination well into the summer of 2016, after the Strom Thurmond rule had kicked in. You might assume that a rule named after that gross Dixiecrat segregationist would preclude the confirmation of a person of color to anything that didn't involve housekeeping or elevator operating, but in theory it advised that the Senate would stop considering lifetime judicial appointments at some point during a presidential election year. The Senate is an old boys' club that's all about obscure rules and secret handshakes. Anyway, Rodriquez's nomination was ignored and eventually expired, like Neals's, on January 3, 2021. Her intended seat was eventually filled by Daniel Desmond Domenico, who's not yet 50. The former White House squatter liked to nominate young people to lifetime seats. It was a crush of Alex P. Keatons, all Federalist Society-approved. (No, I don't buy that Keaton would've been a Never Trumper. He'd disappoint you just like Roseanne Conner.)
A Newark native, Neals went to college at Morehouse in Atlanta and got his law degree at Emory. He worked as clerk for Judge Seymour Margulies on the New Jersey Superior Court and practiced privately for about 15 years before joining Cory Booker's mayoral administration in 2006. Booker described Neals as one of the "most impressive people" he'd met in his professional life. Booker serves in the US Senate, but that's still probably a compliment.
Rodriquez, who's of Mexican and Japanese ancestry, is a former prosecutor and corporate lawyer. Liberal activists would've preferred that Biden nominate a civil rights attorney or public defender, but he is just getting started. If the GOP regains the Senate in 2022, Biden might wind up only elevating Obama's blocked nominees.

Republicans screwed Obama pretty effectively even while in the minority. They filibustered his nominees and invoked "blue slips" (a practice where senators could veto a judicial nomination from their state). Once Donald Trump was elected, they quickly abandoned blue slips, because they are fundamentally dishonest people.
I wish Democrats had hammered Republicans on their obstruction from the personal level. We should've known the names of every nominee McConnell blocked. It should've become a political liability for every Republican senator from the nominee's state. Maybe it wouldn't have mattered. Maybe obstruction was good politics for Republicans, whose supporters loathed Obama. Still, those GOP motherfuckers almost had me feeling bad about all the Handmaid's Tale jabs at Amy Coney Barrett, and she was confirmed lickety-split. She didn't have to wait five years, and the Senate must have forgotten where it put that old "Thurmond Rule."
But we can discuss future strategies later. Right now, let's celebrate the confirmations of Julien Neals and Regina Rodriguez. It's about damn time.
Follow Stephen Robinson on Twitter.
Keep Wonkette going forever, please, if you are able!
Stephen Robinson
Stephen Robinson is a writer and social kibbitzer based in Portland, Oregon. He writes make believe for Cafe Nordo, an immersive theatre space in Seattle. Once, he wrote a novel called "Mahogany Slade," which you should read or at least buy. He's also on the board of the Portland Playhouse theatre. His son describes him as a "play typer guy."