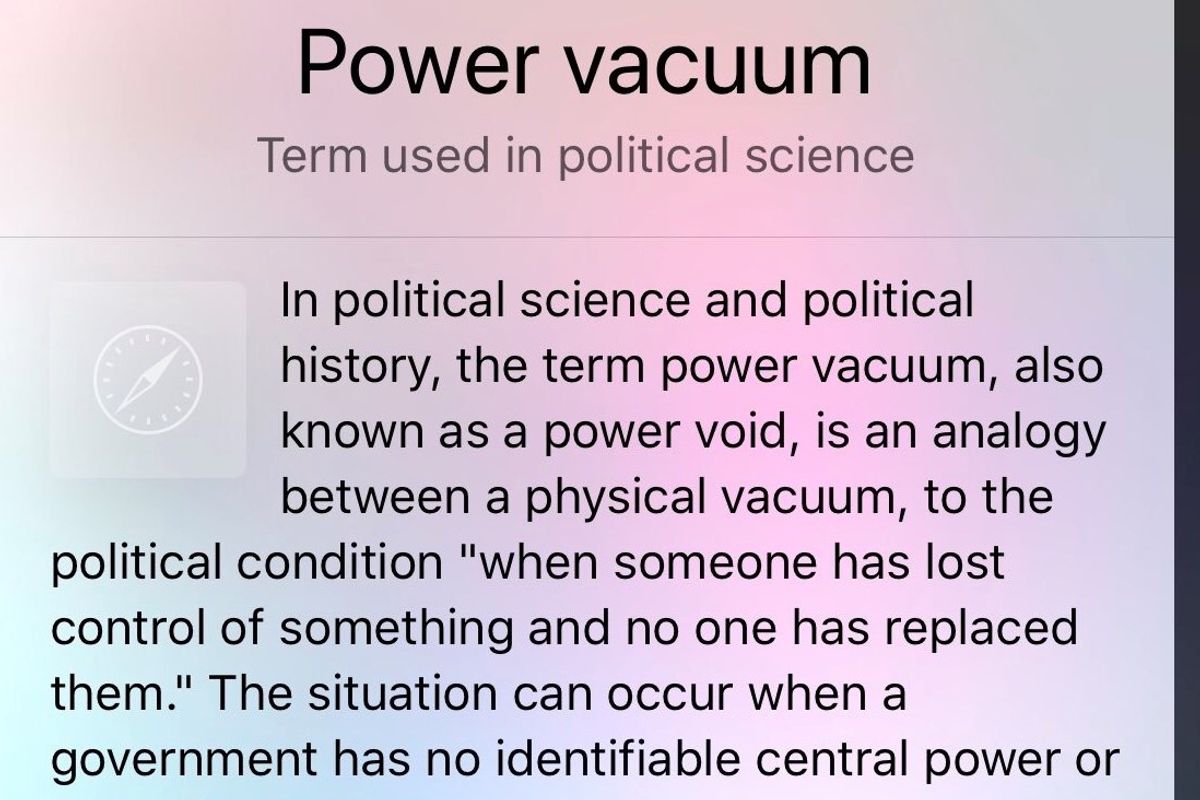 When we last checked in with the United States most ignored favorite colony, Puerto Rico had just forced their governor, Ricardo Rosselló, to announce his resignation effective August 2 after weeks of intense protests. The protests were sparked by years of corruption and 889 pages of leaked chats involving the governor, secretary of state, and other top officials. This forced many in the administration to resign and, after a disastrous Fox News interview, Rosselló soon joined them. But this was not a tidy happy ending.
Because the secretary of state (second in line for the governorship) resigned prior to Rosselló, there was no clear answer who was next in the line of succession. By Article IV of the Constitution of Puerto Rico, Secretary of Justice Wanda Vázquez Garced would have been the next governor until the 2020 elections. But amid protests due to various scandals and controversies outlined by the New York Times (and probably not wanting to be in charge in a shitshow), Ms. Vázquez Garced announced she didn't want the job.
With the deadline bearing down, Rosselló announced July 31 that he had chosen Pedro Pierluisi Urrutia as the new secretary of state to fill the vacancy left by Luis G. Rivera Marín. This effectively made him the next in line and successor as governor, so crisis averted! Just kidding.

---
After much analysis and taking into account the best interests of our People, I have selected Pedro Pierluisi Urrutia to fill the vacancy of Secretary of State. To address the issue, I will be calling for an extraordinary tomorrow.
Luego de mucho análisis y tomando en cuenta los mejores intereses del nuestro Pueblo, he seleccionado al Lcdo Pedro Pierluisi Urrutia para llenar la vacante de Secretario de Estado. Para atender el asunto, estaré convocando una extraordinaria para mañana.
— Ricardo Rosselló (@ricardorossello) July 31, 2019
Or not. In an extraordinary legislative session on August 1, Senate President Thomas Rivera Schatz said Pierluisi should not be governor, since Pierluisi is an attorney at a firm that is "representing Puerto Rico's No. 1 enemy": the federal oversight board that monitors all of the island's finances. His nomination didn't get a vote in the Senate, even though it's dominated by Pierluisi's own deeply fractured New Progressive Party (PNP), which is a requirement under the island's constitution.
So on Sunday, Puerto Rico's Supreme Court responded rapidly to a lawsuit filed by Senate President Rivera Schatz seeking an order to force Pierluisi to give up the functions of the office. The court ordered all sides to submit written arguments by Tuesday at noon. Puerto Rico's nine-member Supreme Court was in summer recess when it decided to take up the case, which is said to be the biggest case in its 119 year history. Sound familiar? Seems Puerto Rico was about to have its leader chosen by its Supreme Court!
But that didn't stop Perluisi from being sworn in on August 2, unconstitutionally, and he has continued acting as governor even without authority. After people questioned his legitimacy, Pierluisi released this statement arguing that he IS the governor:
Puerto Rico's Governor put out a statement essentially saying he doesn't understand why the Puerto Rico Senate is questioning his validity as Gov. He quotes a law he believes validates his swearing in; the same law is being used, by many, to question whether he's a legitimate Gov pic.twitter.com/jlJFpcmUob
— David Begnaud (@DavidBegnaud) August 5, 2019
After seeing the mounting pressure (and seeing his hopes to be governor fast evaporating), Pierluisi then released a more measured statement:
By respecting the vote, it's not clear whether that means he'll resign if he doesn't get the voter for the job of Secretary of State, which he doesn't hold anymore.

He initially said last week he'll resign as Governor if he didn't get the votes.
— David Begnaud (@DavidBegnaud) August 5, 2019
(This sounds very familiar, too.)

Of course the very creative people of Puerto Rico, who have protested him, have given Pierluisi and his swearing in all the dignity and respect it deserves.
Puerto Ricans - known for creatively protesting - are using social media to mock the swearing in of @pedropierluisi as Governor. Critics who believe his taking the oath of office was unconstitutional are poking fun using objects like toilet paper to swear themselves in as Gov. pic.twitter.com/W9NutknlfW
— David Begnaud (@DavidBegnaud) August 6, 2019
The Puerto Rico Supreme Court, in a unanimous decision, decided this afternoon (less than an hour ago at press time) that Pedro Pierluisi's governorship was indeed unconstitutional. They decided that an exception to Rule 7 of the succession clause of the Constitution of Puerto Rico, which was used as the justification for his swearing in, is unconstitutional and that Wanda Vazques Gerad will be the next governor. And Pierluisi's authority? That's invalid.

He was ordered to leave office by 5 p.m. today. The decision cannot be appealed. But it is expected to unleash new demonstrations because many Puerto Ricans have said they don't want Vazques Gerad as governor.
So we'll see what happens! But just in case Puerto Rico needed reminding how scummy the Rossellós are, they took some last minute payback on their way out:

Bodyguards for fmr Puerto Rico First Lady Beatriz Rossello are accused of painting over an LBGT themed monument on the day she left office w/ her husband, the disgraced fmr Governor, @TelemundoPR reports.
Police are investigating.
Activist @PedroJulio calls it an act of vengeance https://t.co/urOjGEw41I
— David Begnaud (@DavidBegnaud) August 7, 2019
This is not the first time, as it seems Ricky left some gifts last time when his father Pedro Rosselló left the governorship in disgrace.
We found it dilapidated, with a lingering stench of humidity--clearly unkempt for eight years. Rugs and curtains were torn, dirty and "adorned" with half-filled beer bottles left sitting in the main reception rooms, aside from excrement covered areas.

The culprit - a young and unruly Ricardo Rossello - who chose to say goodbye in 2001 by vandalizing what had been his home for eight years, as a parting gift.
Probably explains why this time when he fled to Virginia, he asked his hand-picked successor for a favor.

But now with Pierluisi's authority being made invalid, seems that protection detail order is ALSO invalid! Oh well! Good riddance and fuck you, Ricky!
Your legacy won't be forgotten as quickly as your pictures were removed.

Wonkette is funded entirely by our loving readers. Love us! With money!
Michael Mora
Your friendly neighborhood Puerto Rican Political Freelance Writer for @wonkette. Pop Culture observer, Amateur Movie reviewer & Comics fan. Former Active Duty Marine. All opinions are mine only.