Hooker Dude Wants To Make Sure Teenagers Don't Do Sex Things To Cucumbers
News
September 24, 2015 12:45 PM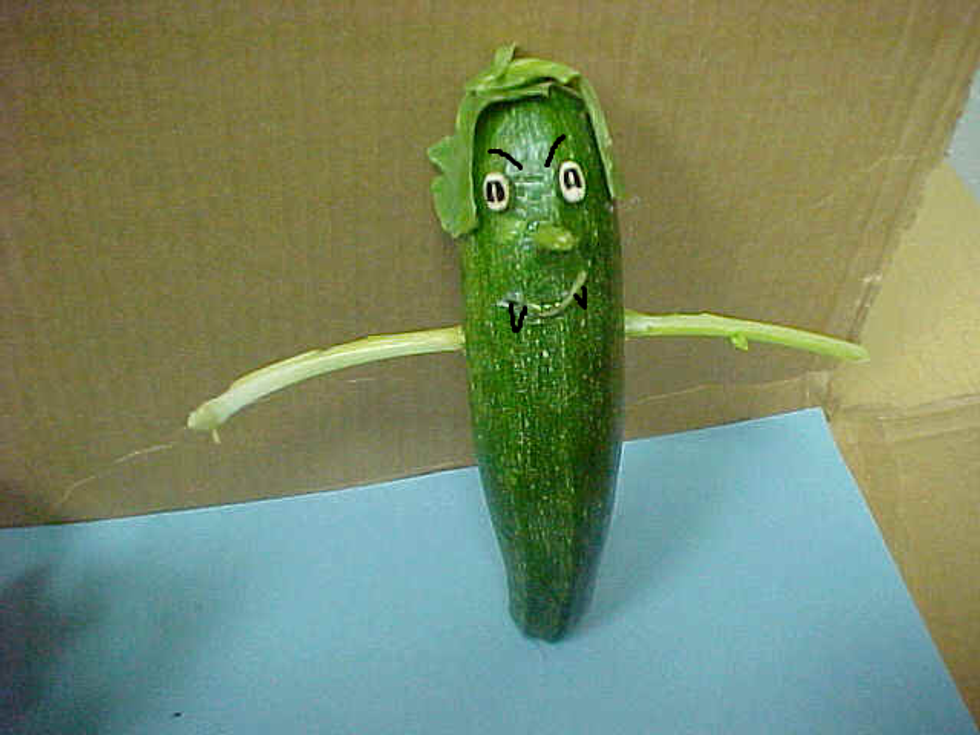 Cucumbers are vicious lovers.
---
Once in a while, there is a straight news story that already has a Wonkette headline. This is one of those stories.

OH DOES HE? So here is what is happening. There is a Republican state representative in Michigan called Tom Hooker, and he's real worried about what kinds of sex ed the children are getting at school. So he has writed himself a bill to ensure that Planned Parenthood isn't coming in and showing the kids how to Make Your Own Abortion, and he DEFINITELY doesn't want them putting condoms on vegetables, because that puts all kinds of ideas in the children's heads, probably about putting vegetables in their bad places.
"It's illegal to hand out condoms to young people as they exit the class, but what they're doing is they're handing out the condoms in class. They're practicing on a cucumber or something similar, familiarizing themselves with the use, and then Planned Parenthood conveniently tells them they can get the devices at Planned Parenthood clinics and how easy it is to get them without the knowledge of parents," said Hooker, a third-term representative.

"The only dealing that I did with birth control devices (when I was a teacher) was I gave the students the failure rates of all of them. The failure rate obviously tells you there is not safe sex except saved sex. To avoid sex is the only guarantee that you're not going to get pregnant."
Goddamn that Planned Parenthood, trying to keep kids from getting pregnant or acquiring STDs. Surely, if the children just get sex ed from a Hooker -- Tom Hooker to be precise -- they'll eschew all sexual contact until they get opposite-sex married in God's eyes. We know this is possible, because of how teens ALWAYS listen to grown-ups who tell them not to have sex, and they NEVER listen to their hormones instead.
Oh wait, that is not true. Teenagers fuck each other. In every society, teenagers have fucked each other. Teens who go to conservative megachurches? Fucking. Teens who sign virginity pledges? Fucking. Jesus's high school friends? Fucking. Hey, Christ's teenage years are completely unrecorded in the Bible, maybe because the Prince Of Peace was TOO BUSY FUCKING. Any adult who does not understand this about teenagers is a fucking baby.
And also, too? Abstinence-only education of the No Cucumbers, Just Don't Fuck variety still doesn'tfuckingwork. It just doesn't, no matter how much conservative bugfuckers like Hooker wish it did. What DOES work? Real sex ed, the kind he is trying to ban.
[contextly_sidebar id="jIqJXmWGyTu1aXHfAeoh1OQCr01xURL5"]
Of course, Hooker is sure Planned Parenthood is doing this just to grease its wheels:
"There's a perverse incentive for an organization like Planned Parenthood to get into the sex education business," Hooker said. "It's a conflict in that they give out or sell condoms, they offer pregnancy tests and (sexually transmitted disease) testing, and, obviously, if they're pregnant, they then would offer an abortion.

"It just seems like an awfully comfortable arrangement for Planned Parenthood to teach sex education."
Yeah, and the more teens Planned Parenthood can teach to do sex to each other (because they'd NEVER figure it out for themselves), the more will get pregnant, and then OOH Planned Parenthood gets ALL THE BABY PARTS to put on Etsy or wherever they sell them. This is a fine time to remind everyone that Planned Parenthood is not doing anything illegal, it is not selling baby parts for scrap, and that anyone who believes it is  -- hey Carly Fiorina, you big lying dumbass! -- is A Idiot. This is ALSO a fine time to remind Rep. Hooker that Americans really love Planned Parenthood, so pull the cucumber out of your dumb white ass and put a condom on it, why don't ya, Hooker boy?
[contextly_sidebar id="BnLuFje315jwQ9CpmY3pDyP3IU58QUtB"]
Evan Hurst
Evan Hurst is the managing editor of Wonkette, which means he is the boss of you, unless you are Rebecca, who is boss of him. His dog Lula is judging you right now.
Follow him on Twitter RIGHT HERE.