Hooray For Global Warming?
Elections
November 02, 2016 09:42 AM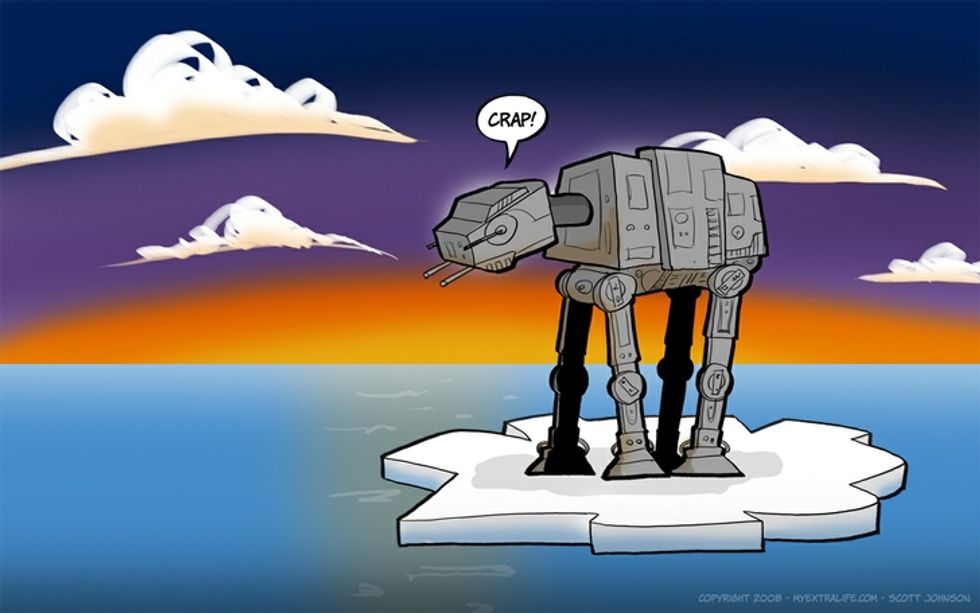 It's getting Hoth in herre...
---
Everyone knows one candidate in this presidential election thinks global warming is a hoax invented to help the Chinese destroy American industry, and the other candidate knows it's real and is committed to taking action to curb carbon emissions. Also, everyone knows that higher voter turnout usually benefits Democrats. So, here's your example of actual irony to yell at Alanis Morissette about: It's entirely likely that global warming may contribute to record voter turnout in 2016 -- which is on track to be yet another hottest year on record -- and thereby help elect the candidate who's pledged to fight global warming. Not that anyone has actually made much of an issue of the greatest threat to human life on the planet, since emails are much more important to our ultimate survival.
The National Oceanic and Atmospheric Administration (NOAA) is predicting a wave of unseasonably warm temperatures to continue through election day, which is likely to encourage more people to go out and vote. This will probably be especially germane to the nearly half of Americans living in precincts that had long lines in 2012. And NOAA is predicting the warm weather will continue over the next five to nine days, during which a whole bunch of temperature records will be broken.
But wait! Five to nine days? That is only weather! That is not climate! At some point in the next few months, it is definitely going to snow, and then some idiot senator will prove global warming is a myth by bringing a snowball to the Senate floor. Which means it's time once again to bring along our pal Neil deGrasse Tyson to 'splainer how this fall warming peak is indeed just one data point, but it's one that fits into a longer trend establishing the reality of global warming. Yes, we know you Wonkers already know this, but we love this video and the chocolate Labrabor herein:
So this is where we throw science and numbers at you. Yes, possibly before you've even had coffee:
NOAA reports that as of October 29, this year has already seen more than 53,000 daily temperature records broken nationwide — 21,160 warm maximum (daytime) records and 32,220 warm minimum (nighttime) records. This compares to fewer than 12,000 cool daily temperature records broken (7,930 cool maximums and 3,930 cool minimums).

That's a ratio of warm-to-cold records of more than 4.4-to-1. By comparison, the ratio for last decade (the 2000s) was about 1.9 to 1. As climatologist Gerald Meehl has explained, "If temperatures were not warming, the number of record daily highs and lows being set each year would be approximately even" [...]

Meehl led a 2009 study that projected "the ratio of record highs to lows is likely to increase dramatically in coming decades if emissions of greenhouse gases continue to climb."
As it turns out, the ratio of warm records in October 2016 (5,490) to cold records (500) is roughly 11 to 1. So yeah, if you think it's been warm, it has been (local variations, of course, being expected). Yr Dok Zoom finally dragged his butt out to early vote yesterday, and it was cool but not frosty in Boise. Meanwhile, Evan in Tennessee notes he enjoyed an 84-degree day (though his phone's app said it was freakin' 92 degrees. His app was probably designed by radical environmentalists).
So expect terrific weather for voting -- in the midst of a climate trend that we damned well need to make more political noise about.
[ThinkProgress / Image by Scott Johnson at Extra Life]