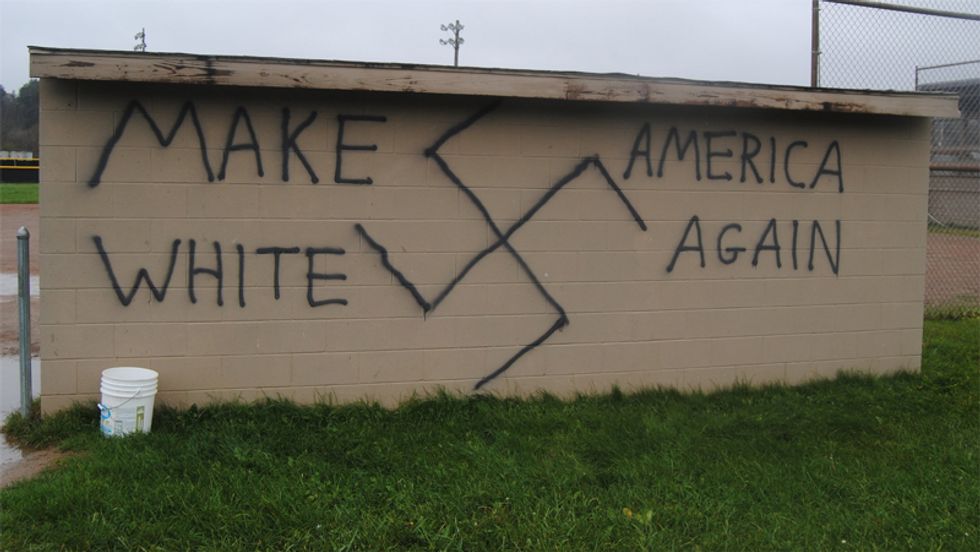 Subject-verb agreement are the least of your problems
---
Looks like America is well on the way to being Made Great Again, at least if the number of reports of acts of economic anxiety against minorities and women since the election have anything to do with it. In fact, one might almost think some of these incidents may have had more to do with racism or sexism or homophobia, but it's so hard to tell. There are really far too many incidents to list them all -- RawStory put the count at 87 by Thursday afternoon -- so we'll go with some of the more notorious acts of economic anxiety without attempting to be comprehensive. We have a feeling this won't be our last roundup on this topic.
We should be cautious and note that it is quite possible some incidents being reported online may turn out to be hoaxes; already, police in Lafayette, Louisiana, say a woman at the University of Louisiana at Lafayette made up a report of having been assaulted by two men, one wearing a "TRUMP" hat, who she said had stolen her wallet and hijab. The woman admitted during the investigation she had fabricated the story.
chain store bakery had written "FAG" on a cake
he'd ordered,
rightwing media
are all over the Louisiana story today as "proof" that all reports of hate crimes in the wake of the election are false, which seems improbable -- unless somehow liberal infiltrators convinced those Babson College guys to go to Wellesley so they could be kicked out of their fraternity, and also convinced the boys on video at the high school in York that they should get themselves suspended for walking around yelling "White Power!" Hatred is real enough, as our Deleted Comments queue demonstrates, so we have to wonder what the hell is wrong with people who feel the need to make up a story of being victimized. Please cut that out, mmmkay? Trump is going to be bad enough without people handing his frothing supporters an excuse to declare all hate crimes fake.
(But what if they ARE???????)
Also, several black people assaulted a white guy after a traffic accident in Chicago, yelled he was a Trump supporter, and drove off in his car, which we want to note is terrible and inexcusable. All violence is. This doesn't mean we can simply dismiss the many reports of threats and attacks on minorities with a shrug and "Both sides do it," though of course that's exactly what will happen.
In conclusion, we guess a lot of whites sure are feeling deep economic anxiety, and we should try to understand where they're coming from. Except, of course, for the ones who are going to jail for vandalism or assault.
[Reuters / RawStory / WNCN / Durham Voice / News & Observer / PennLive / Pennlive again / KVUE / Boston Globe / Common Dreams / HuffPo / Daily Advertiser / WaPo]