How Bad Is Donald Trump Pissing In China's Corn Flakes Over Taiwan? THIS MANY BAD.
Everywhere Else News
December 05, 2016 11:44 AM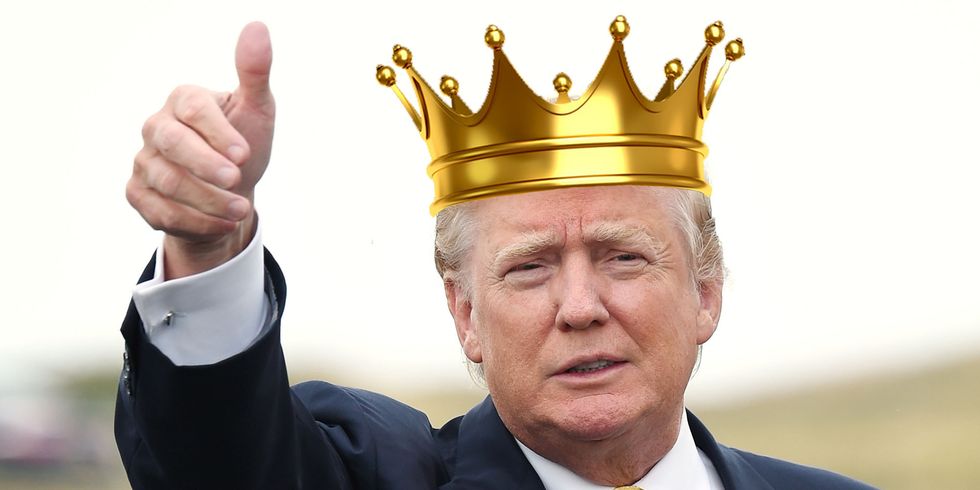 King Donald does what he wants, much like Eric Cartman
---
Donald Trump took a shit on decades of widely understood U.S. foreign policy on Friday when he kicked his hobbit feet up on his desk and decided to have a little phone chat with new Taiwanese President Tsai Ing-wen, the first lady woman to be elected to that position. Why is that such a big deal? Because mainland China considers Taiwan to be a rogue province, and from a diplomatic perspective, America respects a "One China" principle that says there is, ahem, ONE CHINA, and therefore you can only have diplomatic relations with one Chinese government, which is in Beijing. This has been the status quo since 1979, when the U.S. established diplomatic relations with China.
The U.S. has had a relationship with Taiwan ever since, of course, but it's unofficial -- they have something like an embassy, but it's not an actual embassy. The Washington Post explains that in 1979, Congress passed the Taiwan Relations Act, which spells out how our relationship with the island works:
In April 1979, the U.S. Congress passed the Taiwan Relations Act "to help maintain peace, security, and stability in the Western Pacific" and to continue "commercial, cultural and other relations" with Taiwan.

The act stressed that U.S.-China relations rested on the expectation that the future of Taiwan "be determined by peaceful means" and allowed for U.S. arms sales to Taiwan for the purposes of defense. The Taiwan Relations Act also established the American Institute in Taiwan, a nonprofit corporation with offices in Taipei and Arlington, Va., that implements U.S. policy toward Taiwan. The AIT in effect serves as an unofficial embassy ...
And so on and so forth. If you want to dive deep into the relationship between Taiwan and the United States, especially as it pertains to Sino-American relations, start with that WaPo link and then use Google all by yourself, so that you may have all the facts handy when you try to explain this to your Trump-supporting parents, who lived through all this history and therefore should know goddamn better.
The dumbass phone call heard 'round the world!
So, the phone call on Friday! When the massive blowback started -- because WTF THIS IS NOT FUCKING HOW THINGS FUCKING WORK, DONALD TRUMP, YOU BUMBLING FUCKWIT -- Trump got on the secure diplomatic channel of his Twitter to explain himself: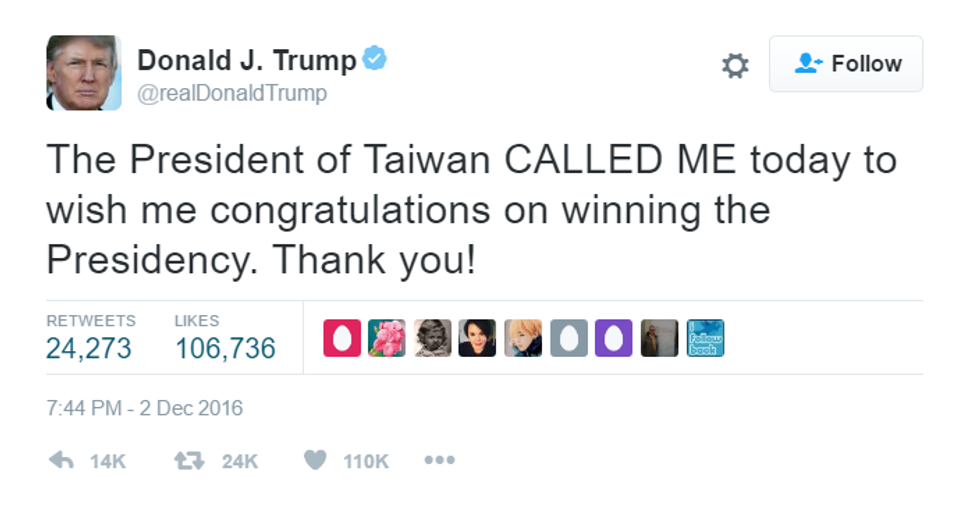 Yeah, no big deal! He was just hanging around, answering unknown numbers on his cell phone, like he does, and all of a sudden there was a Taiwanese president on the phone like "CONGRATULATIONS, BRO! HOW IS IT HANGING?" Also too, an hour later: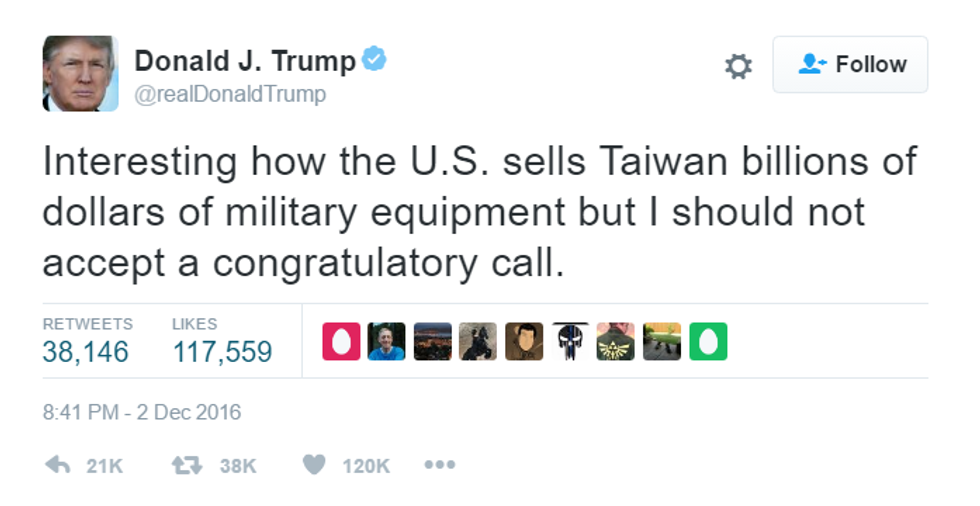 It's only "interesting" if you're a know-nothing who can't be bothered to take intelligence briefings and State Department guidance on the delicate intricacies of American foreign policy toward China. It's also "interesting" that Wonkette understands this foreign policy better than the president-elect, because we've done a bit of crash-coursing this weekend, to remind ourselves. Maybe WE should be president!
Now, Trump's story almost immediately started to fall apart, as the Taiwanese president's office
said
it was planned beforehand. How long beforehand? OH JUST MAYBE MONTHS. Let's look at a different 
Washington Post article
that suggests that the Trump team is literally interested in sticking its dick in Beijing's eye, and this is part of that "strategy":
The historic communication ... was the product of months of quiet preparations and deliberations among Trump's advisers about a new strategy for engagement with Taiwan that began even before he became the Republican presidential nominee, according to people involved in or briefed on the talks.

The call also reflects the views of hard-line advisers urging Trump to take a tough opening line with China, said others familiar with the months of discussion about Taiwan and China.
Oh look, here is Donald Trump tweeting on Sunday, taking a "tough opening line" with China, recklessly and like A Idiot, because Trump is both reckless and A Idiot: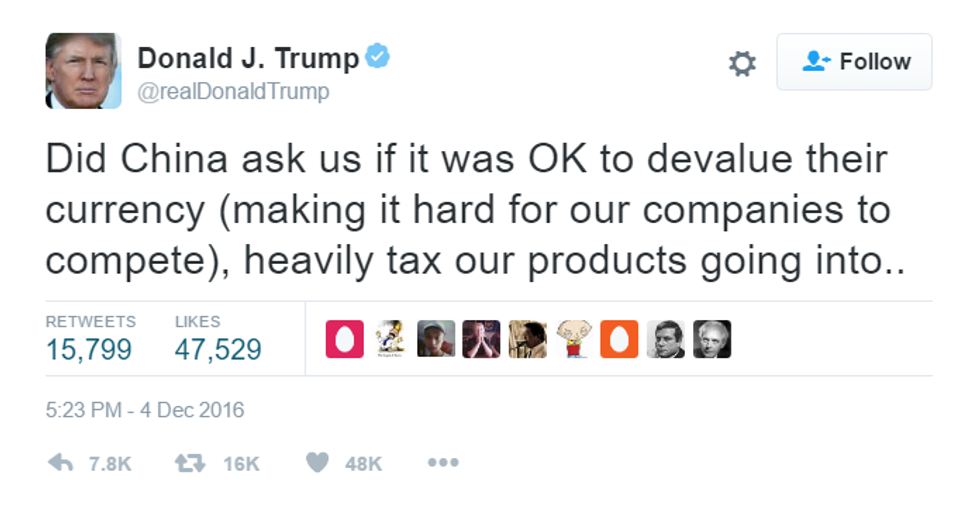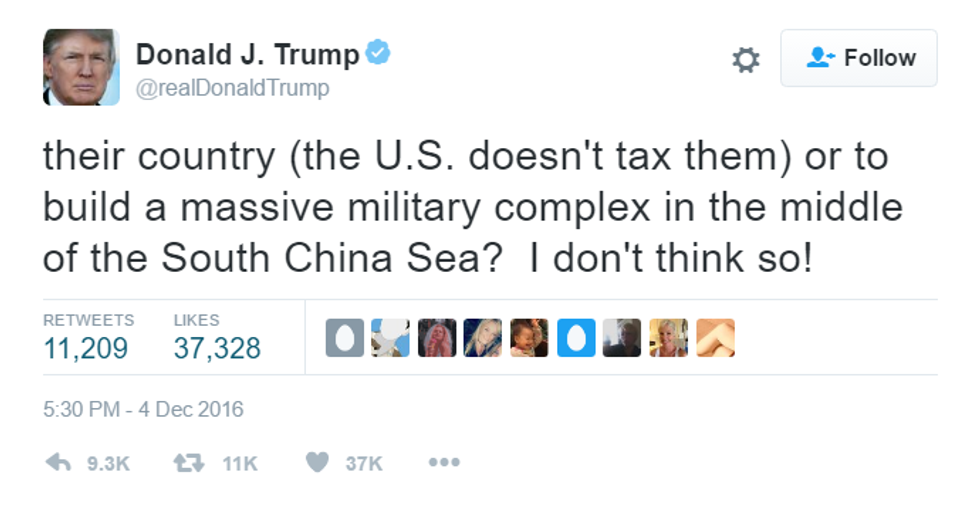 The WaPo points out that (factcheck) yes America does tax Chinese goods but (factcheck) that doesn't matter because (factcheck) Trump is a moron who isn't interested in learning information for himself.
HMMMM wonder why Trump might want to get all licky-licky with Taiwan!
Well! SOURCES SAY that maybe the Trump organization really wants to build some gauche new hotels in a large suburb of Taipei, so maybe this has to do with the coming grift-ocracy of the Trump administration. Could be that!
Also, as the Wall Street Journal notes, OTHER SOURCES SAY Trump wants to force China's hand on the North Korea issue, which doesn't seem like it would be very productive, since years of diplomacy have actually finally convinced Beijing to agree to sanctions on North Korea, and also it's very difficult to get China to help out when it's distracted because you're fucking with Taiwan:
Passage of the recent sanctions, which effectively target North Korea's coal exports to China, had indicated Beijing's willingness to send a message of impatience to its neighbor. Their success depends in large part on how rigorously China enforces the curbs and how well China and the U.S. continue to work together.

"You can't expect China to make sacrifices on North Korea while the U.S. meddles with Chinese core interests in Taiwan," said Wang Sheng, a professor at China's Jilin University who studies China-North Korea relations.
The WSJ also quotes Bonnie Glaser, a China expert at the Center for Strategic and International Studies, who says Trump probably doesn't understand the actual motivations of his hawkish advisors, and, about Beijing's reaction to the phone call, says "One of the things that happens when they become alarmed about Taiwan, is that from the president down, it crowds out all other issues." So if Team Trump thinks it has a clever plan to use this call to pressure China in other areas, it probably won't work because did you hear that thing she just said about how when you're screwing with Taiwan, China's going to be obsessed with that and isn't likely to listen to what you have to say on unrelated issues?
Also, have we mentioned that China holds approximately one million fucktons of our debt, and is our biggest trading partner, did we say that part? Yeah.
So how pissed is China?
They're pissed! They've lodged an official complaint, but the WaPo notes that so far, Beijing is mostly blaming this on Taiwan (China's foreign minister called it, in essence, a "petty move" by Taiwan) and sort of cautiously rolling its eyes at Trump, assuming (correctly) that he's a novice who doesn't know any better. For the sake of America, we do hope China continues with that stance, because we can 100% guarantee that he's going to be a novice who doesn't know any better until his last day in office.
(An interesting tidbit of information to keep in mind, by the way, is that the new Taiwanese president's party advocates full independence from China, whereas the previous administration was more touchy-feely with Beijing. So you can imagine China is a bit on edge right now anyway. Hope they decide to shed some grace upon America in the coming years, hoo boy!)
Kellyanne Conway UGH!
Ugh, Kellyanne Conway, ugh! Trump's spokes-moron told Anderson Cooper that Trump is "well aware of what U.S. policy has been," which suggests he knew what he was doing with the call. She also told reporters, in response to Secretary of State John Kerry's offer of State Department assistance, that Trump is "not really a talking points kind of guy." Have we mentioned before that Trump is our greatest living example of the Dunning-Kruger effect? That is a thing he is. He truly believes he's good at things, therefore any help -- the kind all incoming presidents appreciate as they get up to speed on this complicated world we live in -- is unnecessary and boring.
So! Trump's not asking for help, he's not getting intelligence briefings, the deplorables advising him think they're above it all, and that they don't need no stinkin' "intelligence" and "protocols." Aren't they there to Drain The Swamp anyway, even if that means disrupting the delicate balance the United States has been working to preserve with China for decades, for little inconsequential reasons like keeping the planet out of civilization-ending nuclear wars? PFFFFFFT.
So is this all really some yooge deal, or are people over-reacting?
Hey, Republican man and former Gee Dubya Bush press secretary Ari Fleischer, is this a big deal?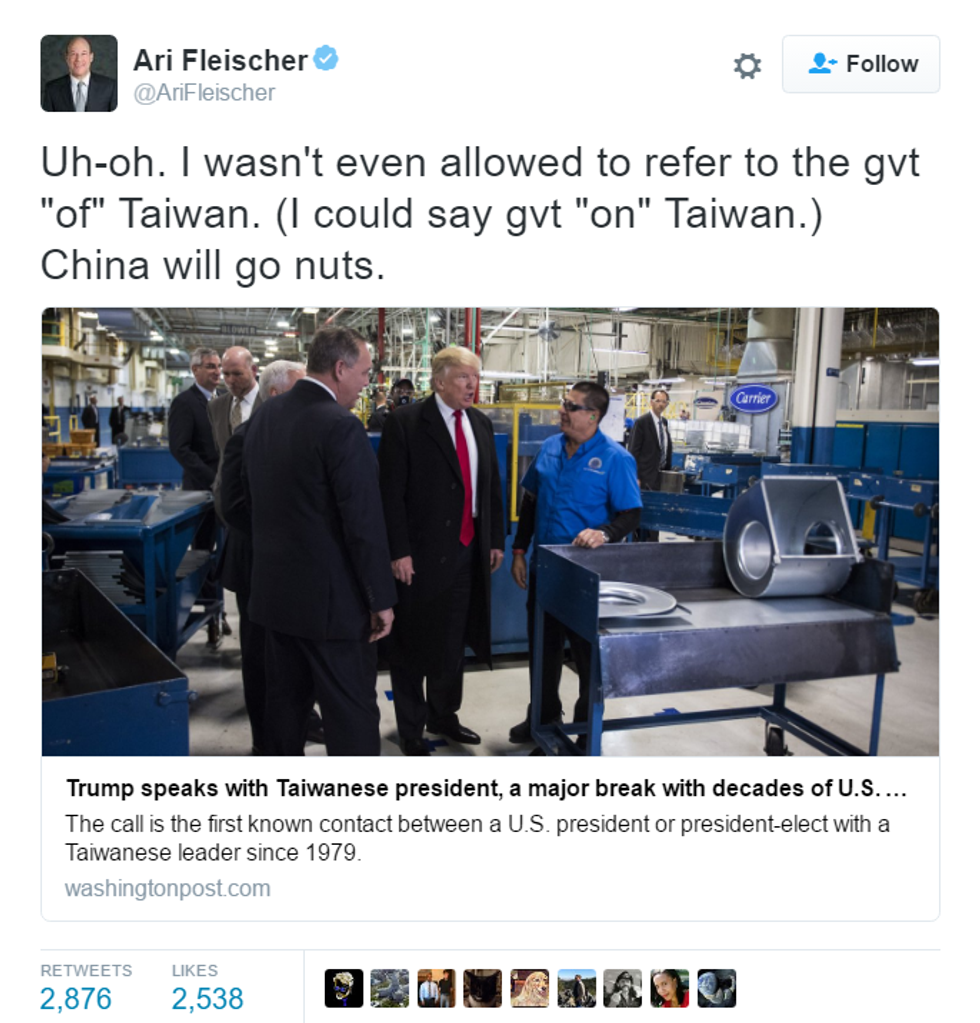 Christ on a biscuit, these next few years are going to be fun.
Evan Hurst
Evan Hurst is the managing editor of Wonkette, which means he is the boss of you, unless you are Rebecca, who is boss of him. His dog Lula is judging you right now.
Follow him on Twitter RIGHT HERE.