How Dumb Is My State? (Very Dumb): Your Florida Roundup
Featured
January 17, 2015 01:10 PM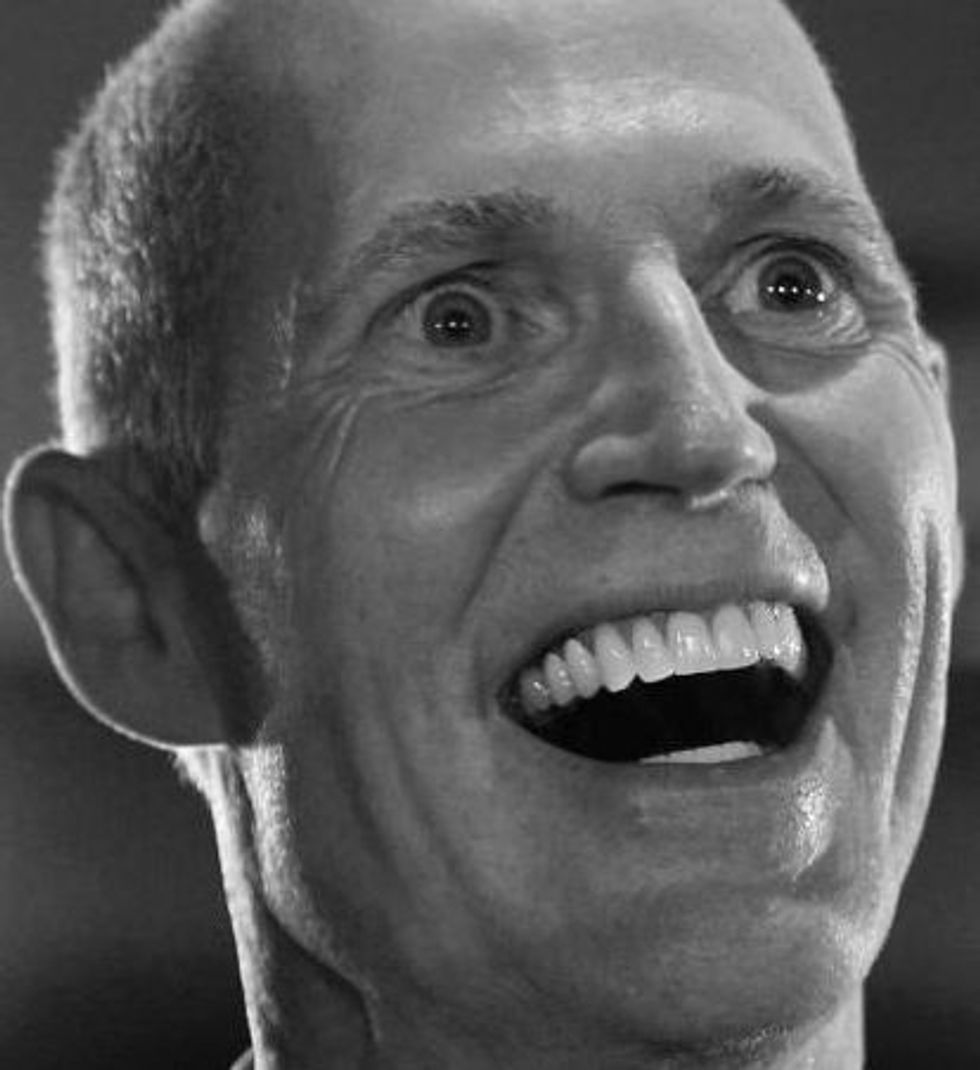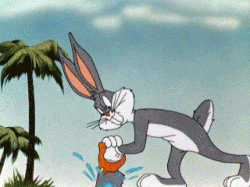 ---
Florida? Floriduh, am I right? (I am right.)
Greeting, Wonketeers, from the Sunshine State, aka everyone's favorite phallus, aka America's after-school special, home to Viagra-fueled, syphilitic octogenarians and Midwest transplants and New York Jews and Cuban ex-pats and megachurches and Key West buttsexxxers and hanging chads and gun-toting rednecks and snowbirds and face-eating zombie men and maybe-rapey sportsball stars and failing schools and theme parks and charlatans and beaches and George-motherfucking-Zimmerman, all governed by a twice-elected con artist who looks like this guy and wants to be this guy.
My home is a very special place, and the good folks at Yr Wonkette have asked me, your Florida Correspondent, to be your weekly tour guide through this strange, mosquito-infested swampland paradise.
We begin in Palm Beach, Exhibit A in the case for an insanely redistributive tax scheme, where Donald Trump's hairpiece is having itself a little tantrum:
Claiming the facade and foundation of his historic Mar-a-Lago club are being irreparably damaged by jets rumbling overhead, real estate magnate Donald Trump is suing Palm Beach County for $100 million.
The Donald, who is not at all given to the conspiracy theories or lying about stuff, believes that the airport is doing this intentionally, because of course: "He accuses Airports Director Bruce Pelly of using his influence with the Federal Aviation Administration to get air traffic controllers to aim planes at Mar-a-Lago to punish him for the lawsuits he filed against Pelly and the county." Oh, wait, Wonkette already wrote about this? Huh, I guess I am fired.
We next head down I-95 to North Miami, where the cops are using black dudes' mugshots for target practice, and their bosses think this is pretty solid police work, because some of the cops who pretend-shot black dudes were black dudes, so what the fuck's your problem, man?
North Miami Beach Police J. Scott Dennis defended his sniper team, which he said includes minority officers. No policies were violated, no racial profiling was involved and none of the officers would be disciplined, he said. […] Dennis told the NBC station that photographic targets were "vital for facial recognition drills," and they would continue to be used after the department expands its inventory of images, which also includes white and Latino faces.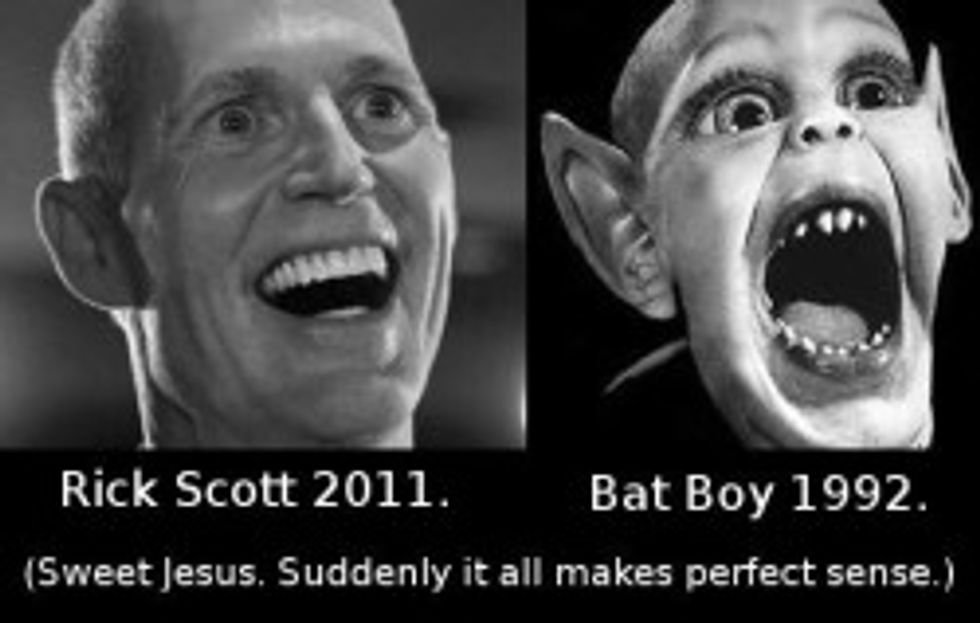 Speaking of killing dudes, Governor Bat Boy executed his 21st prisoner this week, which ties him with Governor Jeb!™, your next president, for the all-time lead. (Woo?) And he's got four years to go. (Oh, and the guy he had lethally injected was maybe not the guy who did the actual murdering, but whatevs, you can't win 'em all.)
And speaking of my state's fearless leader, let us examine the resignation-but-not-really-maybe of the head of the state police agency:
A simmering behind-the-scenes battle involving allegations of political meddling by Gov. Rick Scott's office erupted publicly Tuesday as the ousted director of Florida's top law enforcement agency called Scott a liar for claiming he resigned voluntarily. Former Department of Law Enforcement Commissioner Gerald Bailey said he was forced to quit without explanation Dec. 16 after eight years as commissioner and more than two decades with the agency. […] "He resigned," Scott said after a Cabinet meeting Tuesday. Pressed by reporters, Scott said: "I'll say it again. Commissioner Bailey did a great job."

Bailey, 67, said Scott isn't telling the truth."I did not voluntarily do anything," Bailey said. "If he said I resigned voluntarily, that is a lie. If he said that, he's being totally untruthful."
And why oh why might Voldemort want to do away with this longtime civil servant? Because he wouldn't turn his agency into the Scott campaign's appendage:
Scott's campaign asked Bailey to take part in a June conference call to discuss "the governor's platform for the next four years." Bailey considered it wrong for him, as a law enforcement officer, to engage in partisan politics and emails show he refused. […] Bailey complained to Scott's chief counsel, Pete Antonacci, that he was receiving solicitations to donate money to Scott's re-election on his state computer. When he complained to Antonacci, Bailey said he was told, "Just delete it." It's illegal in Florida to destroy public records. […] FDLE agents in Southwest Florida rejected requests by Scott's campaign that they transport Meghan Collins, a campaign staffer assigned to first lady Ann Scott.
(Related: Florida is totally fucking corrupt, surprise!)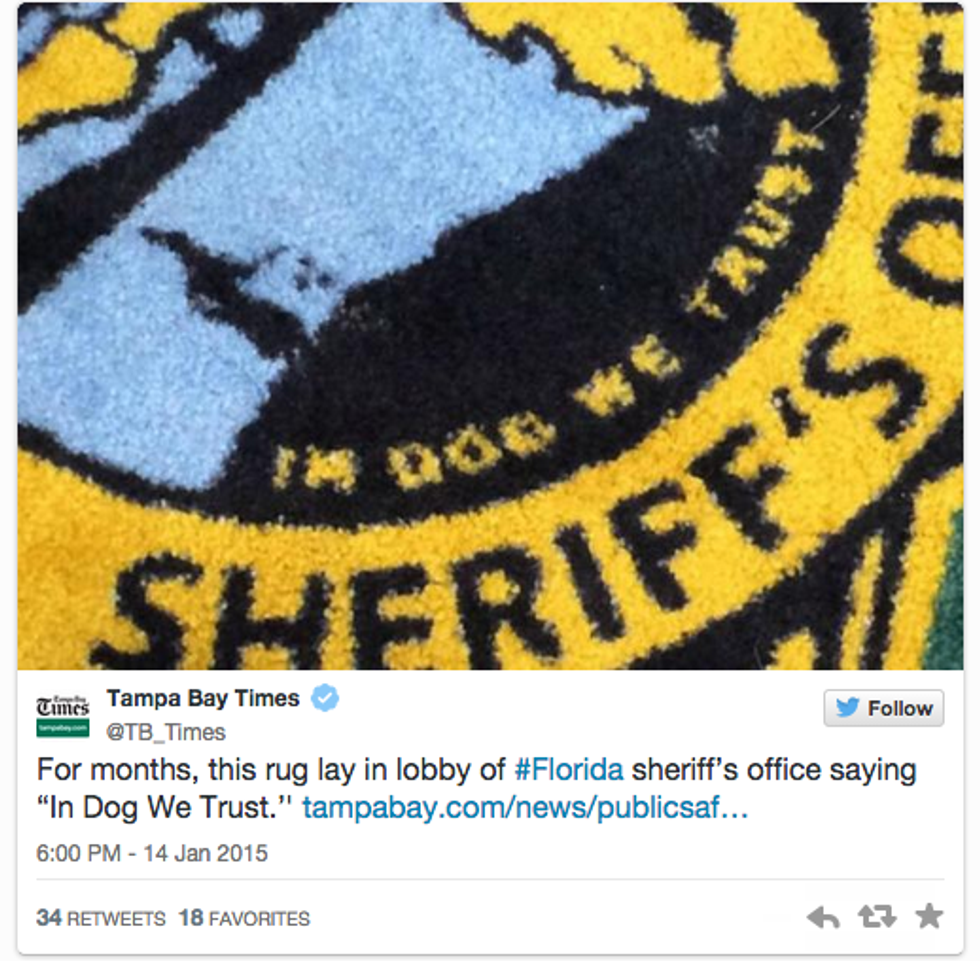 The Pinellas County Sheriff's Office recently spent $81 million on a sparkling new palace of law enforcement on Florida's Gulf Coast. There's a state-of-the-art 911 center, top-of-the-line hurricane protection built to withstand Category 5 devastation, and a high-tech data center.

There are also some spiffy accoutrements, such as a bright-green rug with the sheriff's official seal, which includes an outline of Florida and the motto: "IN DOG WE TRUST."
Nobody noticed for several months. That's some nice police work, boys.
Last but not least, this exists:
There's a place in central Florida where all your dreams come true. The weirder ones, anyway. The ones about your most decadent sexual fantasies, the ones where you're wandering through a party that never ends, or launching eggs into a 500-pound man's asshole, or fucking a girl while simultaneously taking a shit and showering. You can dance with snakes, ride ponies, and shoot Class 3 machine guns with the self-proclaimed "most ratchet stripper" in Orlando.
The Sausage Castle, as it's called, is run by a guy who claims to be Gary Busey's nephew, too, and the whole thing is just Florida perfect.
And finally, the week in Florida in headlines:
Florida, see you next week, and keep fucking that chicken.