How Many Fox News Anchors Does It Take To Give Donald Trump A Rimjob?
Featured
July 20, 2015 11:45 AM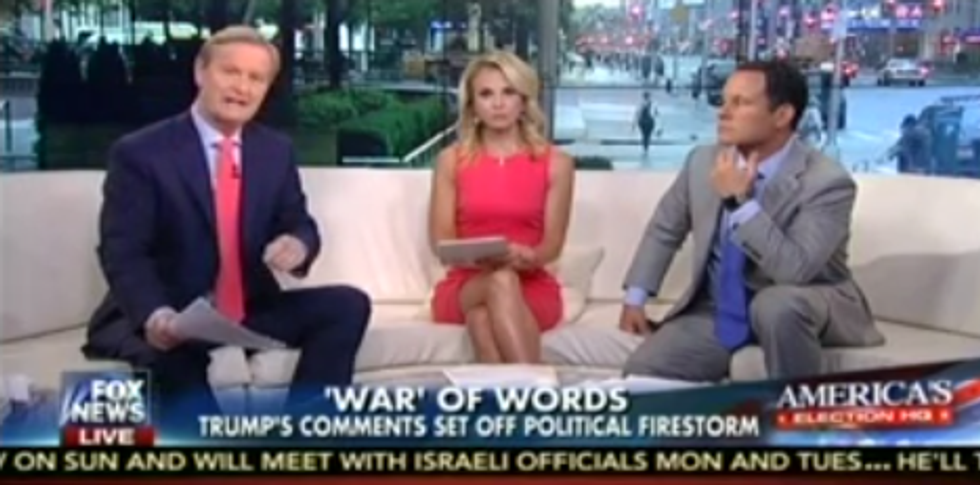 The answer is A LOT. Which makes sense, because Donald Trump's butthole isn't weak like the other candidates' buttholes, and it's definitely not a captured POW loser like John McCain's butthole. Trump had a big weekend, and he probably put the nail in his own coffin by saying mean things about McCain -- some of which are KINDA true, except for how Donald Trump is an asshole who doesn't know how to string words together without coming off like a ginormous cowering pussy, and who also doesn't really have a place to talk about others' Vietnam War records, since the only bravery Trump exhibited during that time was in the number of bullshit deferments he managed to get. Oh wait, that wasn't "brave," that was "brazen," and also "cowardly."
---
[contextly_sidebar id="wKYHukkDIDGGdGj09pfgHvUgkZJHKw0g"]
And how did the idiot cast of "Fox & Friends" -- Brian "The Rapey-Looking One" Kilmeade, Elisabeth Hasselbeck and Steve Doocy -- react to all this? The way they always do when Republican men talk all big, but are in reality giant pussies: They threw Trump's legs in the air and went to town on his Trump-hole, with their tongues.
Here are some fun quotes, about how people need to stop being mean to Donald Trump:
DOOCY: Keep in mind, after he had this statement, mainstream media said, "Donald Trump says John McCain not a war hero." He says it one time, then immediately corrects himself, and says he was a war hero four times."
Wait, is that what happened? Did Trump say FOUR TIMES ALAN that McCain is a war hero? Not really. Let's look at the transcript again, omitting the boring parts where pollster Frank Luntz was yapping:
 "He's not a war hero ... He is a war hero ... He's a war hero because he was captured. I like people that weren't captured. So he's a war hero … He's a war hero, because he was captured, okay?"
HMMM, it seems Trump is saying that yeah fine, he's technically a war hero, but only for stupid dumb reasons, but whatever. More dumb:
KILMEADE: When Senator McCain was running for president, he never talks about what he experienced... But in the big picture, what Donald Trump does, he goes at you directly. I imagine if we were one on one, trying to bid against buildings, he'd come after me about soccer. He'd go after the weakness.
Oh sweet Jesus. John McCain's entire career is about how great he thinks he is, and how he won't stop talking about it. But we have learned a new thing about Brian Kilmeade, which is aside from the fact he is stupid and dumb and looks like he might slip Cosby pills in your drink, he is also bad at soccer. Noted.
DOOCY: Going back to the first comment, they [Trump and McCain] don't like each other. There are a lot of people in this country that don't like each other.
GO ON! Explain more about this phenomenon of people not liking each other:
DOOCY: But it's political season and, you know, a lot of people might say look, it's Donald Trump being Donald Trump. He is not going to apologize because he says he does not like what John McCain has done for the vets, and Donald Trump says if elected, he would do something for the vets.

KILMEADE, cutting in and accidentally making a point: Listen, bottom line ... I don't think any politician can be successful, especially front runner with fourteen direct competitors, being his own advisor. He has to start consulting with people!

DOOCY: If that is true and he's advising himself, he's done pretty well so far.
HAS HE?
HASSELBECK: How would you consult him? Let us know what you think about this between John McCain and Donald Trump.
Yes, let's ask the Fox News viewers their advice on how to do political consulting, that is a great idea that would add much to our political discourse, we are very sure.
So it's early, but we are going to say that Steve Doocy did the best rimjob to Donald Trump, that Brian Kilmeade is second best, which is probably very common in his life, and Elisabeth Hasselbeck didn't even try, because she is a weak loser.
If you'd like to see more Fox News anchors lick Donald Trump's butthole, here is a BONUS VIDEO from Friday's episode of "The Five," before all of this McCain flippity-flap started. Dumb idiot Eric Bolling says that it's just AMAZING how "there are that many Republican pundits on the networks ... trashing Donald Trump. There's a problem in America, and it's not Donald Trump, it's collective progressivism that needs to change." See? It's the liberals' fault.
We are going to need so much more popcorn.
Evan Hurst
Evan Hurst is the managing editor of Wonkette, which means he is the boss of you, unless you are Rebecca, who is boss of him. His dog Lula is judging you right now.
Follow him on Twitter RIGHT HERE.