How Stupid Was Trump's Iran Announcement, On A Scale Of One To 'Donald Fucking Trump'?
Everywhere Else News
May 09, 2018 11:55 AM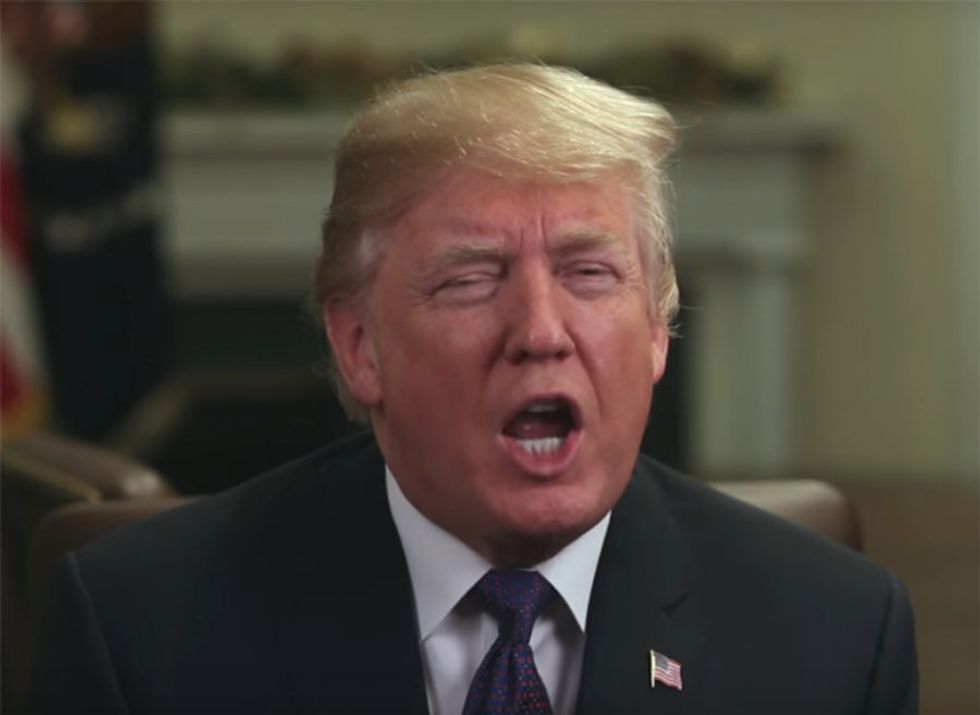 Remember back in 2011 when Barack Obama made some light jokes at Donald Trump's expense at the White House Correspondents Dinner and that evening Trump decided he would spend the remaining years of his life proving to his own fragile ego that he was better than that black guy? Here's a timely reminder that we are still living in that thicket of shit, because on Tuesday, Trump announced that, as expected, and against the advice of literally everyone with a brain, he would be pulling out of the Iran deal, more properly known as the JCPOA. You know, that thing signed by the US, Iran, France, Germany, the UK, Russia, and China? That thing that was the only thing preventing/discouraging Iran from acquiring a nuclear weapon? Yeah! Fuck Obama, right?
---
Guess French President Emmanuel Macron's love-pats weren't as persuasive as we hoped they'd be.
And the best thing about it is that, in his announcement, it was clear motherfucker had no goddamned clue what he was talking about. (Washington Post fact checker right here!) For whatever reason (his bad brain?) Trump was slurring his speech the entire time, as he recited a conspiracy theory some Fox News idiot and/or John Bolton whispered up his asshole. It was like a Mad Lib about "insert Muslim country here," left over from the Bush years. But the Israelis and the Saudis liked it, and they are our very best friends ever, so it's all good, probably!
We're not going to get weedsy with the original deal itself. It's not perfect, but it's about the best deal it could have been, a fact virtually EVERYONE agrees on. But honestly, the reason we're not going to delve into the details of what Trump just blew up is that it's clear from the transcript -- read it if you want to see what a rapidly leaking brain looks like in print -- he's never gotten a real briefing on how the deal works in the first place.
Here's a key passage:
In theory, the so-called "Iran deal" was supposed to protect the United States and our allies from the lunacy of an Iranian nuclear bomb, a weapon that will only endanger the survival of the Iranian regime. In fact, the deal allowed Iran to continue enriching uranium and, over time, reach the brink of a nuclear breakout.

The deal lifted crippling economic sanctions on Iran in exchange for very weak limits on the regime's nuclear activity, and no limits at all on its other malign behavior, including its sinister activities in Syria, Yemen, and other places all around the world.

In other words, at the point when the United States had maximum leverage, this disastrous deal gave this regime — and it's a regime of great terror — many billions of dollars, some of it in actual cash — a great embarrassment to me as a citizen and to all citizens of the United States.
Hoo boy. Then he gave Iran the boilerplate about how we love the Iranian people and we just want to see a free Iran, maybe after John Bolton bombs it to death and Trump gets to do "Mission Accomplished" on an aircraft carrier ... you know, the usual shit about how we want to liberate Iran from the shackles of tyranny imposed on it by the current leadership, which was able to grab power because of the actions of ... <checks notes> ... the United States. (For a good, brief and Through With This Shit history of American involvement with Iran, check out Wonk pal Charlie Pierce.)
As Nicholas Kristof points out, Trump insists Iran was violating the terms of the deal, despite how such liberal agenda doers as the secretary of State and the chairman of the Joint Chiefs of Staff have pointed out that is bullshit. Iran didn't violate the deal -- Trump did. And he did it because he can't handle the fact that he's a fucking failure at the one thing he'd convinced himself he'd be the best at, which is being a better president than that black guy who brokered the deal.
And the condemnations from the grown-ups rolled in! Joe Biden called Trump's decision a "profound mistake," adding that "all it will likely accomplish is to put Iran back on the path to a nuclear weapon with no clear diplomatic way out." Senators on both sides of the aisle, from Mark Warner to Bob Corker to Jeff Flake to Susan Collins to Tim Kaine, all found their own ways to call Trump a fucking idiot, though the Republicans were more milquetoast about it, like they always are.
Barack Obama called Trump's decision "misguided," then proceeded to take Trump to school on the actual details of the deal, its success, and Iran's compliance, before saying this:
I believe that the decision to put the JCPOA at risk without any Iranian violation of the deal is a serious mistake. Without the JCPOA, the United States could eventually be left with a losing choice between a nuclear-armed Iran or another war in the Middle East. We all know the dangers of Iran obtaining a nuclear weapon. It could embolden an already dangerous regime; threaten our friends with destruction; pose unacceptable dangers to America's own security; and trigger an arms race in the world's most dangerous region. If the constraints on Iran's nuclear program under the JCPOA are lost, we could be hastening the day when we are faced with the choice between living with that threat, or going to war to prevent it.
That last part is what that makes John Bolton's mustache have a very hairy orgasm, because John Bolton, on top of being a sadistic freak, is very gross.
The president of Iran, Hassan Rouhani, has said they will probably still adhere to the terms of the deal -- other signatories to the deal like OUR ALLIES France and Germany and the UK would like to try as well! -- but allows for OOH MAYBE WE WILL MAKE SOME IRANIAN BOMBS NOW, THANKS TRUMP!
Iranian President Hassan Rouhani said he had ordered the country's "atomic industry organization to be fully prepared for subsequent measures if needed so that in case of need we will start our industrial enrichment without limitations."
MAGA MAGA MAGA!
So what will happen now? Oh, buncha things! Because the US is reimposing sanctions, people at Boeing and Airbus, who have done big deals with Iran since sanctions were lifted, will probably lose their jobs. Gas prices will go up -- have fun with that, Republicans running in the 2018 midterms! -- and the region will become more volatile as tensions rise between Sunnis and Shias, and as Obama said (and despite what President ShitBrain thinks) we're more likely to see an arms race NOW than we were before Trump's announcement. Trump has publicly announced to the world that under his administration, the United States will definitely not keep its promises -- that's what happens when you elect a pathologial liar! -- and our relationship with our closest allies in Europe has been weakened.
Oh, and it will screw those same allies trying to keep the deal alive, because though they are still allowed to do business with Iran, the sanctions mean they can't use American banks to do those deals, so fuck you, Germany and France!
Here's the new quisling US ambassador to Germany, Ric Grenell (sic), telling Germany its business on that front:
As @realDonaldTrump said, US sanctions will target critical sectors of Iran's economy. German companies doing business in Iran should wind down operations immediately.

— Richard Grenell (@RichardGrenell) May 8, 2018
How do you say "Go Fuck Yourself" in German? (Click the comments on that tweet for the answer!)
As far as where the Trump administration goes from here, hahahahaha they have no fucking idea. But we bet John Bolton has some ideas! (They involve bombs.)
Let's see if very smart and dashing NBC war correspondent Richard Engel can tell us any sort of silver lining:
A foreign policy expert, not known for emotional or blunt language, told me rejecting the Iran deal was "the stupidest thing Trump has done in foreign policy." Shows the US doesn't care what its closest allies think and is no longer a responsible steward of international security

— Richard Engel (@RichardEngel) May 8, 2018
Nope!
The world is burning, so y'all remember to thank a Trump supporter today, and then thank them again in November, WITH VOTES.
Follow Evan Hurst on Twitter RIGHT HERE.
Don't take for granted that the institutions you love will always be there, like democracy, and Wonkette. Click to save at least one of them!
[CNN / Transcript]
Evan Hurst
Evan Hurst is the managing editor of Wonkette, which means he is the boss of you, unless you are Rebecca, who is boss of him. His dog Lula is judging you right now.
Follow him on Twitter RIGHT HERE.