Hugh Hefner Will Let You Live In His Playboy Mansion Jizz House For $200 Million
News
January 11, 2016 01:00 PM
Jizz House. ("Playboy Mansion North Side 2007" by Toglenn)
---
Wouldn't it be nice to come home after a hard day running a drug cartel or being Beyoncé or ruining all of America because you're a Koch brother, and having meaningful chit-chats about life and boys and stuff, with a roommate who's always ready with an open ear and so many tubs of Ben & Jerry's? Wouldn't it be better if that roommate was Hugh Hefner?
Well, if you have $200 million American pesos, you can have all that AND Hef's house, the famous Playboy Mansion, which has featured many nipples in its tenure as a house, which began in 1927:
The iconic Los Angeles mansion of Hugh Hefner, the founder of the Playboy empire, is being put up for sale for $200 million, Playboy Enterprises said, one of the highest asking prices for a private residence in the United States.

The Gothic Tudor-style mansion, which has an area of nearly 20,000 square feet (1,858 square meters) and boasts 29 rooms, sits amid five acres in Holmby Hills west of the city.

In addition to amenities such as a tennis court and a free-form swimming pool, the estate is home to the infamous Playboy grotto, which over the years served as the setting for some of Hefner's most lavish, hedonistic parties.
Sexy! And for real, we were not kidding about how Hugh Hefner will be your roommate, because part of the deal, according to TMZ, is that he gets a "life estate" and gets to live there and leave his dirty dishes in the sink and eat your last Lunchable and have loud sex with all the ladies when you HAVE TO GO TO WORK TOMORROW AND NEED TO GET SOME SLEEP, GODDAMMIT. He will probably also pull the milk out of the refrigerator and leave it on the counter for two days and will not replace it when it gets chunky and gross.
[contextly_sidebar id="tdLMsEY4Jec8Z4mzHuOUJejrMv0NUW53"]Don't know why Hef is selling. Maybe he's already lost a ton of money by banning sex boobies from his magazine, which, science fact, nobody actually read for the articles.
[contextly_sidebar id="hW2JeIxL1gclP9AiZsp4JvqT808MM8vc"]Anyway, this is not sounding like the greatest deal. Sarah Palin's Arizona grifting pad is much more reasonable, and her grifter ass isn't begging to live there forever so you can have French braid slumber parties while she cries about where it all went wrong with Bristol.
Where were we? Oh, the Playboy Mansion. Anyway, TMZ says it's a shithole and Playboy is smoking crack if it thinks it's going to get that price:
Real estate sources with knowledge of the area say the owners are dreaming when it comes to price. They say the reality is ... the house is a tear-down and the real value is the acreage and that a comparable lot sold recently in the area for $60 mil, but the sources say because of its history the Mansion could go for anywhere between $80 mil and $90 mil.
Now, we do not know if this is Los Angeles real estate developers being the gauche dickspittles they are and saying, "Let's take a historic house that looks like THIS (that picture, above, duh) and build an ugly $115 million McTrash like THIS instead: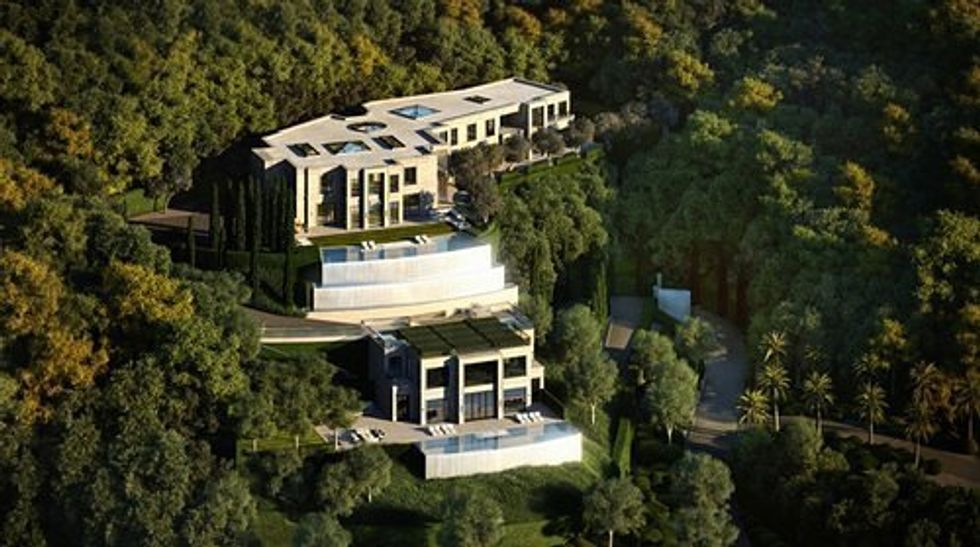 Or maybe the Playboy Mansion is a real fixer-upper and the hundred eleventy years of celebrity creeper jizz that's been blown there has leaked into the foundation, rendering the house uninhabitable. Maybe that's why prospective buyers aren't allowed to tour Hugh Hefner's bedroom, ewwwwww.
Regardless, in our well-formed opinion, $200 million is far too many bucks to spend for the privilege of running to the Walgreen's pharmacy in the middle of the night when Hef's Viagra subscription runs out.
Evan Hurst
Evan Hurst is the managing editor of Wonkette, which means he is the boss of you, unless you are Rebecca, who is boss of him. His dog Lula is judging you right now.
Follow him on Twitter RIGHT HERE.