Human Dental Dam Rick Santorum To Stop SCOTUS From Doing Gay Stuff To America, Somehow
Featured
June 01, 2015 01:45 PM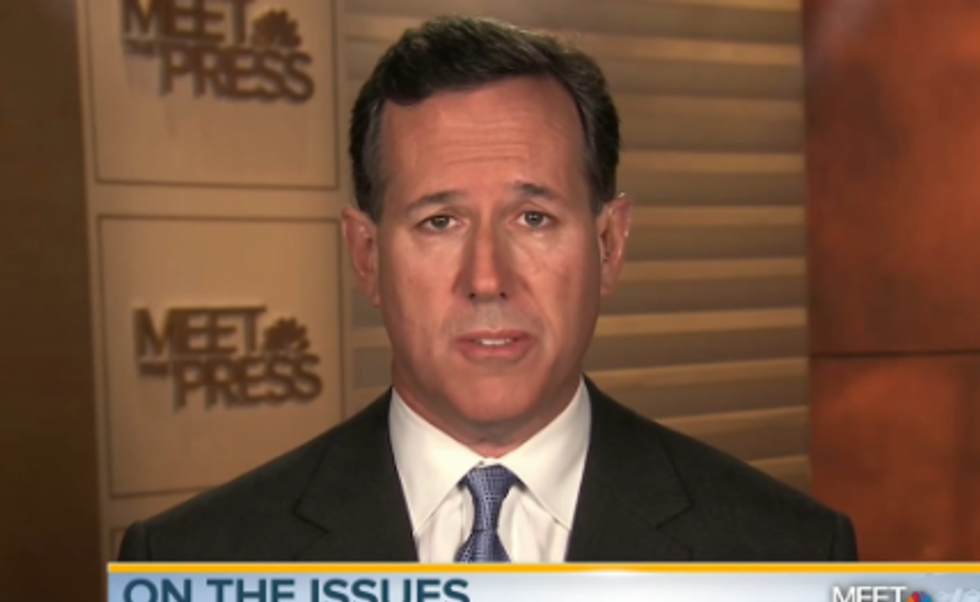 We were surprised last week when, during Rick Santorum's presidential campaign announcement, he completely forgot to talk about how The Lord Our God hateth the homosexuals, since that is the most important thing in his world. Sure, he sort of touched on "religious freedom," or his conception of it, but there was no clear "gays are gross" moment. Never fear, though, because he went on the Meet The Press program with beard-haver Chuck Todd, to explain how he will fight back against the Supreme Court, when it (most likely) throat-crams America with gay marriage at the end of this month:
---
"I think the Supreme Court has, an equal branch of government, the ability to overrule Congress and the President." [...]

"I think it's important to understand that the Supreme Court doesn't have the final word. It has its word. Its word has validity. But it's important for Congress and the president, frankly, to push back when the Supreme Court gets it wrong. [...]

"Of course I'd fight it. Roe versus Wade was decided 30 some years ago, and I continue to fight that, because I think the court got it wrong. And I think if the court decides this case in error, I will continue to fight, as we have on the issue of life ... We're not bound by what nine people say in perpetuity."
[contextly_sidebar id="faVggSxfNZSbUjkGGQ5nZGzukNIEjWgI"]
Oh, the poor religious right. They're starting to believe their dumb talking point about how marriage equality is going to be just like Roe v. Wade, an issue that continues to divide the country to infinity and beyond. Of course, once states HAVE marriage equality, the opposition tends to die a whimpering death, because many of those opposed don't actually care all that much, at the end of the day. They just want to go back to saving the unborned babies.
Santorum does not say HOW he is going to "fight" the Supreme Court as "president." Is he going to put a dental dam in America's mouth so the Supreme Court can't get in there to do the throat-cramming? IS HE THE DENTAL DAM? Is he personally going to refuse to divorce his wife, Karen, and gay marry a man, like the Supreme Court ruling will surely require?
On that note, he does say that he is NOT stupid like Mike Huckabee, who says states should just defy the SCOTUS ruling and do what they want because Supreme BEING's opinions carry more weight than those of the Supreme COURT. Huckabee also made sure to hate on the gays in his presidential announcement, instead of forgetting like Santorum. We're trying to figure out which candidate is acting dumber on this issue, but thinking is hard, so let's just say they both win.
[contextly_sidebar id="ceG4Zbq0egfoMs264Sgs7dfHKk3e2vcx"]
Good job, President Frothy Mix. You just keep talking, and we'll keep reporting on it, until you flame out somewhere around the South Carolina primary.
Evan Hurst
Evan Hurst is the managing editor of Wonkette, which means he is the boss of you, unless you are Rebecca, who is boss of him. His dog Lula is judging you right now.
Follow him on Twitter RIGHT HERE.