Idiot Nevada Lawmaker Michele Fiore Decks The Halls With Guns, Tits, More Guns
Guns
December 04, 2015 12:00 PM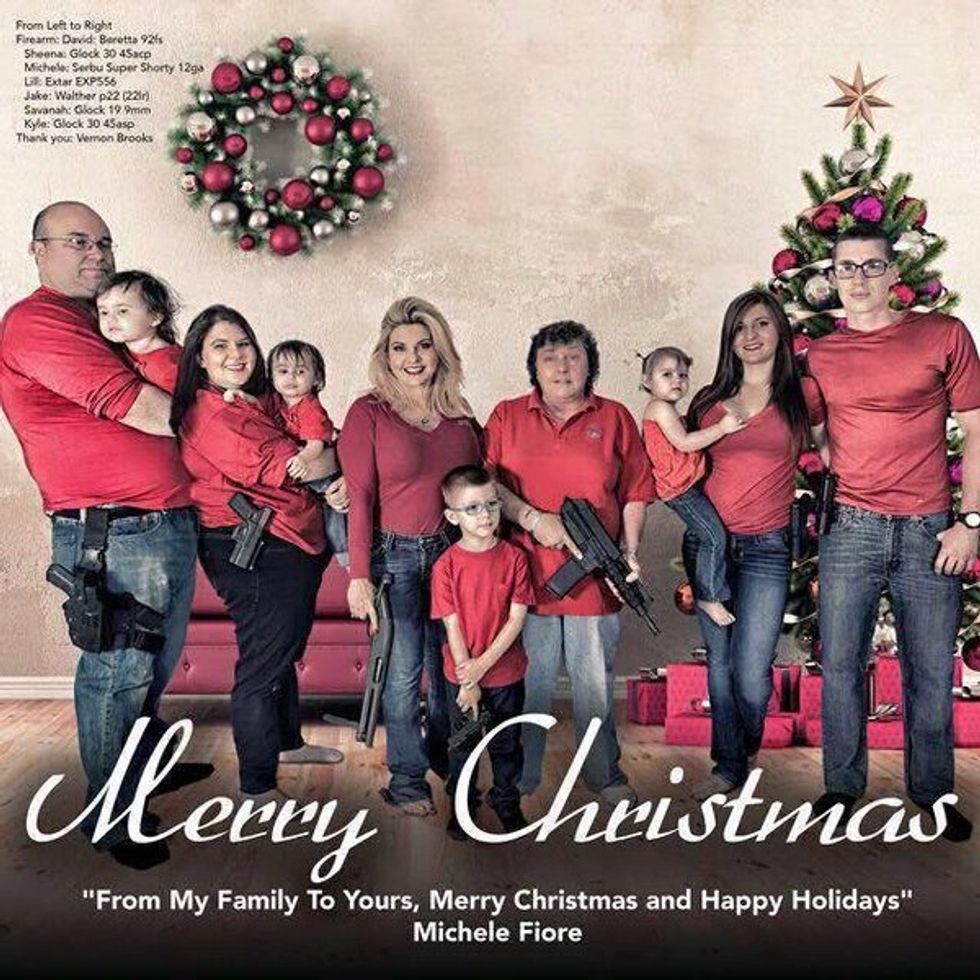 Have a holly jolly titsmas.
---
For liberals, it is the War On Christmas season, where we get up every single day at early-o-clock to receive our marching orders for how to make the baby Jesus cry in his manger. REAL AMERICANS, though, are sending Christmas cards, with reindeer and funny faces and nativity scenes and #familyjokes. And boobs and guns. Mostly boobs and guns.
That picture you see up there is the Christmas card of possibly actually insane Nevada Assemblywoman Michele With One 'L' Fiore, who is running for Congress. You might remember her from her recent tits 'n' guns sexxx calendar, available for a $25 donation. She says the money's not for her campaign; it probably just goes to poors who don't have as much tits and guns as she has.
Or maybe you remember her from the way she apparently screams "STAY AWAY FROM MY NAKEDNESS AREA!" at transgenders who don't have a va-jay-jay like hers.
Anyway, we have some questions about this Crimmus card:
What the fuck?
What's WRONG with her?
Is that her lesbian mom next to her, the one who's super great and it's totally cool she's a lesbian, because unlike the transgenders, they have matching va-jay-jays?
Is "matching va-jay-jays" a thing? Do they come in a set?
Why are Michele's tits draped in such a clashing shade of red from the rest of the people?
Are those all her kids?
Does she have 17 kids?
Is that why she has such big #boobs?
Is she like a Duggar lady but with bigger honk-honks and more Bundy ranch connections?
Why is Michele posing for pictures when she should be flushing out cancer fungus for people, since she is certain that's how cancer works?
Is it because her home healthcare business went tits up, on account of maybe it is a scam?
Seriously, what the fuck, Michele?
But honestly, that shade of red is SO bad. Was there nothing else at the TJ Maxx that remotely matched what the rest of the family was wearing?
Isn't it kind of gross to be sending out this Christmas card the week of YET ANOTHER high casualty mass shooting? Oh never mind, Michele believes Prozac causes mass shootings, or maybe it's gun-free zones. Answered our own question that time.
Why aren't the babies holding guns? Are they some kind of fucking liberals or something?
Have those babies never heard about how the only way to stop a bad baby with a gun is with a good baby with a gun?
ARE THESE PEOPLE JUST BEGGING TO HAVE A GUN ACCIDENT?
Why isn't Ted Cruz in the picture?
Are the guns loaded?
ARE YOU SURE THEY'RE NOT LOADED, MICHELE, YOU FUCKING TWIT?
Have you checked the chambers?
Could the young child in the front not accidentally shoot his bigger relatives' shins off in that position?
SERIOUSLY, WHAT THE FUCK IS WRONG WITH YOU, LADY?
If you accidentally murdered the baby Jesus with one of those guns, would you cry?
That guy on the right is sorta hot in a creepy "I have a gun and I am related to Michele Fiore" kind of way. May we see his nakedness area just to check if it matches ours?
Can he put down the gun first? Gee Willikers Christ, you people are weird.
Ugh, does he HAVE to leave the gun on the nightstand during our sexual time together?
Seriously, Lesbian Mom (IF THAT'S HER REAL NAME) looks kind of uncomfortable. Did you put her up to this, Michele? She probably wants to be manning the Indigo Girls playlist at the Home Depot right now.
OH YOU CAN STEREOTYPE TRANSGENDER PEOPLE BUT WE CAN'T STEREOTYPE YOUR MOM? We see how this works.
No, like, Michele, what is wrong with you?
If you're so busy holding guns, how are you going to hold the scissors and stop sex trafficking forever, by snipping off the pimps' giggleberries, since that is a thing you say you would like to do?
Can you not stop reverse-cowgirling your Serbu Super Shorty 12-gauge long enough to just do Christmas like a normal person?
Apparently not?
Is "Super Shorty" Michele's nickname at the gun club?
Ugh, she is the worst, so why do we kind of love her?
Those are all the questions we have right now. Feel free to come up with more questions in the comments, which are not allowed.
And of course, Merry Christmas, Michele Fiore, from our house to your heavily armed tit fortress or whatever it is.
[h/t @LasVegasLocally]
Evan Hurst
Evan Hurst is the managing editor of Wonkette, which means he is the boss of you, unless you are Rebecca, who is boss of him. His dog Lula is judging you right now.
Follow him on Twitter RIGHT HERE.