Idiot Nevada Lawmaker Michele Fiore's Grifty Home Healthcare Business Goes Tits Up
2016 State/Local Elections
November 09, 2015 09:30 AM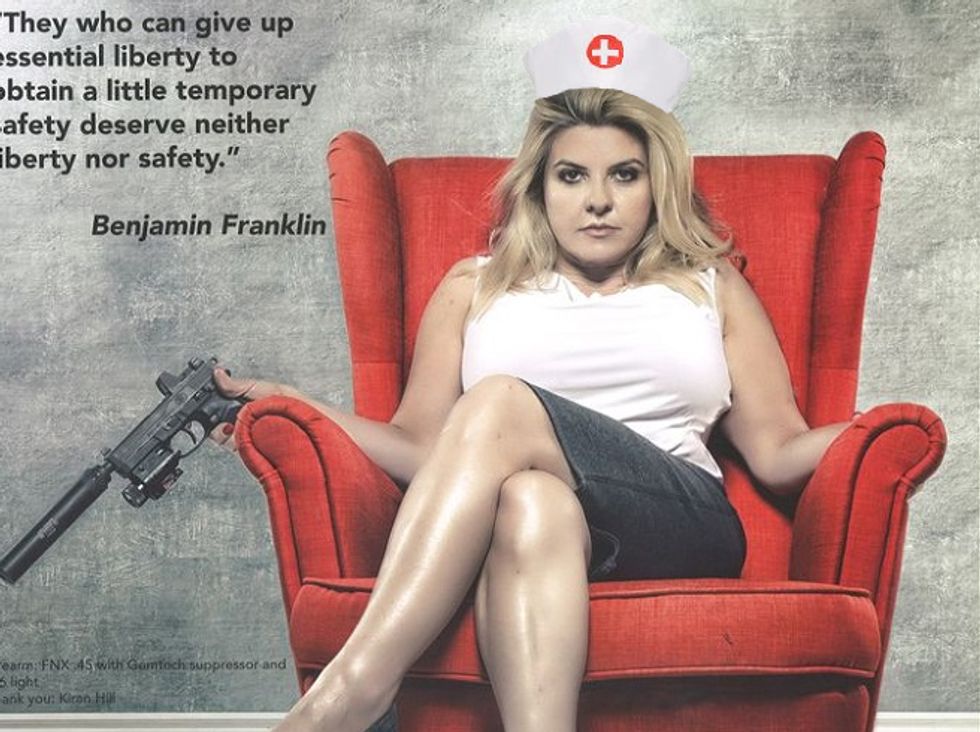 Our Basic Instinct is to run screaming from this person
---
Pity poor wingnut Nevada Assemblywoman Michele Fiore, whose (alleged) Medicaid-frauding home healthcare business was forced to shut down because of stupid invasive Big Government oppression of a free-market entrepreneur.
[contextly_sidebar id="RIuWDdhzFpWx3zmbzKWZFHBVm52DXGTc"]Or, if you want to get all technical about it, the Nevada Bureau of Health Care Quality and Compliance (HCQC)* pulled her license to operate because Wonkette's New Favorite One-L repeatedly refused to allow the agency to inspect her business records. Talk about burdensome regulations! They thought they had the right to poke around Fiore's accounting and make sure her business wasn't some kind of scam, simply because the law requires businesses taking in a whole bunch of public money to show they are actually providing healthcare. The nerve!
According to Nevada political reporter Jon Ralston, the acknowledged expert on All Fiore Weirdness, when state inspectors tried to visit Fiore's business in September, they found the offices of the hilariously named "Always There 4 You" Home Health Care shuttered and locked during its posted operating hours. They phoned and later sent Fiore a letter asking her to explain whether the company was still in operation, to which she didn't reply.
Last week, inspectors visited the site again, only to find the office closed, with a completely different business setting up shop in the office. And again, no reply to voice messages left for Fiore. In an announcement last Tuesday, the HCQC issued a statement outlining its multiple attempts to contact Fiore:
Due to HQCQ's [sic] inability to contact the business, and their failure to respond to previous contacts, HCQC is taking action to administratively close the license.
Ralston, ever the gentleman, added, "This, folks, is an elected official." But not just any elected official -- Fiore is also a wannabe congressmoron who just released a calendar of her sexy self, posing sexily with sexy guns. She's one busy woman, so complying with some stupid government bean-counters' requests, over several months, to inspect her takin'-care-of-Grammaw business was obviously a huge hassle and unnecessary waste of her time.
Once the HQCQ yanked her operating license, Fiore was suddenly available to speak out against the enormous injustice that Big Government had inflicted on her, issuing a news release that Ralston -- again, right on the money -- described as "goofy." Here's an excerpt:
"With the signing of a Notice Of Dissolution last week, I have completely closed my home health care business. It is appalling to me that a state employee would go to the press with this kind of false story without having any details. While the media will try to tell you that my business was shut down by the government, I would like to lay that rumor to rest. You can read the real story in my article "When "They" win, we all lose" which was written last month and released yesterday in "La Voce" magazine.

"My mother and I are proud to have created over 2000 jobs and provide quality home care to over 650 patients throughout the years, but the never-ending barrage of government red tape and regulations has made being in business not worth being in business".

"To put it simply, it happened because "They", the army of regulators, bureaucrats, and inspectors, followed by the ever-increasing array of taxes and fees, won.
That poor entrepreneur, who was being asked to account for the $6 million in Medicare funding her businesses received over the last five years! It's simply shocking what "THEY" are doing to the hardworking independent businesswoman/legislator who is far too busy making a boobs-n-guns calendar to answer piddling questions about whether her healthcare business is on the up and up.
If you want to read the tell-all article she mentions in her press release, she posted a copy on her campaign website, where, taking a cue from Donald Trump, she insists that closing her business was a way for her to "fire" state regulators. It's exactly the self-justifying glurge you'd expect, and doesn't mention that she's the one who refused, multiple times, to allow state regulators to even look at her books. Instead, she goes into Victim/Libertarian Hero mode: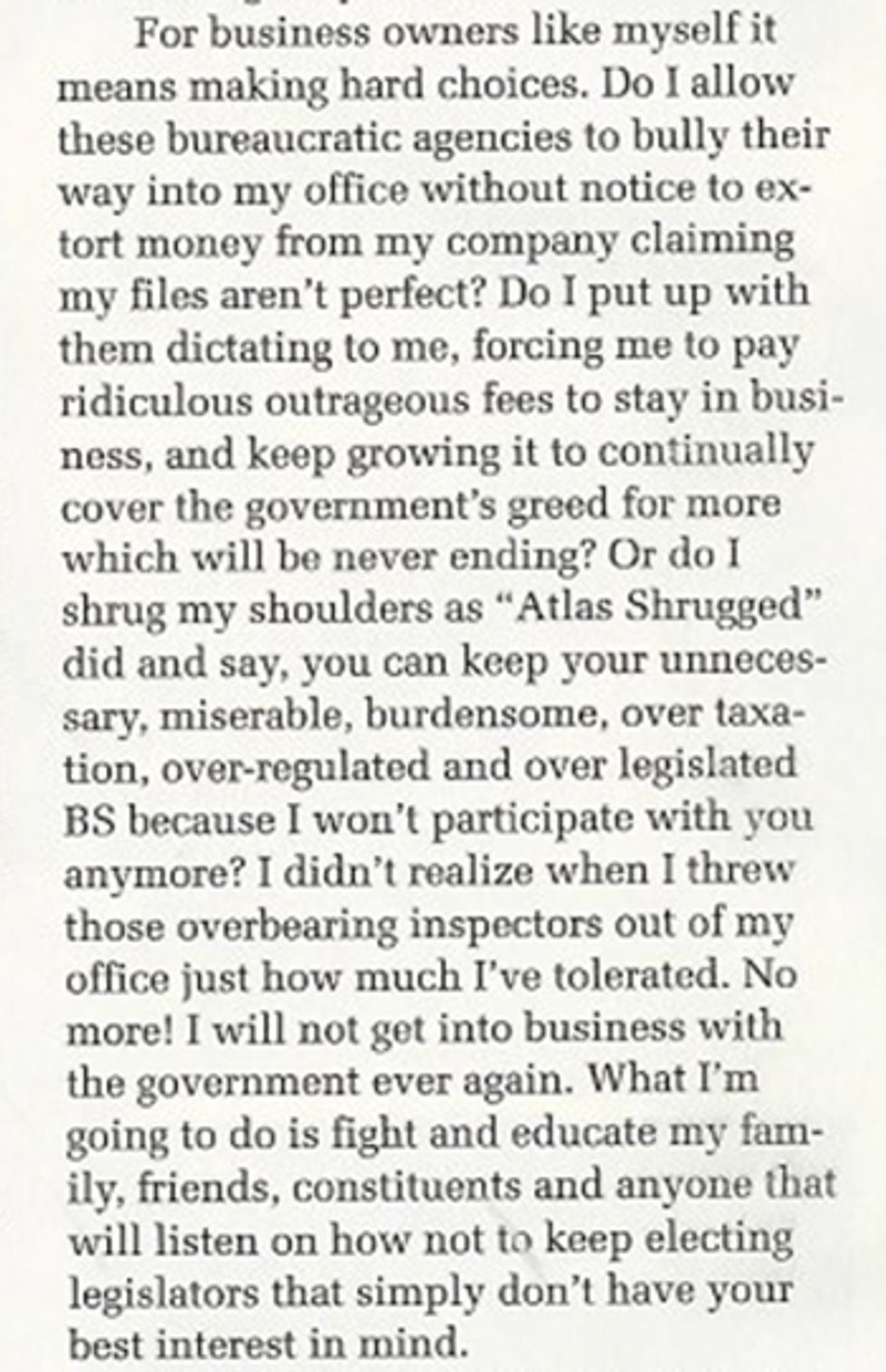 We really like that "claiming my files aren't perfect" bit. The mean old government, forcing her to prove she spent taxpayer money she received for patients' care on patients' care! In addition to her troubles with state regulators, as we reported in July, Fiore also had several IRS tax liens against her for withholding taxes from her employees' paychecks, but not paying the withheld funds to the government. The IRS doesn't look too kindly on that sort of thing, which of course means it's time to dismantle the IRS.
Clearly, this woman needs to be in Congress. She's outgrown local graft, and is ready to start feeding at the big corporate troughs while distracting her constituents with warnings that "THEY" are coming for our guns and freedom.
* Correction: Obviously, the abbreviation for the "Bureau of Health Care Quality and Compliance" is "HCQC," not, as this piece originally had it, "HQCQ." We copied the error from Jon Ralston, who we think may himself have copied it from first typo in the HCQC memo he quoted. Yr Wonkette regrets the error; letters is hard.
[Think Progress / Ralston Reports / KTNV-TV / Ralston Reports again / VoteFiore.com]