Idiot Texas County Clerk Lady Issues Declaration About How Good She Hates The Gays
Featured
July 09, 2015 08:45 AM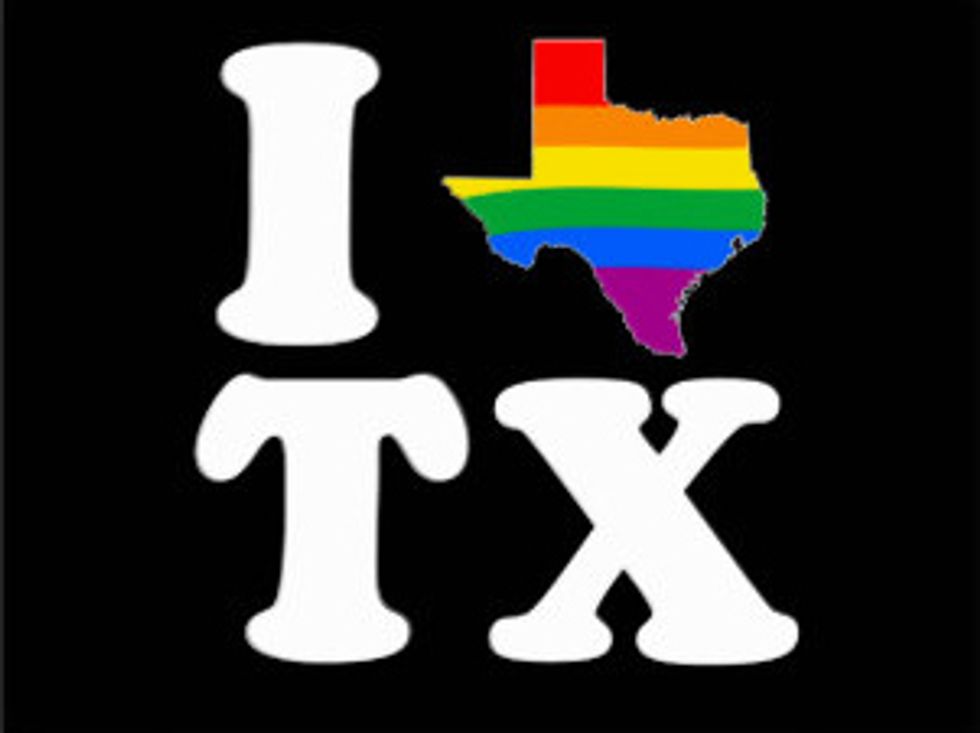 Thank goodness brave Texas bigots haven't been shuttled off to the rainbow FEMA camps, so they can save the Republic from the santorum-drenched sodomite hordes. Molly Criner, county clerk for Irion County, issued a DECLARATION OF OBEDIENCE TO LAW AND THE DEFENSE OF NATURAL MARRIAGE (her words), and before anyone even had the chance to say boo, the sterling fellows at Liberty Counsel stepped up to the plate to defend her rights to legally break the law. Aw, what a charming little political stunt. Sorry, I mean political stunt. Political stunt! Excuse me, I must have something caught in my throat.
---
Criner issued her declaration (conveniently cross-posted to Liberty University's website) over the Fourth Of July weekend, and in it she lays out exactly why a dog-catcher-level bean counter like her has the authority to defy the US Supreme Court. And look, she uses about a bajillion whereas-es, just like a real bureaucrat!
Whereas, the County Clerks of Texas are tasked with upholding the Constitution and Laws of the State of Texas and the written United States Constitution; and
Uh, no. You're tasked with issuing marriage licenses and corralling all the retirees setting up card tables for election day. Your office's idea of a crisis is when you don't order enough "I Voted" stickers.
Whereas, on June 26, 2015, in Obergefell v. Hodges, five justices of the United States Supreme Court issued an opinion with no basis in the Constitution, the Fourteenth Amendment, American law, or Western history, purporting to overturn Natural Marriage and inventing a false "right" to same-sex "marriage;" and

Whereas, two justices essential to the majority, Elena Kagan and Ruth Bader-Ginsburg, failed to recuse themselves from Obergefell after publicly showing personal bias, in violation of federal law mandating that "Any justice...shall disqualify h[er]self....[where her] impartiality might reasonably be questioned." (28 U.S.C.A. § 455); and
Only in wingnut land does "having an opinion" mean you aren't impartial (unless you are Antonin Scalia). Also so cute with the insinuations on Elena Kagan. This declaration would fit right in alongside that shot of her playing softball. Next time you should suggest she's quite the "thespian."
Whereas, in contrast, the Declaration of Independence explicitly recognizes that the Creator has endowed mankind with inalienable rights to life, liberty and the pursuit of happiness, under the Rule of Law, consistent with the created order
Was there a day of civics class we missed where the Declaration of Independence, i.e. America's most famous Dear John letter, had any authority when it comes to the law? No? And if it did, how exactly would a county clerk's "pursuit of happiness" beat out Dan and Stan's pursuit of happiness? Eh, doesn't matter, it's all just so much word-shaped noise.
Criner goes on to compare her refusal to obey SCOTUS to Wisconsin's defiance of the court on slavery in In Re: Booth. Uh huh, and were this fight taking place in 1854, we have a feeling you would be the lady standing outside the courthouse with a Bible in hand declaring that God made the races different for a reason and citing all those pro-slavery parts of the Old Testament (awful lot of those, now that we think about it).
Criner wraps up her declaration with an outline of what she won't do (i.e. her job):
Therefore, as County Clerk, I declare as follows:

1. I will continue to defend Natural Marriage as recognized by the People of Texas, in the

Constitution and Laws of the State of Texas, consistent with the Declaration of Independence; the

written United States Constitution; the Ninth, Tenth, and Fourteenth Amendments; and higher

Natural Law.

2. Natural Marriage between one man and one woman remains the law in Texas, regardless of any

court decision to the contrary. Any court decision purporting to strike down Natural Marriage,

including Obergefell v. Hodges, is "unauthoritative, void, and of no force."

3. I, as County Clerk, in faithful execution of the laws of Texas, shall resist unlawful federal or state

court encroachments upon the prerogative of the People of Texas to protect Natural Marriage, and

shall only issue marriage licenses consistent with Texas law, so help me God.

4. With a firm reliance upon the providence of Almighty God and the support of my fellow citizens,

I call upon all of the Officers of the State of Texas, the Governor, the Attorney General, and the

members of the Texas Legislature, to join with me, and utilize all authority within their power to

protect Natural Marriage from lawless court opinions, wherever the source.
This is so cute! And so much more eloquent than that screamy little queen from the Attorney's General office. It's almost like this were written wholecloth by lawyers from Liberty Counsel and funneled through a puppet in government in order to create a commotion for the press. Political stunt! Excuse me, this cough just won't go away.
In a statement, Liberty Counsel assured us that they have Molly's back (not that way, you pervs) so don't you think none about suing her (please sue her):
"Like Molly, each of us should vow not to be intimidated but, instead, to stand united for our God-given liberties and the Rule of Law," Staver advised.
"Respecting the Rule of Law by explicitly breaking the law" -- makes a pretty great slogan for Liberty Counsel, doesn't it?