If Florida's A Preview Of The National COVID-19 Trend, We're Screwed
coronavirus
March 29, 2021 11:05 AM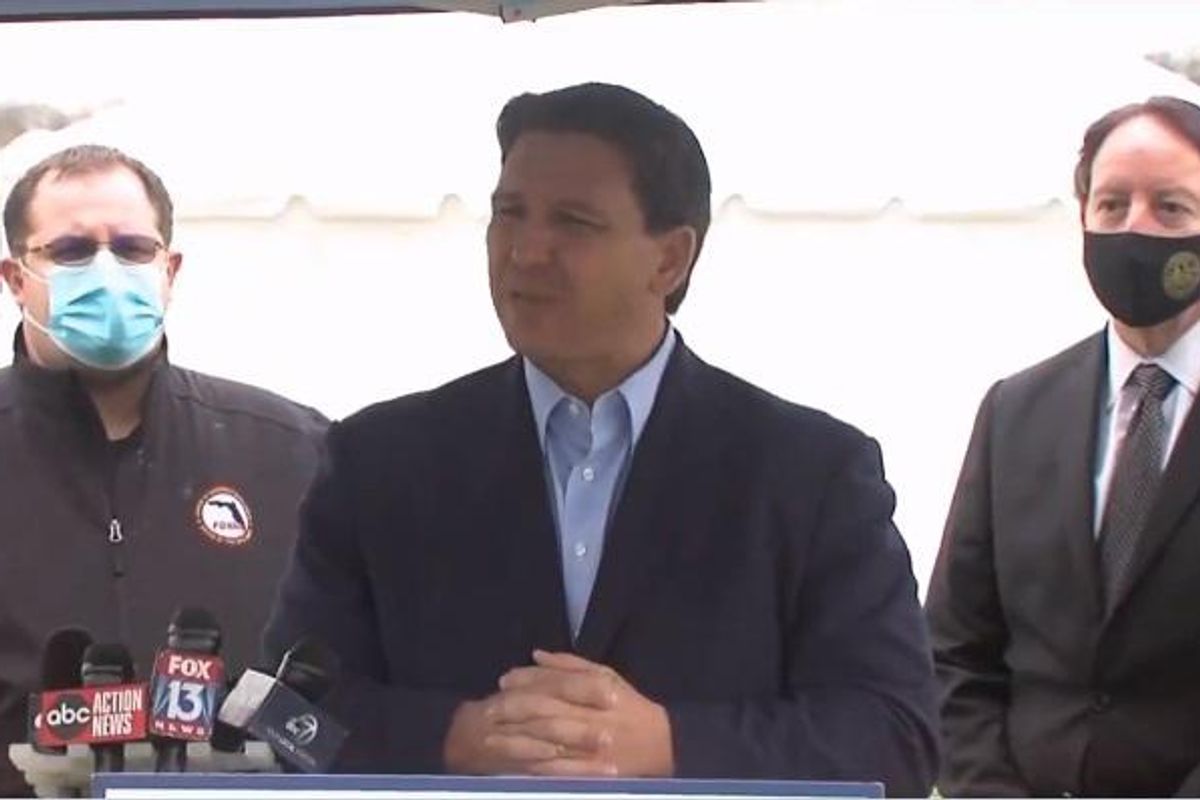 Florida Gov. Ron DeSantis, Twitter video screenshot
It's been a week since a state of emergency was declared in Miami Beach, Florida, as Spring Break crowds flooded the city. Official imposed an 8 p.m. curfew, which many people ignored. Miami-Dade County boasts one of the nation's worst COVID-19 outbreaks, and over the past week, the county has averaged more than 1,100 new cases per day.
Florida overall is a mess: There are more than two million COVID-19 cases, and 4,943 new cases were reported Sunday. It's a 12 percent increase over the past two weeks. The more contagious coronavirus variant, B.1.1.7, is practically settling in Florida like a retiree. The variant, first identified in Britain, accounts for a greater proportion of total cases than in any other state.
Perhaps not surprisingly, given the Spring Break antics, younger people are also getting sick. Dr. Raul Pino with the Florida Department of Health in Orange County said that cases are on the rise among the 18 to 25 demographic, and people age 45 and under account for one-third of COVID-19 hospitalizations. The average age for new infections has lowered to 30. Orange County, where Disney World is located, is 20 percent Black and 26 percent Hispanic.
---
Orange County Mayor Jerry Demings imposed a mask mandate, but last September, GOP Governor Ron DeSantis banned local governments from enforcing them. DeSantis is opposed to any restrictions or guidelines that recognize COVID-19's existence. The governor's scientific advisers reportedly include architects of the "Great Barrington Declaration," which is like the rhythm method for pandemics. The theory here is that you let the virus spread naturally among young people, who are immortal, while the elderly and other at-risk people shelter in place. That is how you reach herd immunity without "financially devastating" lockdowns. The former White House occupant loved this plan, except for the part where he was elderly and at-risk. He didn't shelter in place and still held superspreader rallies for most of the year.
DeSantis isn't exactly doing a bang-up job protecting at-risk people. In October, he loosened restrictions on visits to nursing homes and assisted living facilities in anticipation of the holidays. As justification for his decision, DeSantis claimed infection rates in nursing homes and assisted living facilities had plunged 70 percent since reopening, but data from the AARP disagreed.
"The rate of infected nursing home residents in Florida was 4.5%, in comparison to the national rate, which was 2.6% — so that itself is a mind-blower," said Dionne Polite, director of state operations for AARP Florida. "It's a very scary situation."
The AARP also reported that the rate of infected nursing home workers in Florida exceeded the national average, and although DeSantis insisted that "no one is without PPE. We have all the PPE we need," 20 percent of the state's nursing homes said they had less than one week's supply of personal protective equipment.
Last week, DeSantis removed all remaining restrictions at nursing homes, which was conveniently timed with passage of a bill in the state legislature that would shield facilities from COVID-19-related lawsuits. DeSantis claims all longterm care residents and staff members were offered vaccines and that most of them are fully vaccinated.
"So let's embrace that and treat these folks like they are immune," DeSantis said.
They aren't 100 percent immune and probably should take some precautions until herd immunity is reached, but there's really no talking to this guy.
DeSantis has announced Florida will offer the vaccine to everyone 18 and older starting April 5. We'd feel more excited about this news, but according to the New York Times, Florida has had "one of the country's most confusing and inefficient vaccination campaigns." The governor's been accused of discriminatory practices with Florida's vaccine distribution, catering to his wealthy and connected donors and constituents.
Florida is fully open for business, per DeSantis, but has fully vaccinated less than 14 percent of its population and is currently ranked 39th out of all states in its vaccine rollout. The majority of states performing worse than Florida have Republican governors and lax COVID-19 restrictions. And before you gloat, which you shouldn't do anyway, those states also have the highest percentage of minority residents. It's not good news.
Follow Stephen Robinson on Twitter.
Looking for someone to give that cash to? Why not us?
Stephen Robinson
Stephen Robinson is a writer and social kibbitzer based in Portland, Oregon. He writes make believe for Cafe Nordo, an immersive theatre space in Seattle. Once, he wrote a novel called "Mahogany Slade," which you should read or at least buy. He's also on the board of the Portland Playhouse theatre. His son describes him as a "play typer guy."