In Total Coincidence, Georgia Destroys Election Data Days After Vote Hacking Lawsuit
Elections
October 28, 2017 02:00 PM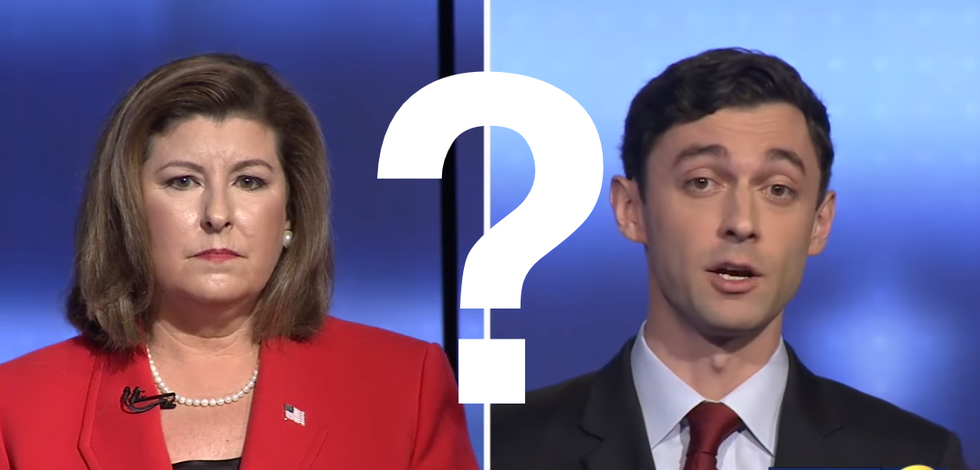 ---
On July 4th, presumably while honoring freedom, Georgia Secretary of State Brian Kemp learned that his office was being sued for ignoring clear evidence that his state's voting machines were compromised and extremely vulnerable to vote manipulation for over a year.
On July 7th, all vote count data for the summer's special election between Karen Handel and John Ossoff, which the suit sought to have overturned, was wiped from the state's servers.
But maybe there's no connection! Certainly, the Secretary of State would not want to obstruct an investigation into the integrity of his state's elections, since ensuring election integrity is the most important part of his job. Look, he's just as mad about this as anyone:
[Kemp's] spokeswoman issued a statement Thursday saying his office had neither involvement nor advanced warning of the decision. It blamed "the undeniable ineptitude" at the Kennesaw State elections center.
Kemp knows election integrity is serious and important, especially because his state's voting machines "run on a modified version of Windows last updated by Microsoft 14 years ago," and "had been compromised and left unprotected from intruders since at least last summer," and "despite claims to the contrary from Georgia officials [...] the state's election machines are connected to the Internet every time they come in contact with an electronic device that's been inserted into a computer that's connected online."
These machines are going through puberty. They get on the internet, even though they're not supposed to. Russians want to penetrate them. It's a lot to deal with.
But for all that, Kemp knows his state's elections are secure. In a USA Today op-ed, Kemp wrote:
"Are states doing enough to keep our elections secure? Yes.

Anything to the contrary is fake news."
He's doing enough. It says so right there. Please vote for Brian Kemp for Governor.
Nobody has yet said who ordered the thorough destruction of the data on July 7th, nor the later destruction of all backup data, nor why it was done. It was "standard operating procedure," according to the media office at Kennesaw State University, where Georgia's election data is kept.
For who among us doubts that it's the very definition of "standard" for Georgia to obliterate any possible evidence of election tampering?
The AP reports that the FBI copied at least some of the relevant data in March, during its own investigation into security issues, so everything is even better than fine. Nobody did any obstructing of justice, elections are completely safe and secure always when the Republican wins, wiping data is only suspicious when Hillary Clinton does it, and there's plenty of space on those Kennesaw State servers to record Donald Trump's 96% margin of victory in 2020.
In another coincidence, I'm visiting my local Board of Elections on Monday to see about becoming an election inspector.
[ coloradopolitics.com / AP / USA Today via Slate ]
Wonkette's servers are filled to the brim and ripe for deletion! We rely on your donations keep posts like "A Decade of Blingees: 2007-2009" online, for all to fap to! Please donate here, or below here, using that other thing! It's the same thing!