Insolent West Virginia Teen Infringes On Speaker's Right To Slut-Shame Students During School Abstinence Assembly
News
April 18, 2013 09:59 AM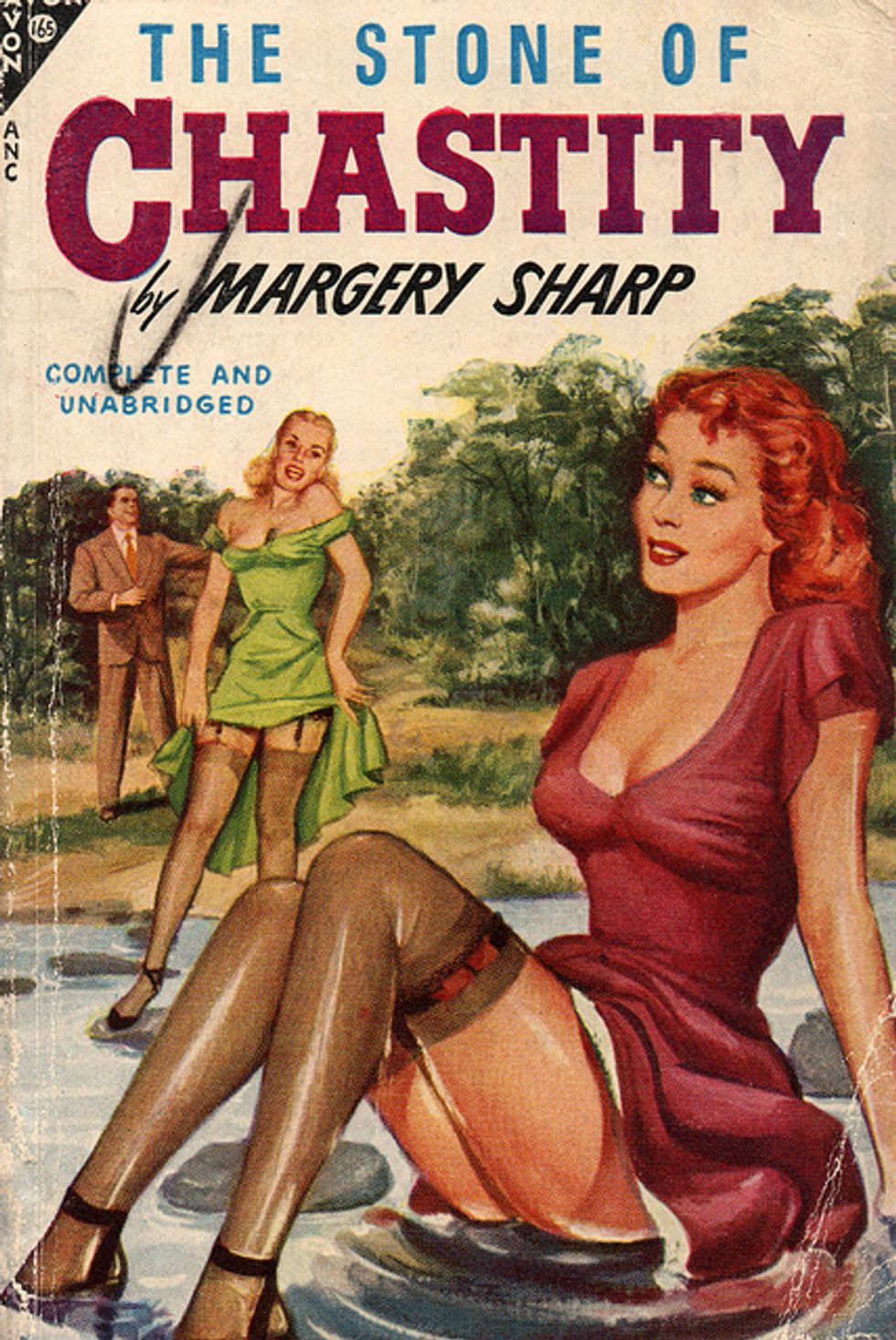 High School, unbeknownst to your Wonkette (who spent most of his high school years as the chubby new kid in the Che shirt), is apparently just full of people having sex, sexting, and having rainbow planking parties with vodka soaked tampons. Oh how the times have changed since the days whenabstinence only classes kept us all on the straight and narrow instead of spending study hall Saddlebacking the Santorum out of each other like todays batch of little miscreants. (THIS IS WHY MICHELLE RHEE HAS TO CHEAT TO KEEP YOUR DAMN SCHOOLS OPEN KIDS.)
---
One brave high school in West Virginia decided to do address this problem by bringing Bill Donahue in drag to harangue these kids into keeping the proverbial aspirin bottle between their legs. Despite most students embracing this wonderful self-esteem-fulfilling gift, it seems that one the ungrateful little bastards went to the ACLU. Apparently some teens don't care about the perpetual damnation of their colleagues souls. We blame the MTV.
It all started when the good folks at George Washington High School decided to address this rampant problem of teen sluttery by having a guest speaker come in to yell at their students about their whorish ways. No for reals the speaker, Pam Stenzel (more on her later) decided that the best way to get her message across to these kids requires a healthy dose of apoplectic misogyny with a sprinkling of utter bullshit:
At GW's assembly, Stenzel allegedly told students that "if you take birth control, your mother probably hates you" and "I could look at any one of you in the eyes right now and tell if you're going to be promiscuous." She also asserted that condoms aren't safe, and every instance of sexual contact will lead to a sexually transmitted infection.
Now you might be saying to yourself "wow that's fucking stupid, hope the school banned that crazy lady Bradlee Dean style."
Katelyn Campbell, a senior at the school and the student body vice president, took the initiative on her own to make sure that future classes aren't subjected to that level of derp:
Campbell refused to attend the assembly, which was funded by a conservative religious organization called "Believe in West Virginia" and advertised with fliers that proclaimed "God's plan for sexual purity." Instead, she filed a complaint with the ACLU and began to speak out about her objections to this type of school-sponsored event. Campbell called Stenzel's presentation "slut shaming" and said that it made many students uncomfortable.
Well the school's principal, George Aulenbacher, was none too pleased that Campbell exposed his decision allowing a puritanical crazy person from one of those sham pregnancy crisis centers onto campus for the sole purpose of stigmatizing sexually active young women. So in response Principal Cleveland Steamer followed the standard protocol for petulant assholes with Napoleon complexes and issued a slew of impotent threats against Campbell:
Aulenbacher threatened to call Wellesley College, where Campbell has been accepted to study in the fall, after she spoke to the press about her objections to the assembly. According to Campbell, her principal said, "How would you feel if I called your college and told them what bad character you have and what a backstabber you are?" Campbell alleges that Aulenbacher continued to berate her in his office, eventually driving her to tears. "He threatened me and my future in order to put forth his own personal agenda and make teachers and students feel they cant speak up because of fear of retaliation."
Now far be it from us to challenge the mighty intellect/delusions of grandeur of Aulenbacher, but we guessing that he has never heard of Wellesley College (or women going to college for that matter). Wellesley is not just the best women's college in the country, but it also hosts its own version of a Pam Stenzel ho-down, albeit one with a MUCH more pro-ho message. Furthermore this is a college that features a school-subsidized bus that famously (as in it has its own wikipedia page) delivers its students to other campuses across the great city of Boston for the sole purpose of getting those nice young ladies some hawt ivy-leaguge ass (although they mysteriously skipped your Wonkette's Alma Mater of Brandeis, probably because THEY HATE JEWS).
So by all means give Wellesley a call and explain why you made this highly successful young lady cry. The admissions committee could use the laugh and you will probably put Campbell in line for a scholarship or something.